Creamy & bright vegan pea pesto pasta with bold and nuanced flavor from roasted tomatoes, nutritional yeast and walnuts!
We experienced a small heat wave in Southern California last week. It felt great to wear my summer clothes again, even if only for a few days. The warm sunshine can really be a mood booster. And when the weather turns warm, I want lighter and healthier meals that are fresh, delicious, and relatively quick to whip up. I created this rich and hearty vegan pea pesto pasta recipe with those factors in mind!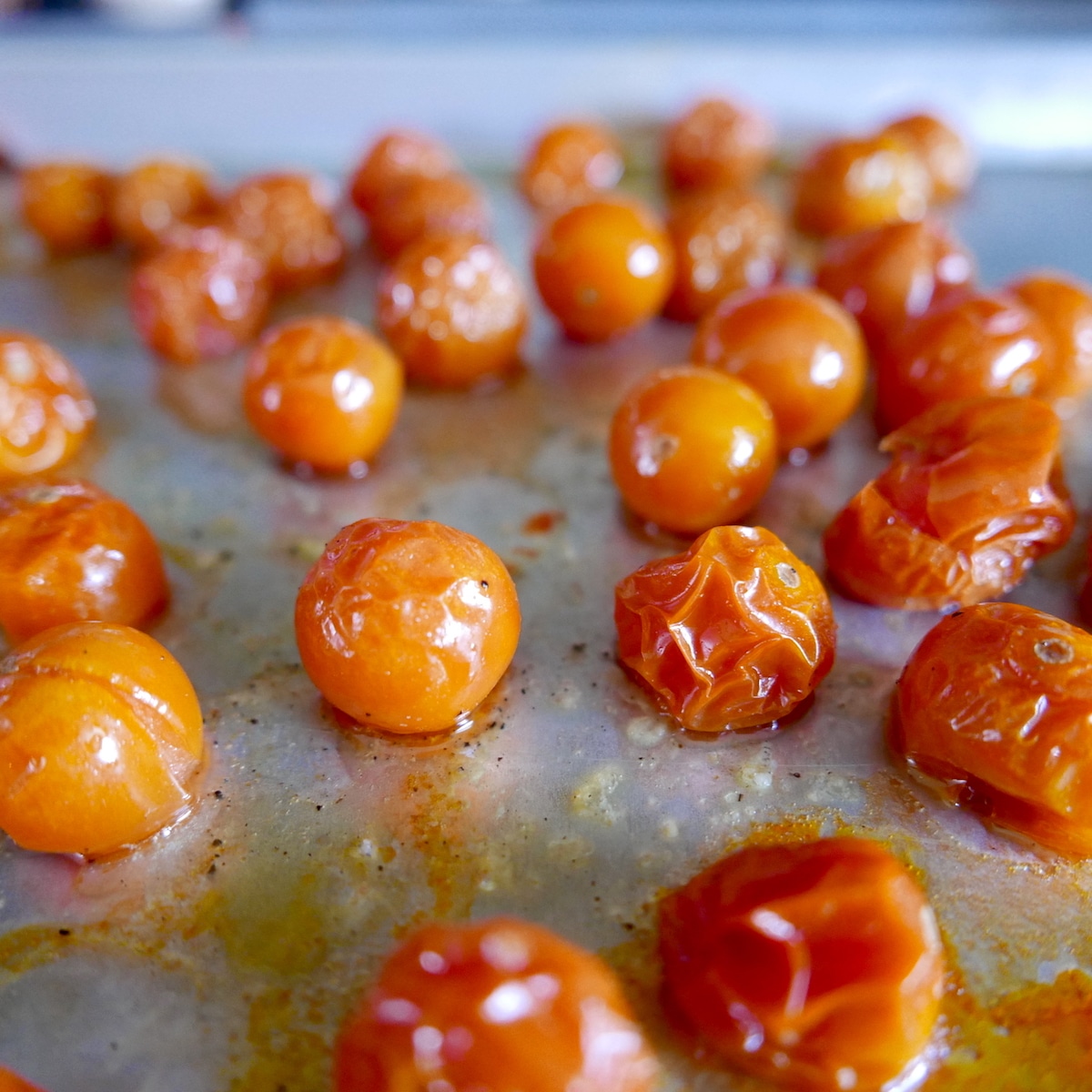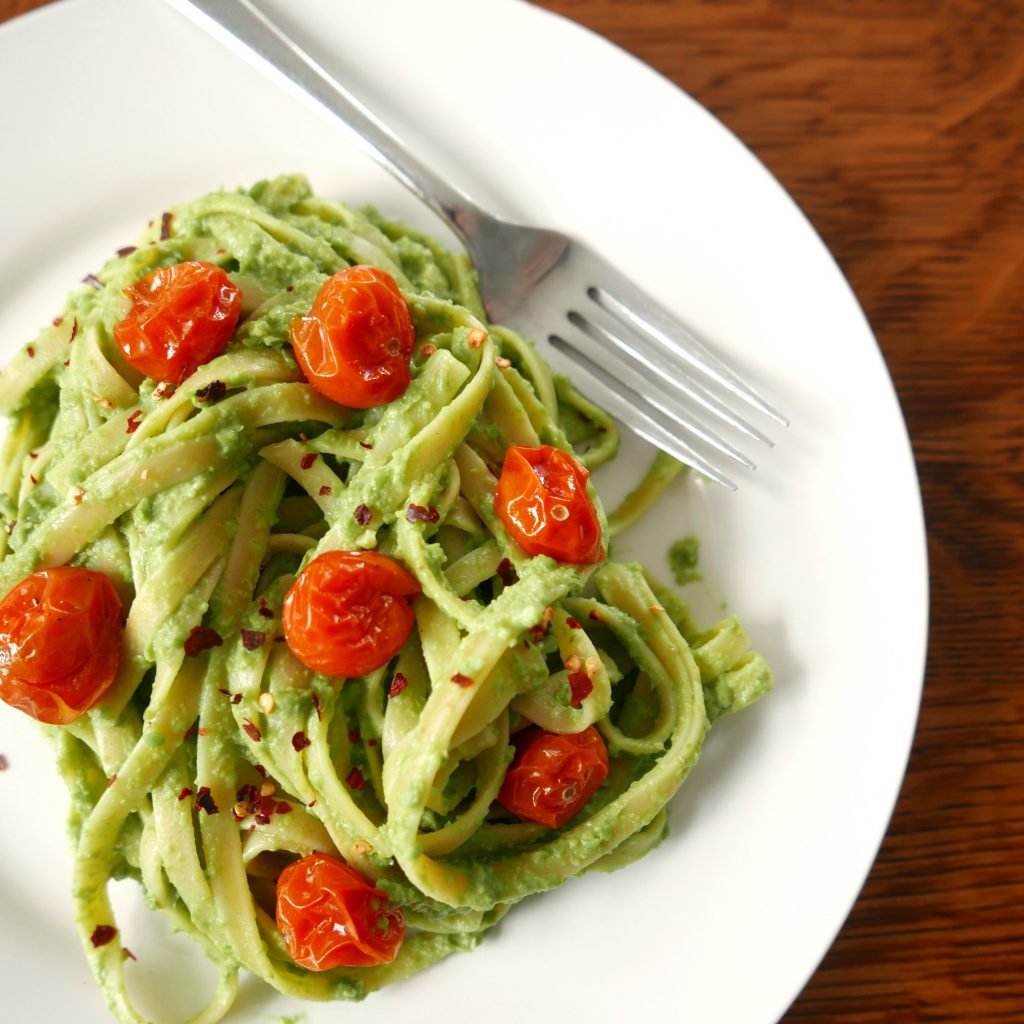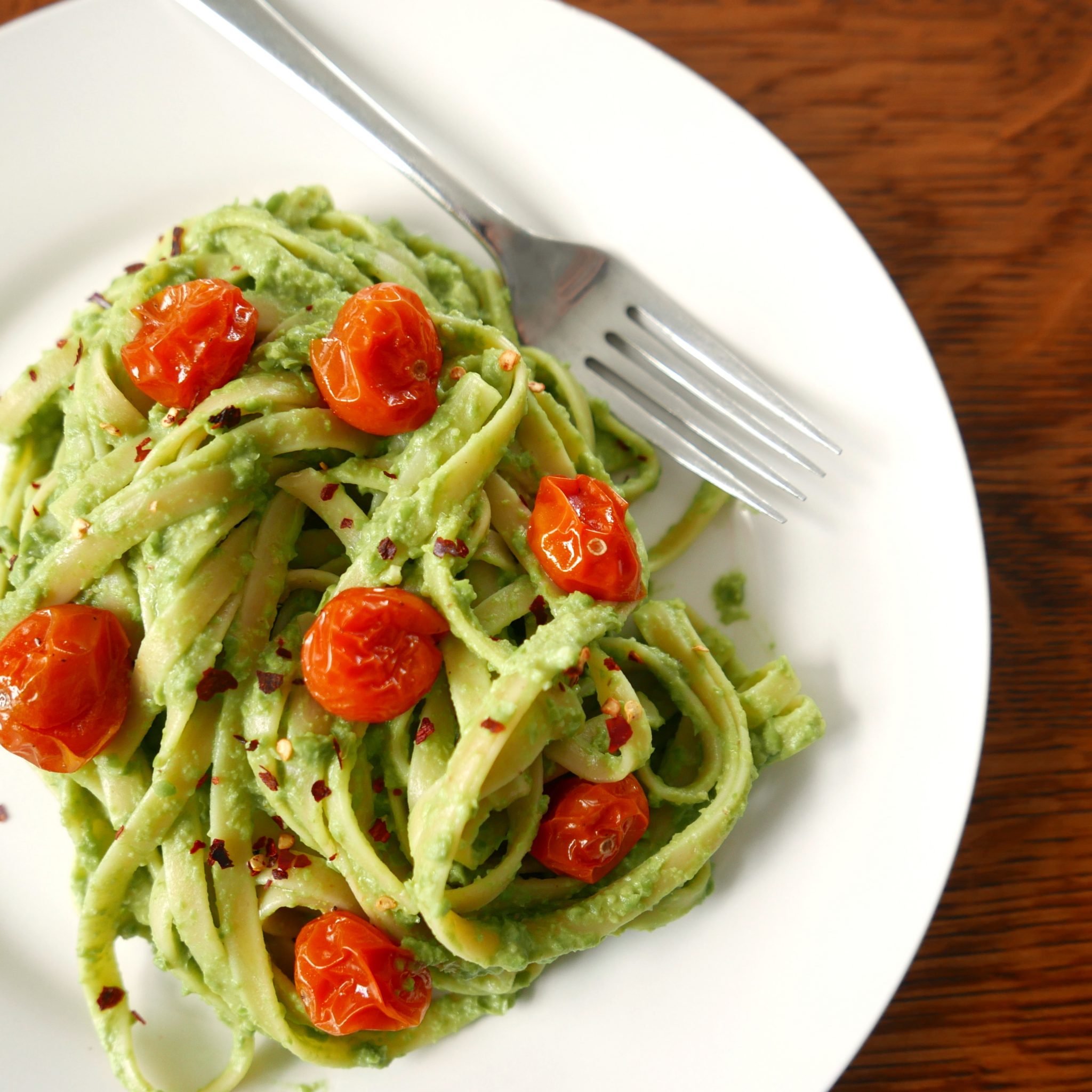 Why This Recipe Works
If you are like me, you love pesto. It's one of those magical sauces that can be added to so many dishes. It's bright, garlicky, cheesy, herbaceous, and so incredibly full of flavor. And what's more, you can make a batch of pesto in a matter of minutes! Although I love classic pesto, I have learned how to play around with ingredients over the years, making substitutions based on what I am in the mood for.
When I want to add more nutrition/veggies and avoid dairy, I go for this vegan pea pesto – you won't believe how delicious it is! I typically make large batches of this and freeze it so I always have some on hand.
What Are The Needed Ingredients?
Cherry tomatoes
Olive oil
Frozen peas
Garlic cloves
Nutritional yeast
Walnuts
Black pepper
Dried fettuccine
Red pepper flakes, optional
Recipe Notes
Although traditional pesto calls for pine nuts, I use walnuts in this recipe for two reasons. First – pine nuts are insanely expensive. And second, pine nuts are not very flavorful in my opinion. Toasted walnuts, on the other hand, have a rich, nutty, and slightly sweet flavor that I love. And they are loaded with vitamins and minerals! Of course, if you prefer almonds or another nut, go for it.
The bonus of this recipe is that a vegetable (peas) is in the pesto itself, so you would be fine just making the pesto with pasta, but I love the deep caramelized flavor of roasted tomatoes, and the bright color they add to the dish. If you like a splash of heat with your pasta dish, don't leave out the red pepper flakes at the end. They are the ribbon that ties the dish together.
Leftovers can be stored (covered) in the refrigerator for up to 4 days.
What is Nutritional Yeast?
Nutritional yeast, which takes the place of parmesan cheese in this recipe, is essentially deactivated yeast that is similar to baker's yeast or brewer's yeast. It has an intense cheesy flavor and contains vitamin B-12, which is a nutrient that is actually hard to find in other foods.
It used to be a product that was beloved mainly by vegans, but its popularity has grown due to its nutritional value as well as it being a safe product for folks with food allergies. You can read more about it here. I often sprinkle nutritional yeast into recipes that call for cheese when I am staying away from dairy. It's also really tasty sprinkled on a bowl of popcorn!
More Pasta Recipe Ideas!
Enjoy your week, and feel free to drop me a line in the comments – I would love to hear if you try this recipe! Or tag me on Instagram @maryannehoekstra to let me know how it turned out! Also, if you are enjoying my blog, please consider recommending it to your friends. They can subscribe here.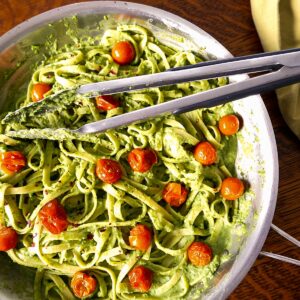 Vegan Pea Pesto Fettuccine with Roasted Tomatoes
Creamy & bright pea pesto fettuccine with bold and nuanced flavor from nutritional yeast and walnuts!
Ingredients
1

pint

cherry tomatoes

olive oil

1

10-ounce package

frozen peas, defrosted

2

garlic cloves, roughly chopped

1/2

cup

nutritional yeast

2

tbsp.

walnuts, toasted and cooled

1/2

tsp

sea salt

1/4

tsp

black pepper

1/3

cup

olive oil

12

ounces

dried fettuccine

red pepper flakes, optional
Instructions
Preheat oven to 400 degrees F.

Place cherry tomatoes on a baking sheet and drizzle lightly with olive oil. Season with salt and pepper. Roast for 15 to 20 minutes, until tomatoes are soft. Set aside.

Place peas, garlic, nutritional yeast, walnuts, salt, and pepper into the bowl of a food processor. Mix until combined, stopping once to scrape down sides of bowl.

With the machine running, slowly drizzle in olive oil. Transfer mixture into large sauté pan.

Cook fettuccine following instructions on box. Reserve roughly two cups of pasta water and drain fettuccine. Transfer noodles to sauté pan with pesto.

Over low heat, toss noodles with pesto, and as much reserved pasta water as needed to create a creamy sauce. (Sauce will thicken later in the refrigerator, so be liberal with the pasta water.) Add roasted tomatoes and toss. If using, add pinch of red pepper flakes. Season with additional salt and pepper if necessary. Serve immediately.
Notes
Keeps in the refrigerator for up to 5 days.
Place in freezer-safe Ziploc bag, and freeze for up to 3 months.