A flavorful and creamy shallot pasta (no anchovies) loaded with shallots, Swiss chard, and broccoli. An easy and healthy dish that comes together in less than 30 minutes!
About a week after we moved to SoCal, I found a local nursery and delighted in the sheer enormity of the place – it must be several acres! It's basically a tree farm that also sells tons of plants, herbs, etc. Since one of my fantasies about living in a house with a backyard was to have a vegetable garden, I was over the moon to find this nursery. I came away with lots of goodies, including kale and acorn squash. Word to the wise: Brussels sprouts plants grow to be ENORMOUS, so if you are using planter boxes and have limited space, your Brussels sprouts are definitely not going to grow, despite your checking on them every day. Not that I've been doing that. *cough
Sometimes I wonder what our neighbors think when they see me obsessively checking on my garden several times a day. They could have a text chain going about me for all I know. "Does she not know how gardens work?" It's so enjoyable to watch plants grow! This is my Pandemic Life now. But let's be real – I am a middle-aged lady. Even in normal times, I would be enjoying the hell out of my garden. Which brings me to this week's recipe!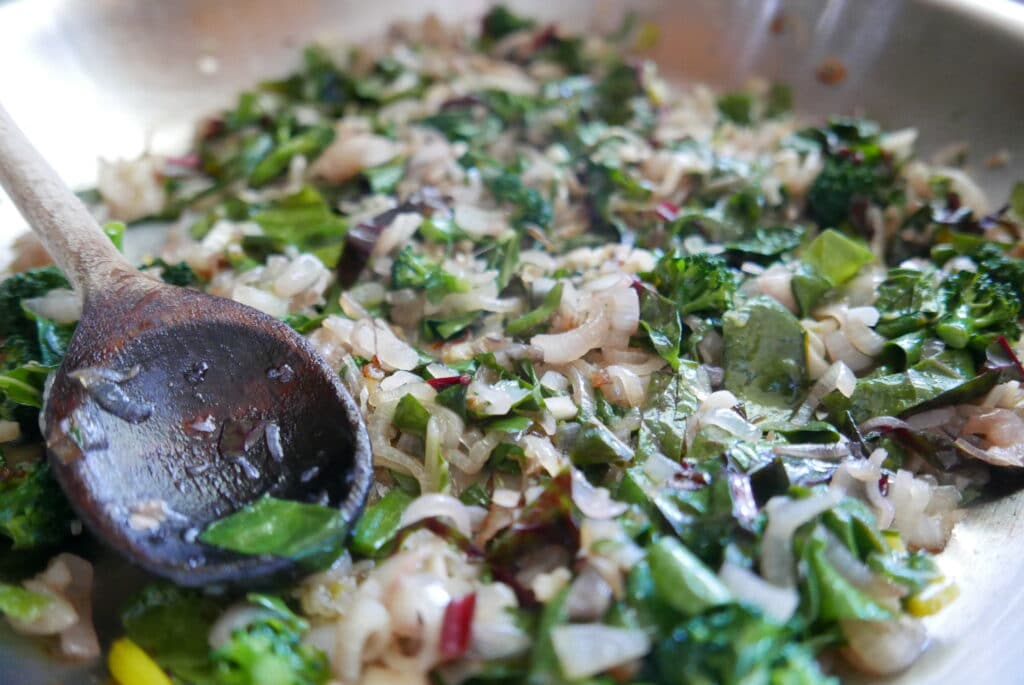 Shallot Pasta with Greens (No Anchovies)
Many of you will be familiar with Alison Roman's Shallot Pasta recipe that went viral a few years ago. I am always skeptical when a recipe goes viral. I mean, it's pasta, people. How good could this recipe really be? Well, I finally tried it. It is, in fact, delicious. And different! Not your typical Italian-flavored pasta that has oregano, basil, etc. But regardless, it's so, so good. Now, I wanted more veggies in the dish, so I added Swiss chard and broccoli (from the garden!). You could totally add whichever veggies you prefer, or you can just stick to the shallots. It's a very versatile dish, and so easy!
Recipe Tips
The original recipe calls for anchovies, but if you don't care for them, or don't have any on hand, you could substitute anything that has an umami flavor. I used miso paste, but you could also swap in Worcestershire sauce, fish sauce, or something similar. I really enjoyed the toothsome quality of the bucatini that I used, but again, you could go with whatever type of pasta you have on hand. And if you are familiar with ASMR, this dish should be the sound for "creaminess". I mean, it's over. the. top. Which makes it that much more fun to eat.
Noodle Recipes from Gastronotherapy
Enjoy your week, and feel free to drop me a line in the comments – I would love to hear if you try this recipe! Or tag me on Instagram @maryannehoekstra to let me know how it turned out! Also, if you are enjoying my blog, please consider recommending it to your friends. They can subscribe here.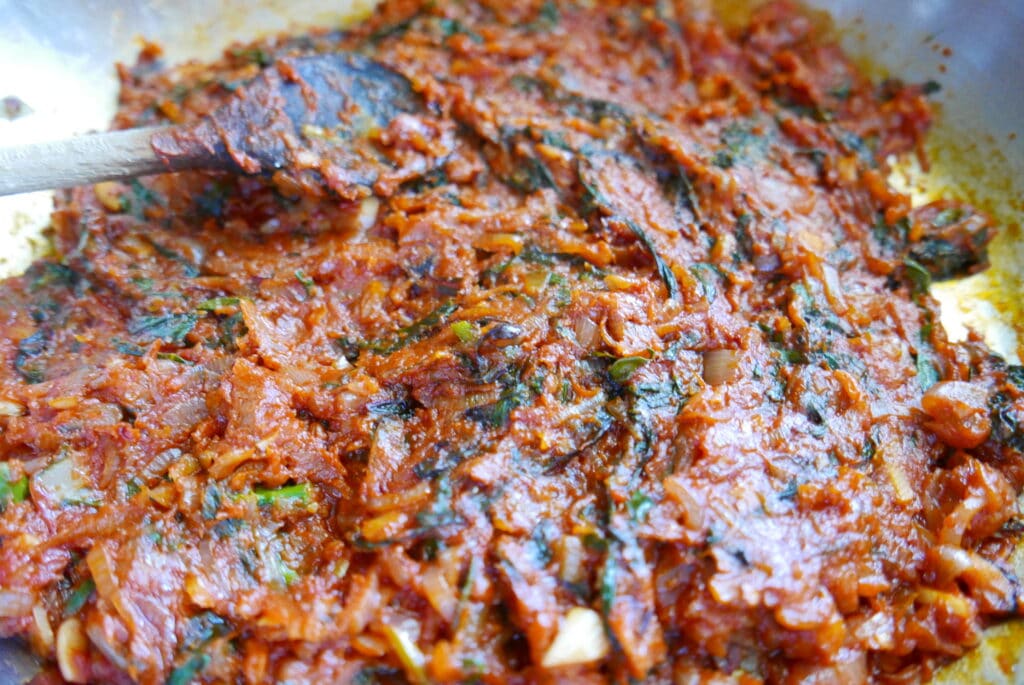 Shallot Pasta with Greens
A flavorful and creamy pasta dish loaded with shallots, Swiss chard, and broccoli. An easy and healthy (vegan) dish that comes together in less than 30 minutes!
Ingredients
¼

cup

olive oil

6

large shallots

very thinly sliced

1

bunch Swiss chard

stems finely chopped and leaves thinly sliced

1

cup

broccoli florets

coarsely chopped

5

garlic cloves

thinly sliced

Sea salt and freshly ground black pepper

1

teaspoon

red-pepper flakes

plus more to taste

1/4

cup

miso paste

1

4.5-ounce tube or (6-ounce) can of tomato paste (about 1/2 to 3/4 cup)

12

ounces

pasta

1

cup

parsley

leaves and tender stems, finely chopped

Flaky sea salt
Instructions
Heat olive oil in a large skillet over medium high heat. Add shallots and season with salt and pepper. Cook, stirring occasionally, until the shallots have become totally softened and caramelized with golden-brown fried edges, 15 to 20 minutes. At the 15-minute mark, add Swiss chard, broccoli florets, and garlic, and sauté for 5 minutes.

Add red-pepper flakes and miso paste. Stir to combine, and cook about 2 minutes.

Add tomato paste and season with salt and pepper. Cook, stirring constantly to prevent any scorching, until the tomato paste has started to cook in the oil a bit, caramelizing at the edges and going from bright red to a deeper brick red color, about 2 minutes. Remove from heat and transfer about half the mixture to a resealable container, leaving the rest behind. (These are your leftovers to be used elsewhere: in another batch of pasta or smeared onto roasted vegetables, spooned over scrambled eggs or spread underneath baked salmon.)

To serve, cook pasta according to package instructions in a large pot of salted boiling water until very al dente (perhaps more al dente than usual). Transfer to skillet with remaining shallot mixture and 1 cup pasta water. Cook over medium-high heat, using tongs to turn and coat pasta, using a wooden spoon or spatula to scrape up any bits on the bottom, until pasta is thick and sauce has reduced, 3 to 5 minutes.

Divide pasta among bowls, or transfer to one large serving bowl, and top with parsley, flaky sea salt, and a bit more red-pepper flakes, if you like.