The only sourdough discard focaccia recipe you will ever need! Bakes up beautifully to a golden brown, and the sourdough discard adds complex flavor. Don't wait to try this recipe!
Like so many other people, I discovered the joy and wonder of having my own sourdough starter at the beginning of 2020. Since then, I've made countless loaves of whole wheat sourdough, sourdough focaccia, sourdough dinner rolls, and sourdough English muffins. Out of all those, focaccia is the most enjoyable and easiest to make.
Maybe it's because you get to handle the dough so much, but it's also hard to mess this recipe up. The result is a light and fluffy dough with a crunchy, golden brown crust that's been speckled with rosemary, olive oil, and flaky sea salt. It's flavorful enough to eat as-is, but you could also use your focaccia as sandwich bread.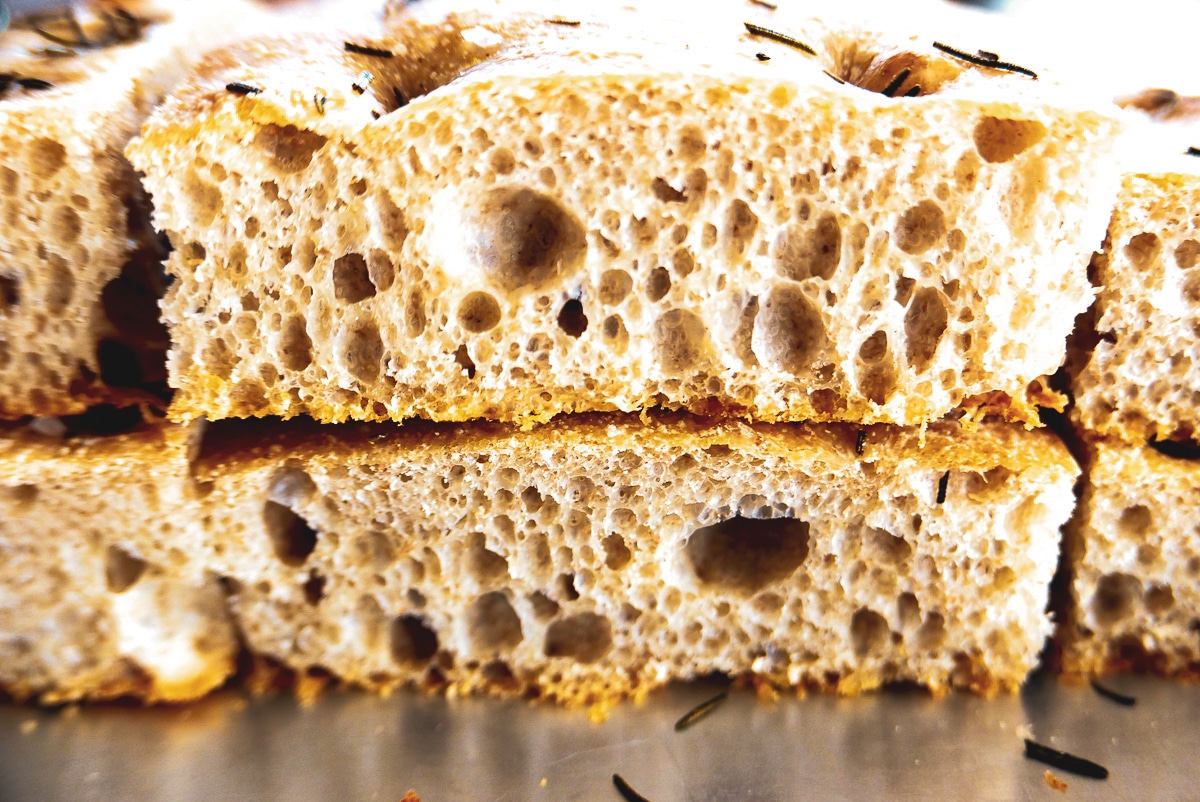 Why This Recipe Works
This sourdough discard focaccia recipe is inspired by one created in bon appétit magazine. I've tried several different recipes but this one bakes up beautifully every time. By adding the sourdough discard, it adds a slight tanginess to the bread that is oh-so-subtle.
I love adding rosemary to my focaccia, but if you are not a fan of the herb, you can simply leave it out, or add your favorite herb instead.
Ingredients Needed
Bread flour
Sourdough discard*
Active dry yeast
Sugar
Extra-virgin olive oil
Rosemary
Flaky sea salt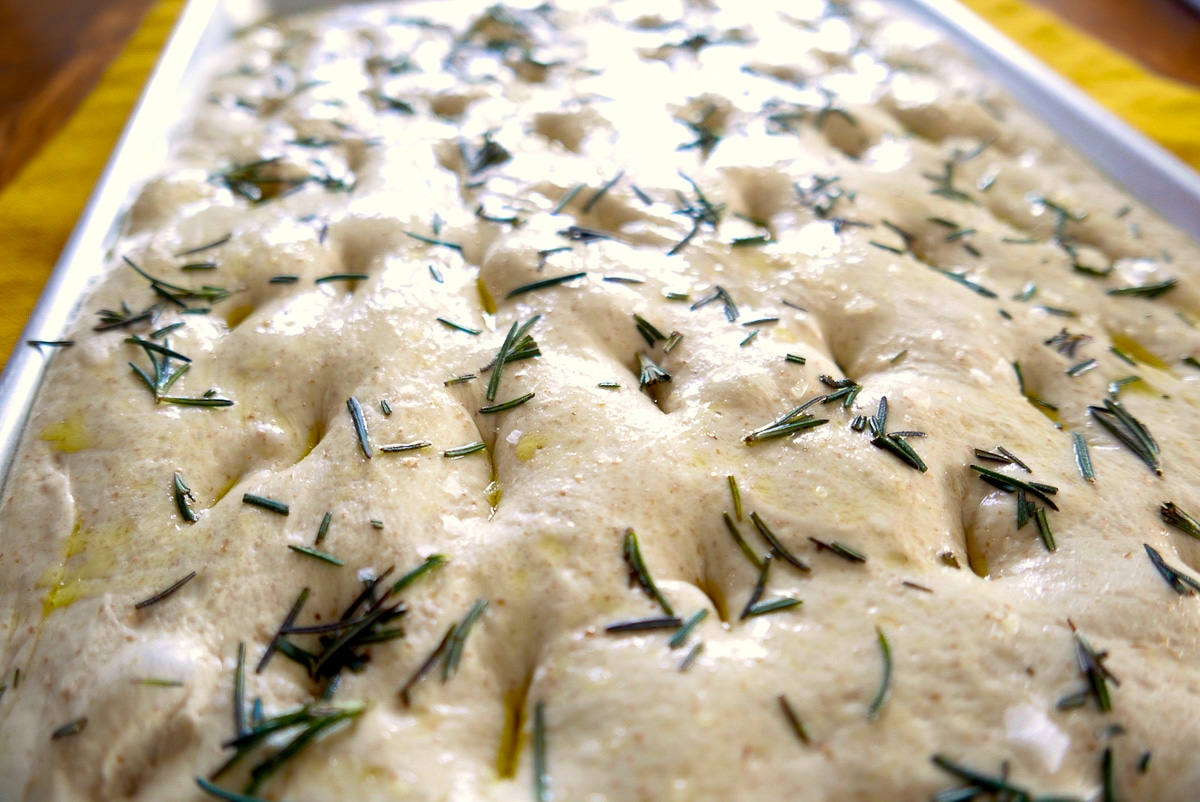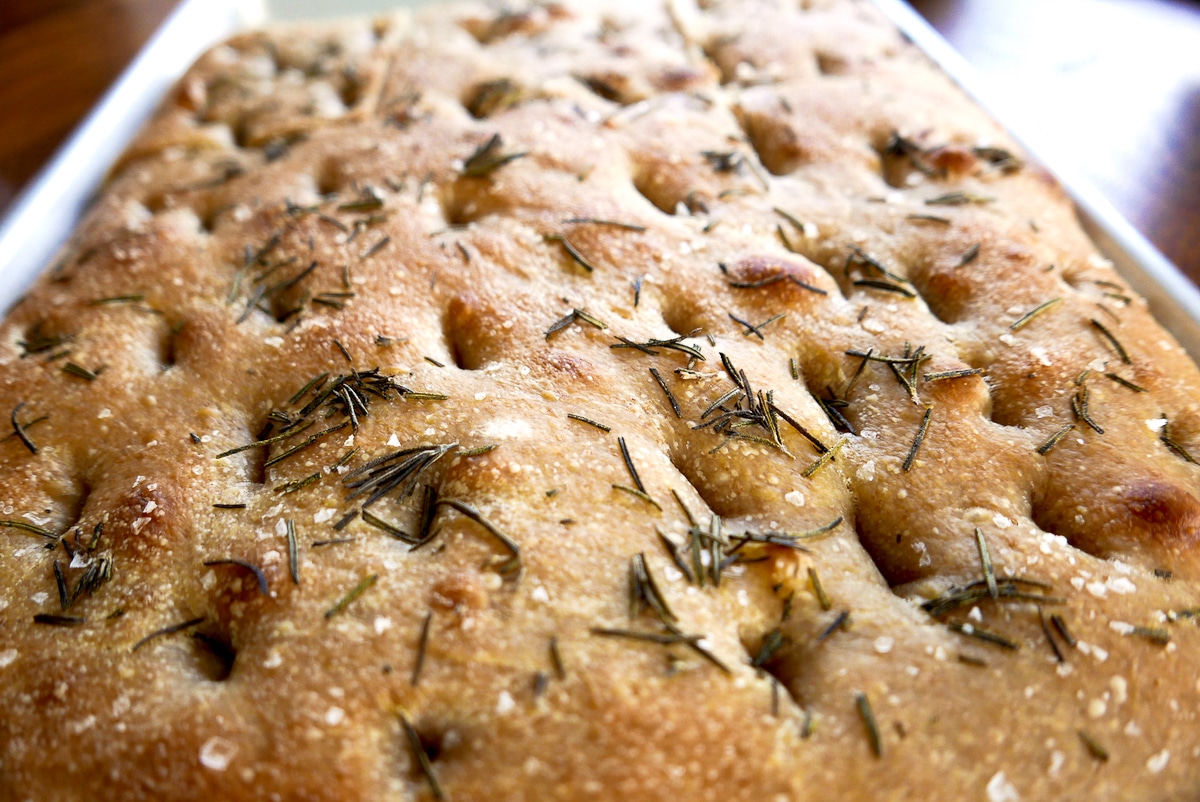 What Is Sourdough Discard?
If you are like me (and the millions of other people around the world) who started making sourdough at the beginning of 2020, you quickly learned that there is a thing called "sourdough discard". Essentially, it is the excess starter that you remove before each feeding. Depending on how often you make a loaf of sourdough, you could end up with quite a bit of discard after a while.
Of course, you could throw it directly into the trash can, but you really shouldn't – there are so many great ways to use your discard! I keep mine in a covered bowl in the refrigerator, and use it anytime I bake something and want to add an element of tanginess, or a more complex flavor, to a recipe.

The general rule is, for every 1 cup of discard that you add to a recipe, you should subtract ½ cup of flour and ½ cup of any liquid in the recipe. Part of the fun of using discard is that you get to control how much added depth of flavor you want to add, and that will determine how much discard you use.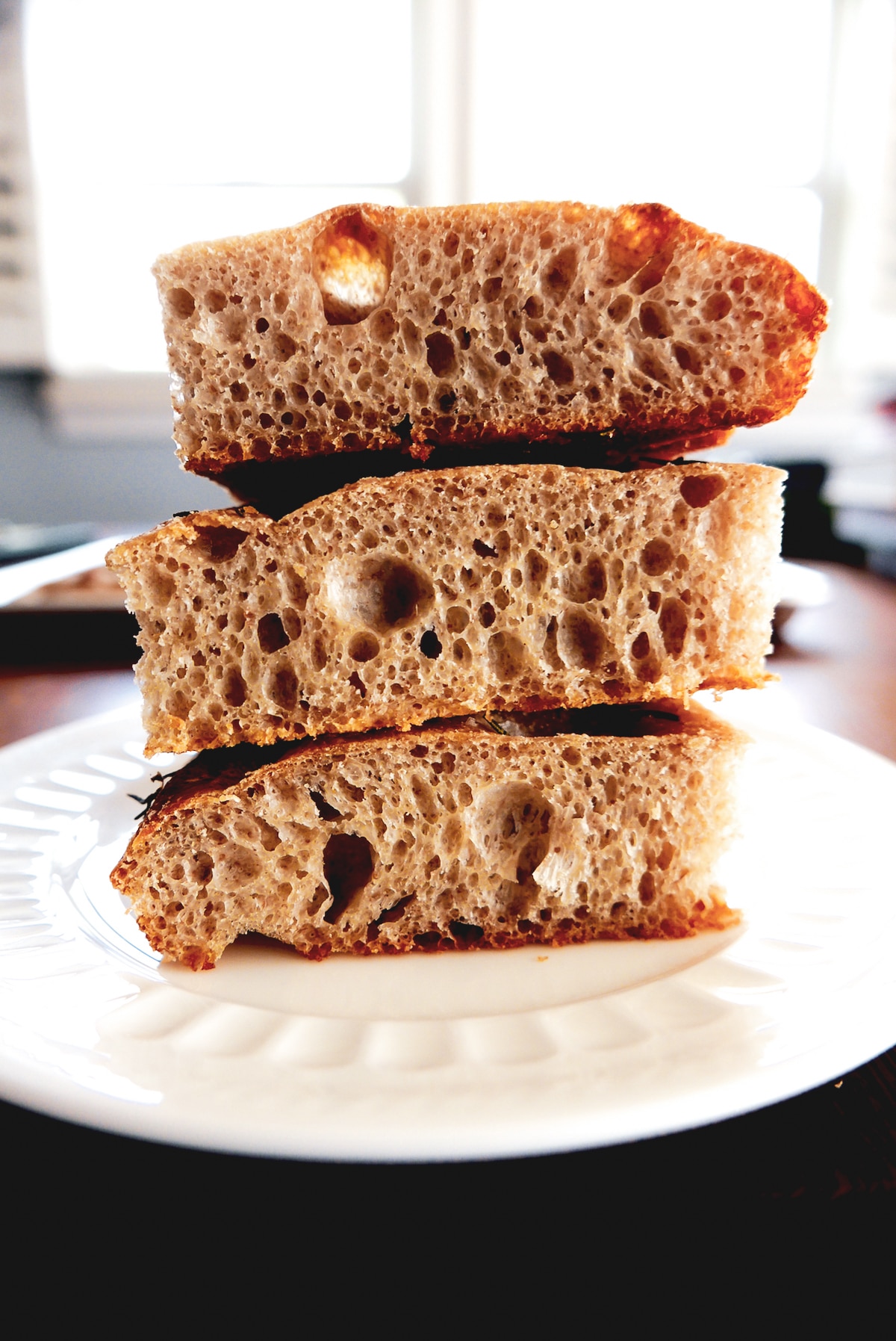 Recipe Notes
Don't be afraid of the amount of olive oil used in this recipe; I promise it needs it! If you cut back on the oil, your focaccia will be too dry. I really enjoy making paninis with my focaccia, and the flavor combinations are endless!
Be patient! When resting the dough to let it double in size, be sure to let it do its thing. If the dough takes a bit longer, try to not rush the process.
Store your focaccia in an airtight container at room temperature for up to 3 days or in the freezer (it freezes very well!) for up to 3 months.
More Bread Recipes!
Enjoy your week, and feel free to drop me a line in the comments – I would love to hear if you try this recipe! Or tag me on Instagram @maryannehoekstra to let me know how it turned out! Also, if you are enjoying my blog, please consider recommending it to your friends. They can subscribe here.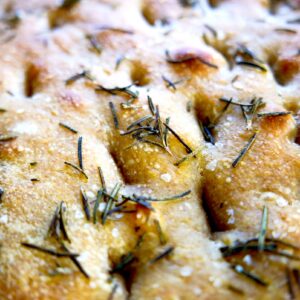 Sourdough Rosemary Focaccia
The only focaccia recipe you will ever need! Bakes up beautifully to a golden brown, and the sourdough discard adds complex flavor. Don't wait to try this recipe!
Ingredients
5 3/4

cups

bread flour

2 1/2

cups

water, divided

1

cup

sourdough discard*

2¼

tsp.

active dry yeast

from one ¼-oz. packet

Pinch

of sugar

1

tbsp.

sea salt

5

tbsp.

extra-virgin olive oil

divided, plus more for greasing and drizzling

2

tbsp.

rosemary

roughly chopped

1

tbsp.

flaky sea salt
Instructions
Combine flour, 2 cups room-temperature water, and sourdough discard in the bowl of a stand mixer fitted with the dough hook. Mix on low speed, scraping down sides and hook as needed to incorporate any dry flour, until a shaggy dough forms. Remove dough hook and cover bowl with plastic. Let sit while you prepare the yeast (you can leave the dough in this state up to 2 hours).

Stir yeast, sugar, and ½ cup warm water with a fork in a small bowl to dissolve. Let sit until yeast is foamy, about 5 minutes.

Pour yeast mixture into stand mixer bowl and mix on low speed until dough absorbs all additional water, about 1 minute (mixing on low speed will prevent liquid from splashing over the sides). Add sea salt and continue to mix, increasing speed to medium, until dough is extremely elastic and very sticky (it will look more like a thick batter and will start to slap sides of bowl), about 5 minutes.

Pour 3 Tbsp. oil into a large bowl and swirl to coat sides. Scrape in dough with a large spatula or flexible bench scraper. Cover and place in a warm spot until dough is doubled in volume, 2–3 hours.

Drizzle 2 Tbsp. oil over a 18×13″ sheet pan and use a pastry brush or your fingertips to rub all over bottom and sides. Using large spatula or flexible bench scraper, fold dough inside bowl a couple of times to deflate, then scrape onto prepared baking sheet. Using oiled hands, lift up dough and fold over onto itself in half, then rotate baking sheet 90° and fold in half again. Cover dough with a piece of well-oiled plastic and let rest 10 minutes to let gluten relax.

Uncover and go back in with oiled hands, gently stretching dough (to avoid tearing) across length and width of baking sheet in an even layer, working all the way to edges and into corners. If dough starts to spring back, let sit 5–10 minutes and start again. Cover again with same piece of oiled plastic and chill at least 8 hours and up to 24.

Let sheet pan sit in a warm spot until dough is puffed and bubbly and nearly doubled in height, 45–65 minutes. Meanwhile, place a rack in center of oven; preheat to 450°.

Remove plastic and drizzle dough generously with more oil. Oil hands again and press fingertips firmly into dough, pushing down all the way to bottom of pan to dimple all over. Sprinkle with rosemary and flaky sea salt.

Bake focaccia until surface is deep golden brown all over, 25–35 minutes. Let cool in pan 10 minutes. Slide a thin metal spatula underneath focaccia to loosen from sheet pan (it may stick in a couple of places, so really use those muscles) and transfer to a wire rack. Let cool completely before cutting as desired.

Tightly wrap in plastic and store at room temperature.
Notes
*If not using discard, simply add ½ cup flour and ½ cup water to mixture to replace discard.
Focaccia can be stored in the freezer (in a Ziploc freezer bag) for up to 3 months.