I'm in the middle of reading a fantastic book of essays called "Goodbye to All That".  The tag line reads, "Writers on Loving and Leaving New York".  I am completely absorbed in this book.  I thought it might help to convince me that there are plenty of other great places to live in this vast country of ours, but it's having the opposite effect.  In each essay, there is a beautiful description of what first drew them to NYC.  Most of the writers had their first experience of the city when they were children and fell in love with it immediately.  The theme of being a misfit in whatever town you grew up in only to discover that NYC is where you finally fit in (among the misfits) is not a new concept by any means.  And yet, I never get tired of reading these stories, partly because I can identify.
My first time in New York was the summer after my college graduation.  My sister very generously bought me a plane ticket as a graduation gift.  We stayed in a friend's apartment on the Upper West Side for 4 or 5 days, and over the course of those few days, I was bewitched by the city.  We took in all of the usual tourist sights:  we rode on the Ellis Island ferry, went to the top of the Empire State Building, saw a Broadway musical, and took a tour of NBC Studios.  We even spotted Yoko Ono outside one of the Trump buildings!  I was completely smitten and knew I wanted to live here someday.
Five years later, my friend and I found an adorable apartment on the Upper West Side.  Although it was a steal for the size and location of the apartment, it was out of our price range.  But we didn't care.  We were young and naïve and thought we could make it work.  One of my most vivid memories is of a picnic we had in Central Park that first summer.  It was the night of the Met Opera in the Park performance, and we had only found out about it by stumbling upon the rehearsal in the park earlier that afternoon.   We had no idea that half of the city would be there that night sprawled out with their blankets, bottles of wine and blocks of cheese.  I remember lying on my stomach, drunk on red wine, and eating olives, Gruyere, and French bread by the fistful.   We were relatively far away from the stage but we could hear the singers perfectly.  As the sun set in the warm summer sky, I had a silly grin on my face and I gazed up at the stars.  I knew this was where I was meant to be.  Eleven years later, I still have to pinch myself every so often when I think about the fact that I live in New York City.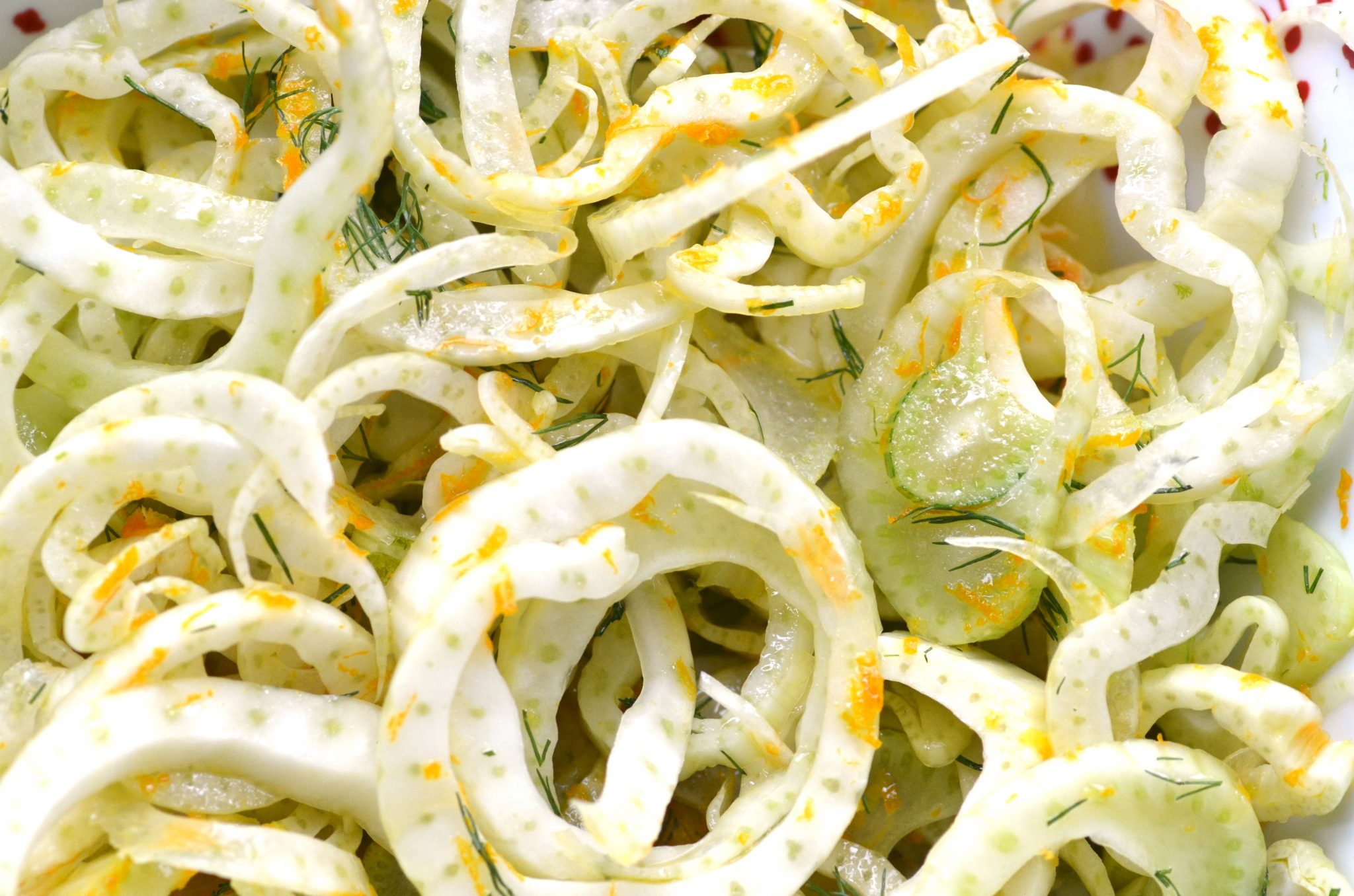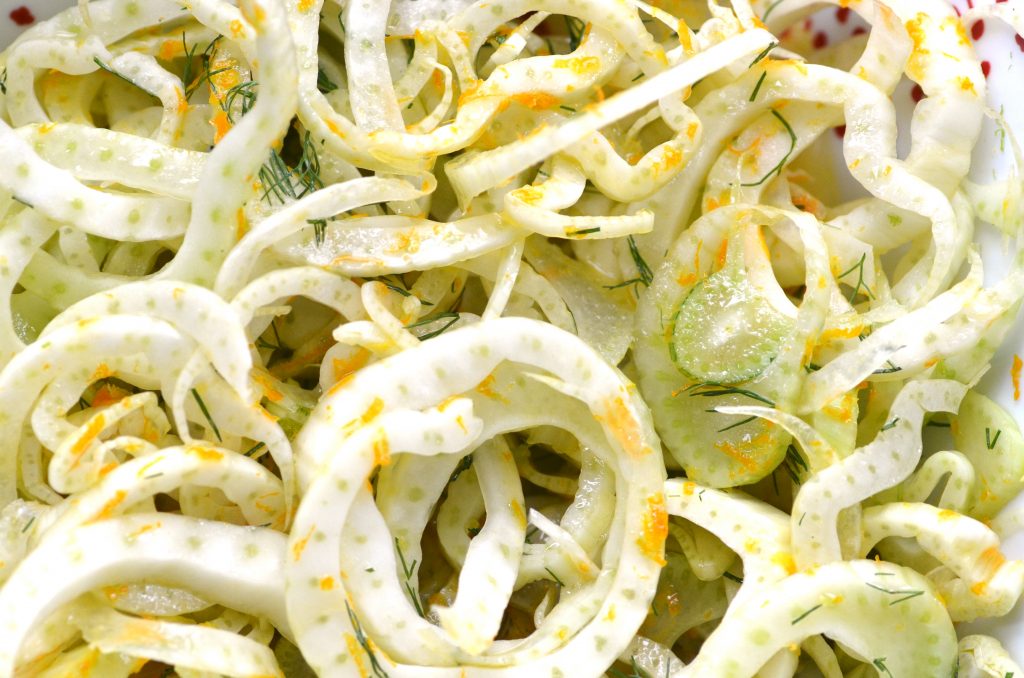 Despite the fact that it has been snowing for 1,000 straight days here in New York, I wanted to make something light and refreshing last week.  Perhaps as a way to pretend I was in warmer climes, or maybe I just needed to change things up from all of the heavier, winter food I have been eating lately.  Regardless, this dish, adapted from The Sprouted Kitchen, hit the spot.  I have come to really appreciate fennel the last few years.  It has great anise flavor along with a nice crunch that I usually associate with celery.  The orange zest brightens up the slaw, and the Parmesan cheese gives it a nice salty nuttiness.  I've been eating a plate of this every day alongside whatever I'm eating for lunch.  It's almost gone, and I'll be sad to see it go.  Only 6 more weeks till spring….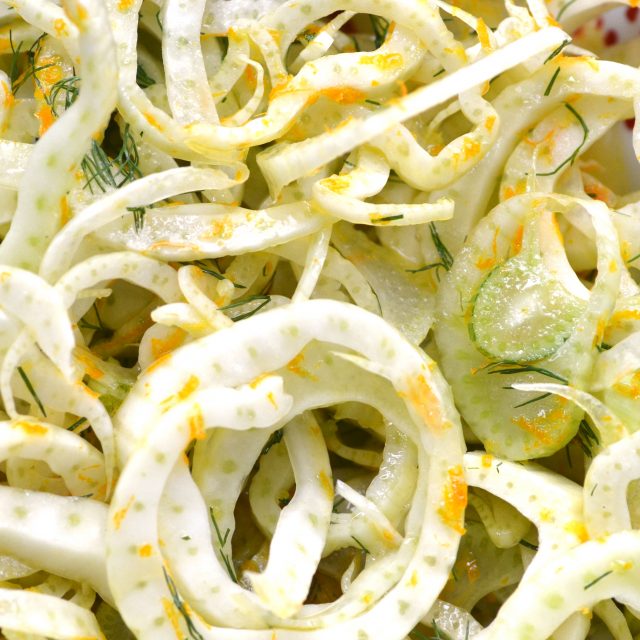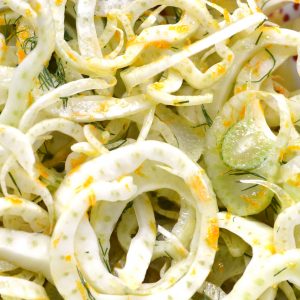 Fennel Slaw
A crunchy and citrus-y fennel slaw that brightens up any plate!
Ingredients
2

large fennel bulbs

with a few chopped fronds

3

tablespoons

extra-virgin olive oil

Grated zest of 1 orange

3

tablespoons

freshly squeezed orange juice

2

or 3 tablespoons finely chopped fresh flat-leaf parsley

1/2

cup

finely grated Parmesan cheese

Sea salt and freshly ground pepper
Instructions
Slice the fennel bulbs horizontally as thinly as possible.  Remove any large core parts, then add the slices to a large mixing bowl with the fronds.

Add the olive oil, along with the  orange zest and juice, to the bowl and toss.  Let it sit for about ten minutes to soften the fennel.  You can do this up to two days in advance.

Before serving, add the parsley and Parmesan.

Season to taste with salt and pepper.  Toss everything together and serve immediately.