Let these healthy s'mores bars transport you back to childhood summers. A rich graham cookie crust is topped with gooey dark chocolate and toasted mini-marshmallows. Even better than the classic!
Right around this time every summer I start to crave s'mores. If I don't have the opportunity to eat one around a fire, I actually make them using my gas stove. My husband loves to remind me about the time we were playing a board game and my hankering for s'mores almost burned our apartment down (he can be a bit dramatic). I might have left the burner on for several minutes after making said s'mores, but in my defense, it was a very satisfying s'mores.
These healthy s'mores bars almost need their own category separate from regular ol' s'mores: the base is a rich and buttery graham cracker cookie made healthier by using oats and non-dairy butter. Dark chocolate chips are melted on top and spread out to create a deep chocolatey layer, and mini-marshmallows are the pièce de résistance – placed under the broiler for just a few minutes to create that toasted flavor and slightly crispy bite we chase after in a s'mores.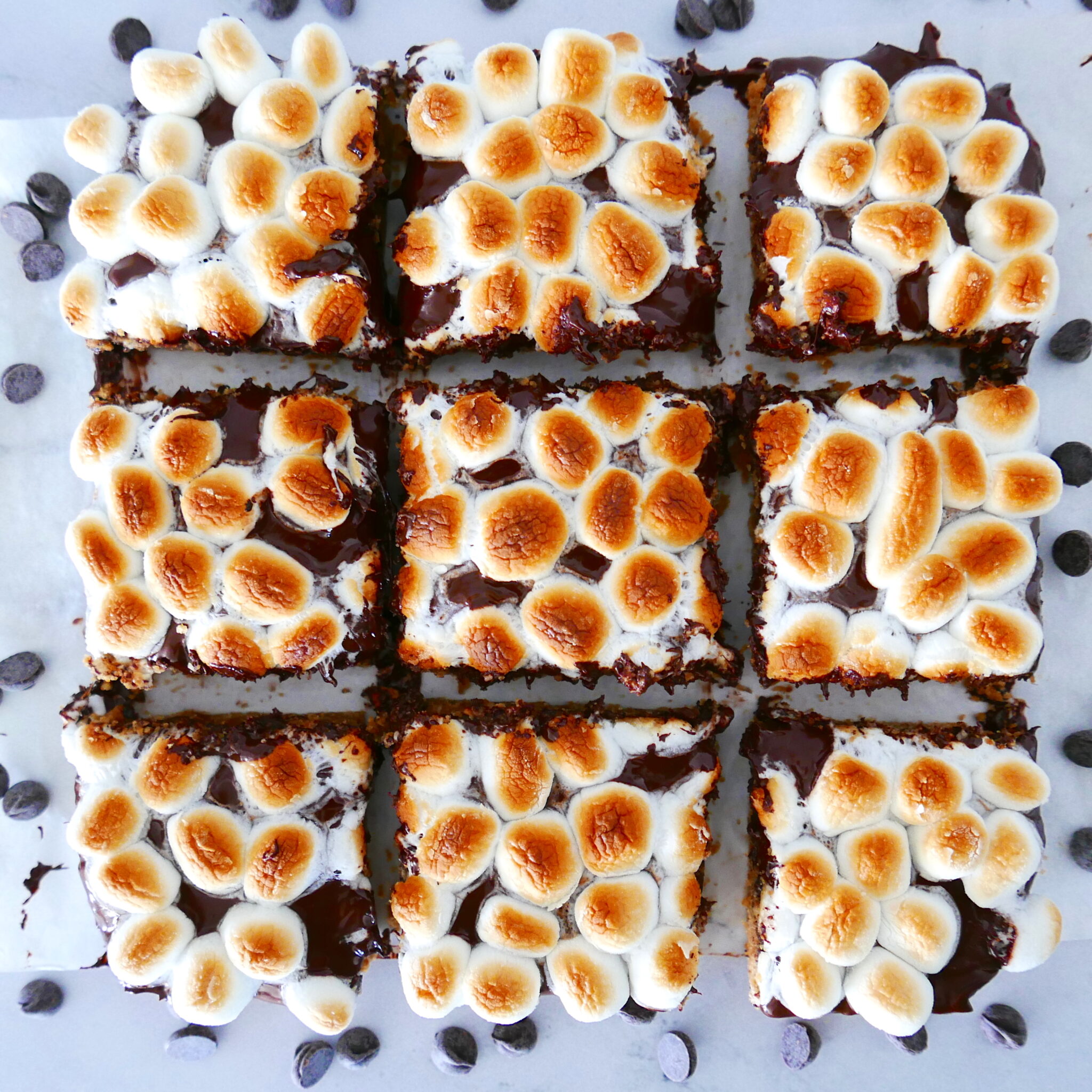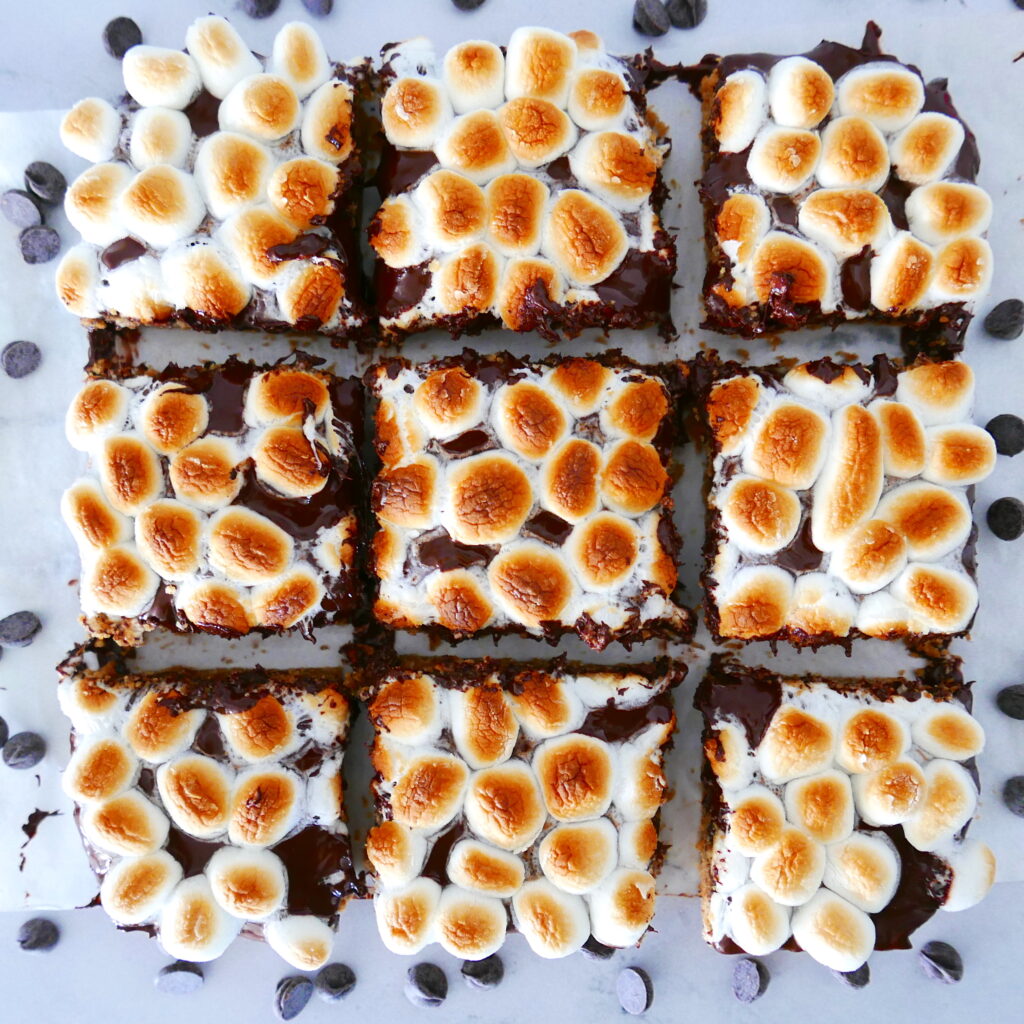 Why This Recipe Works
Quick & Easy – Between the prep and bake time, this healthy s'mores bar recipe only takes 40 minutes (and 30 of that is while they are in the oven so you can get other things done…is anyone else watching "Search Party"??)

Fun Classic Upgrade – You don't need a campfire to make s'mores when you can make rich and gooey s'mores bars that are so much better than the classic.

Great Party Dish – Who doesn't love the person who shows up to the summer bbq with homemade s'mores bars? Because they are in bar form, they are easily transportable. And when you show up with s'mores bars in hand, you will be thanked endlessly for making people's dreams come true.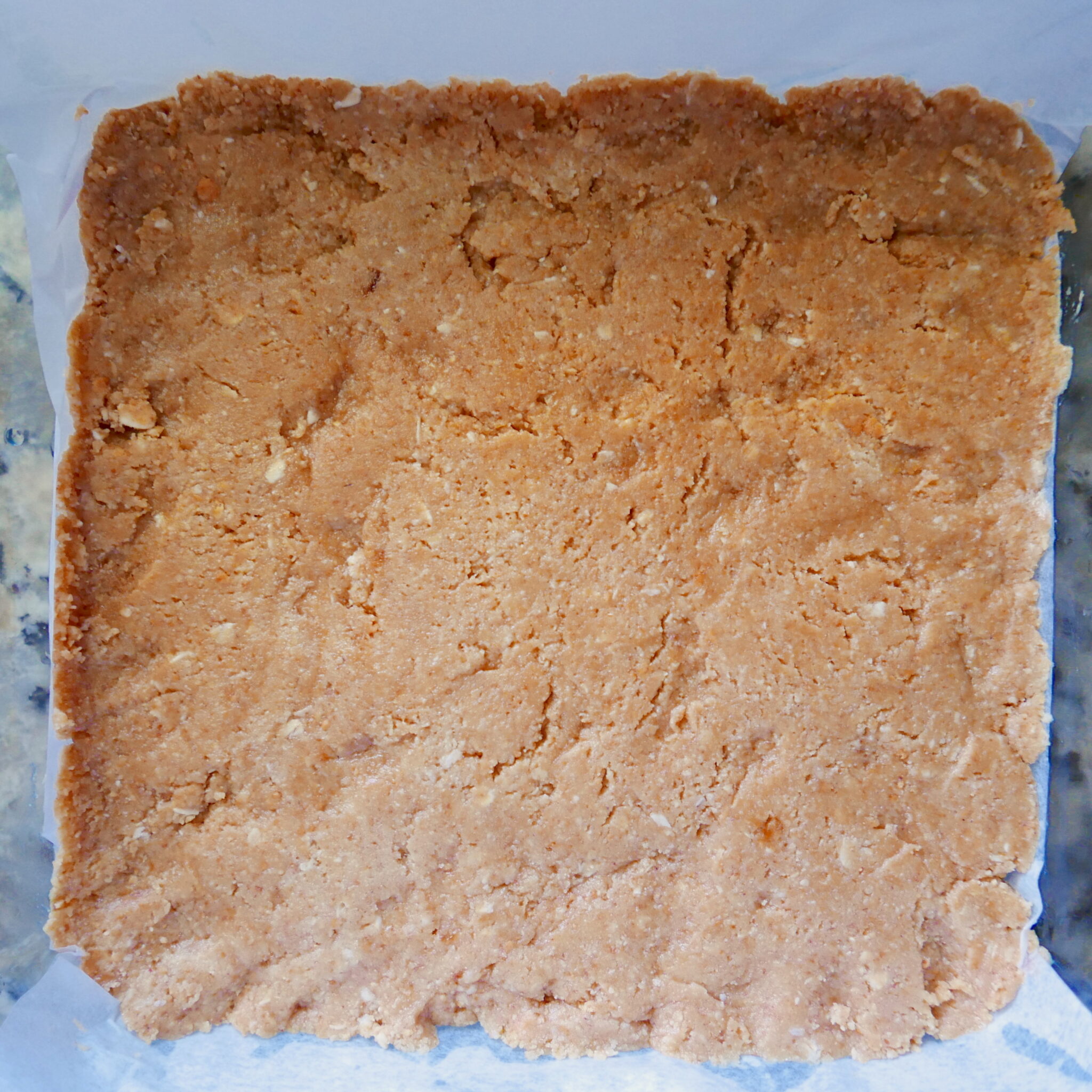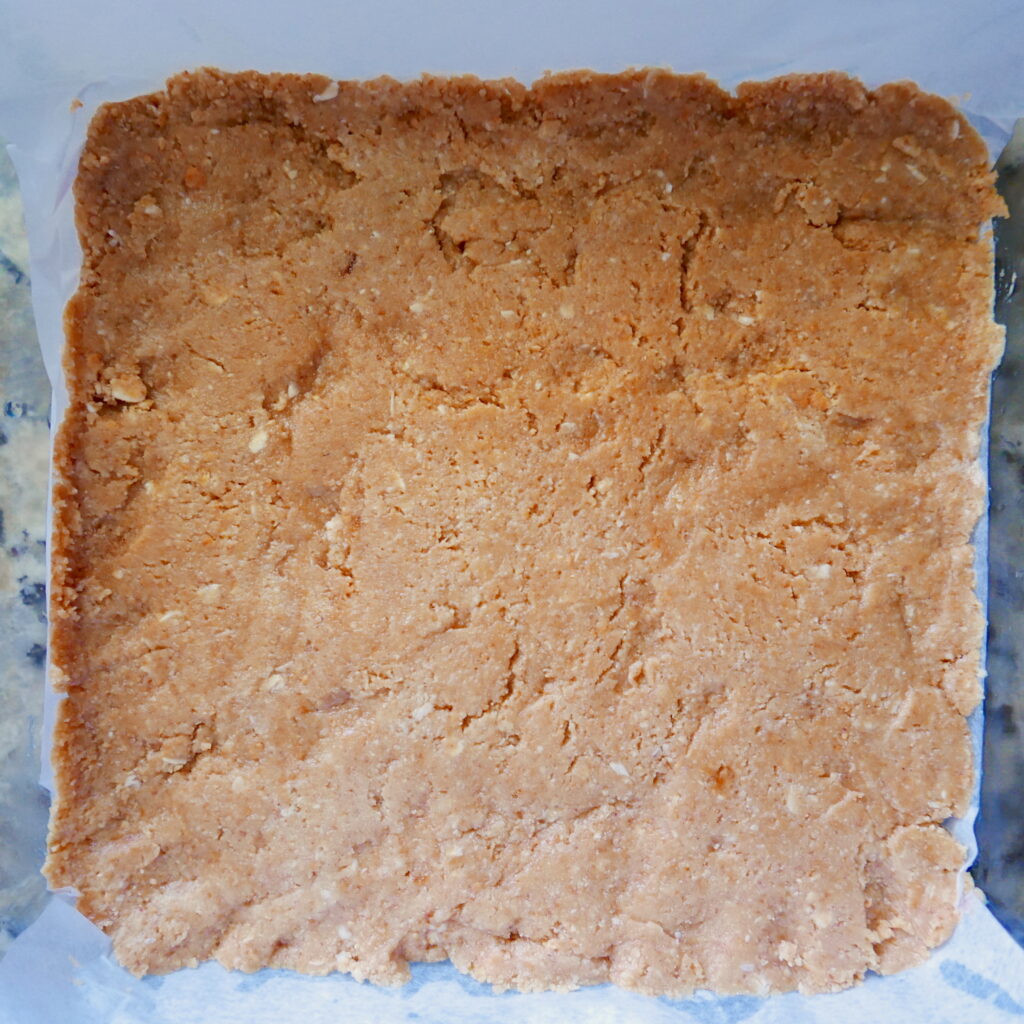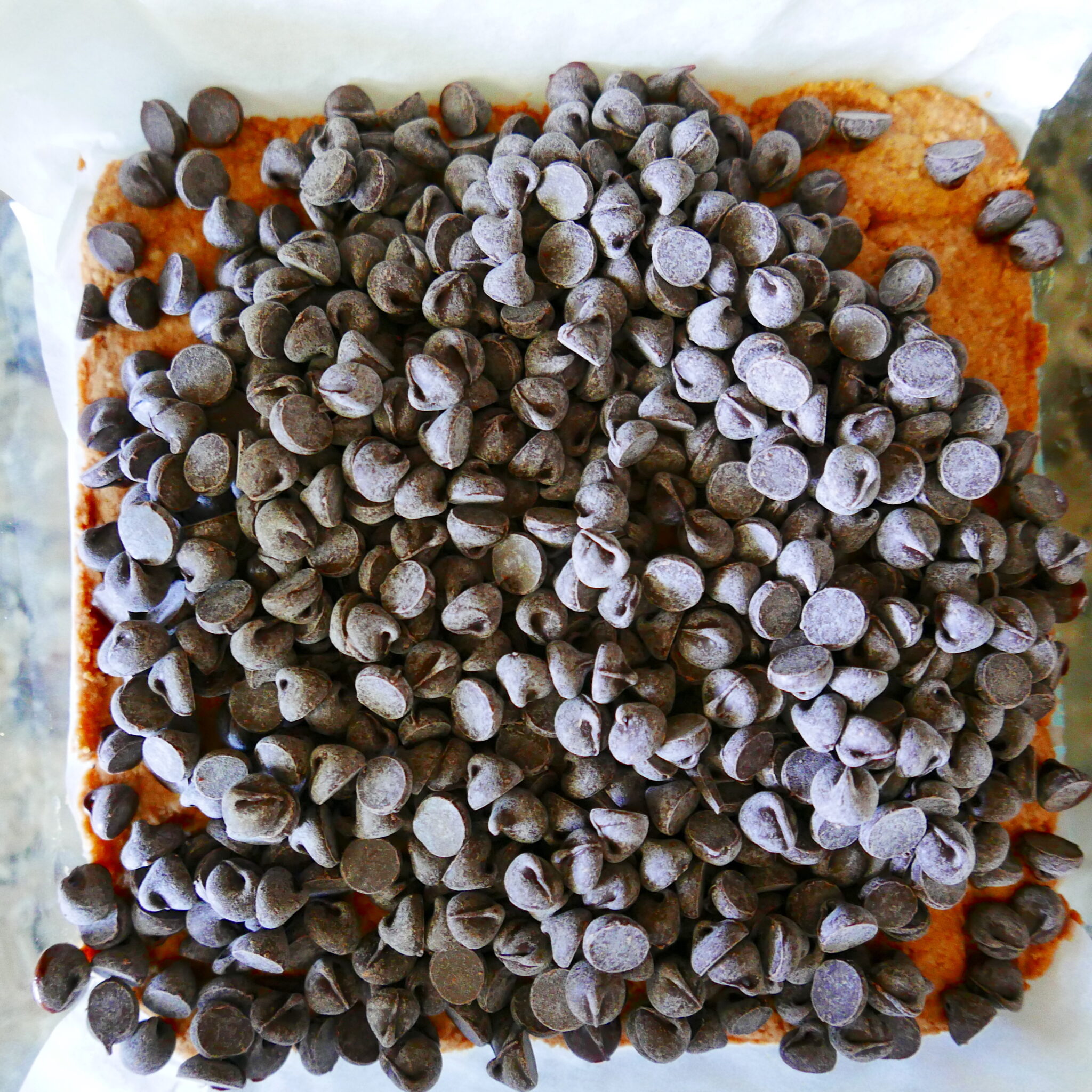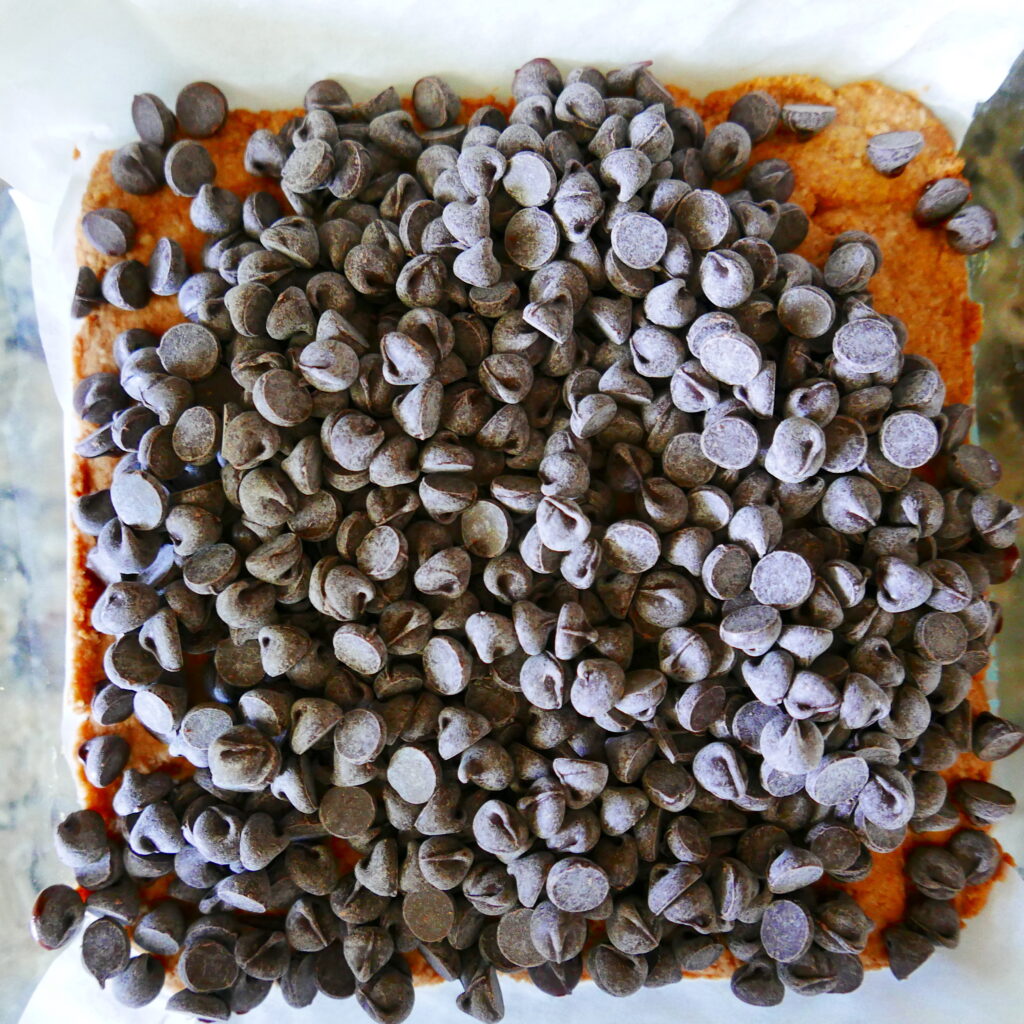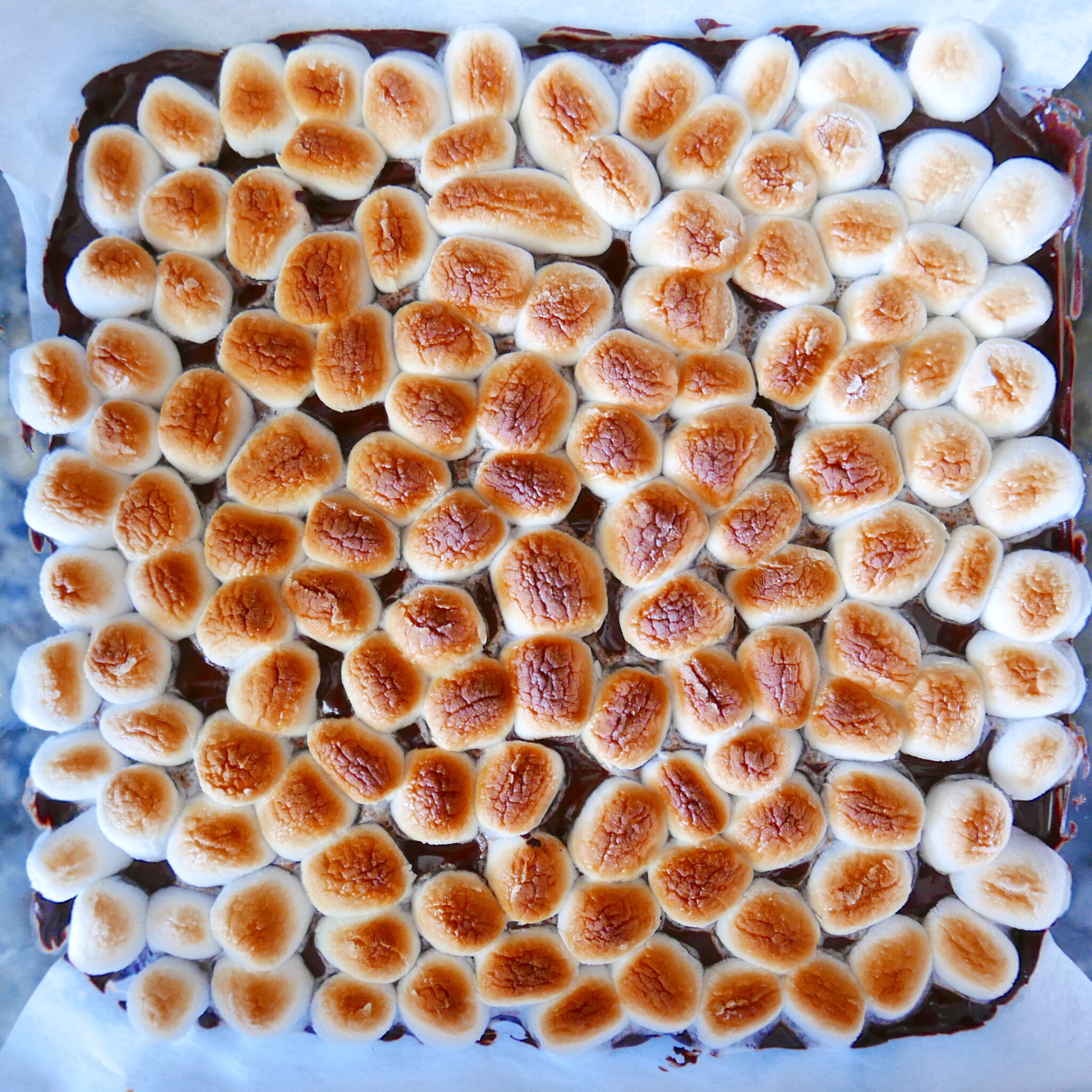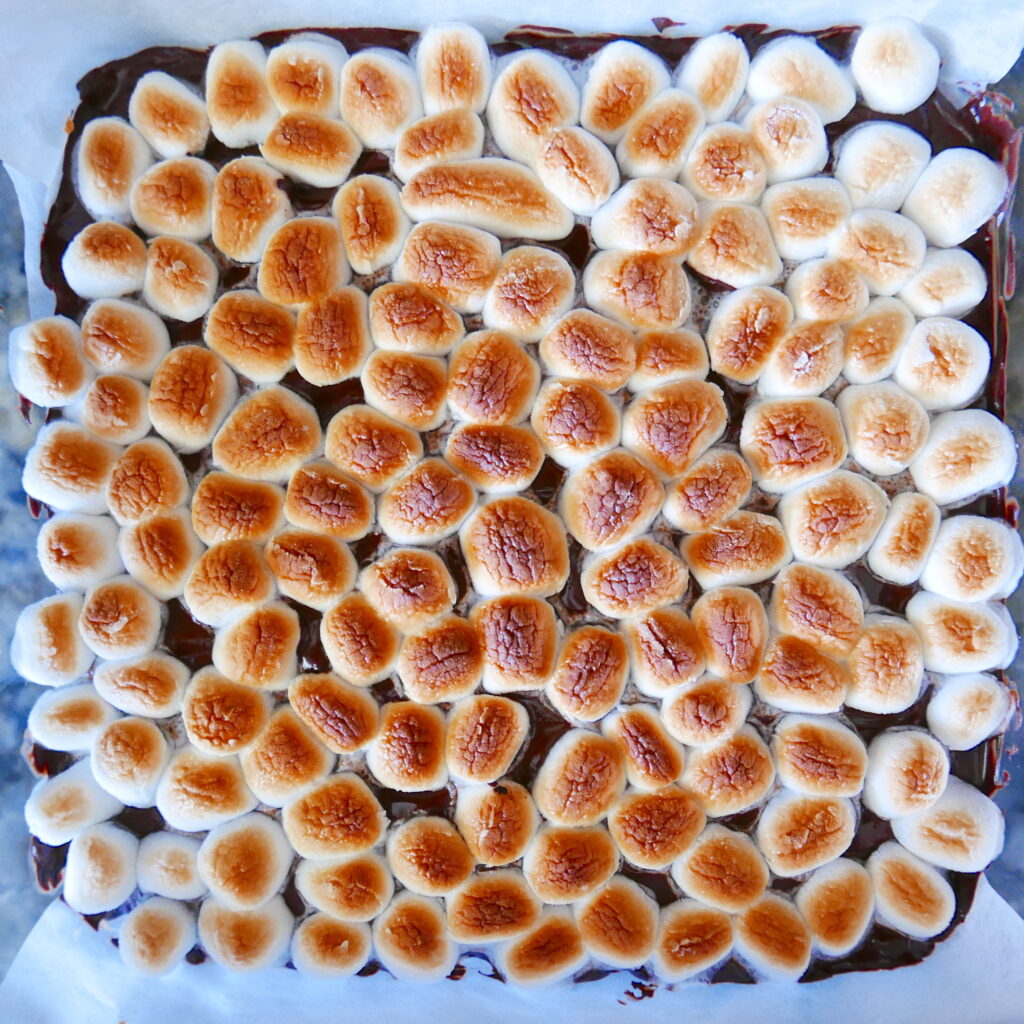 Ingredients Needed
Graham crackers – if you want to use plant-based graham crackers (many brands contain honey), Nabisco brand does not contain honey.
Dairy-free butter – one of my favorite dairy-free butter brands is Earth Balance. Sometimes I forget that it's dairy-free – that's how good it is.
All-purpose flour – substitute 1/4 cup of whole-wheat flour for 1/4 cup of all-purpose flour to make the bars even healthier!
Old-fashioned oats – I love the flavor and texture that oats add to baked goods.
Light brown sugar – the subtle notes of molasses work perfectly in this recipe.
Plant-based milk – I used almond milk but any plant-basked milk will work.
Vanilla extract – essential for all manner of baked goods.
Baking powder – acts as the leavening in this recipe.
Vegan dark chocolate chips (60% or higher) – I prefer dark chocolate but if you are not making vegan s'mores bars and you prefer milk chocolate, they will work great here.
Vegan mini-marshmallows – essential when making anything s'mores-related! If you are not making vegan bars, you can use "regular" mini-marshmallows.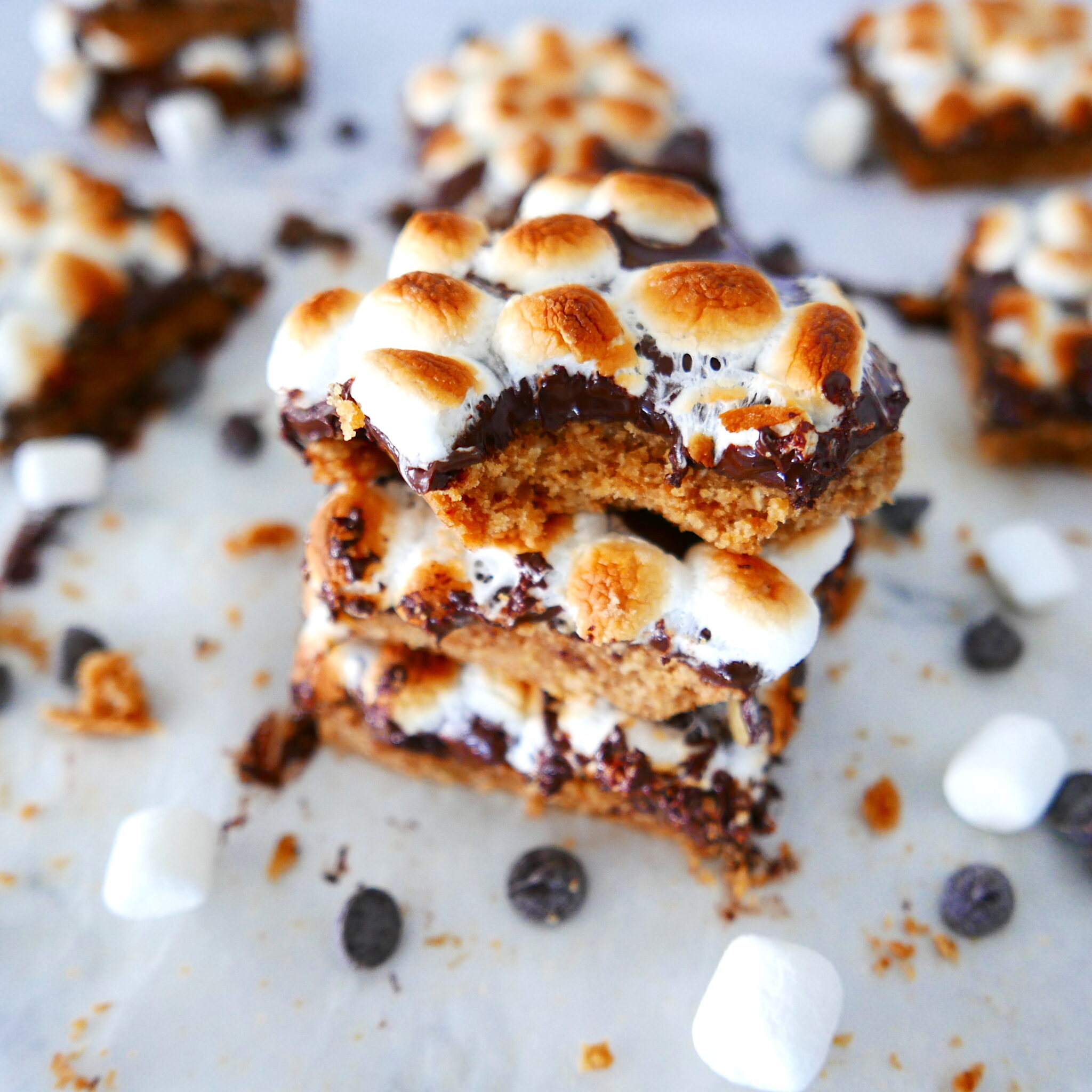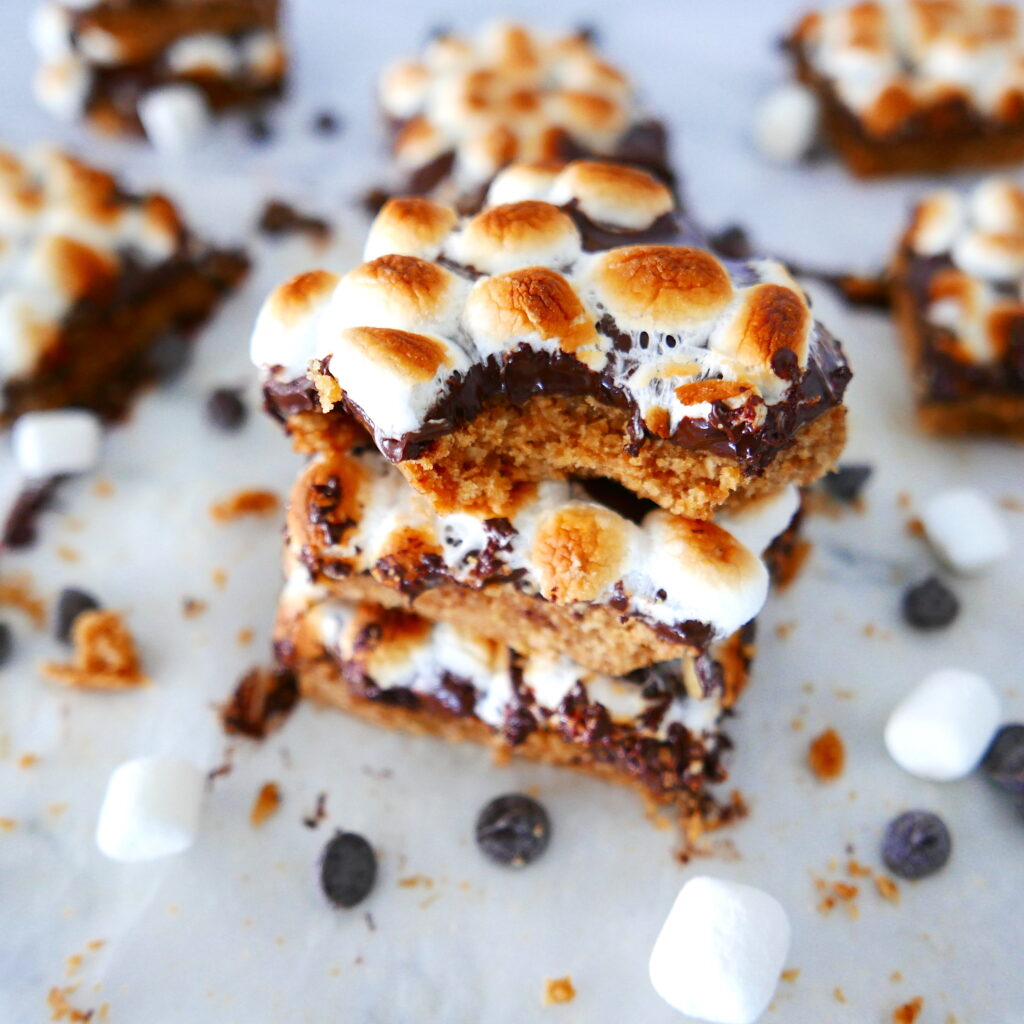 Helpful Tips and Recipe Notes
Guittard makes delicious 60% chocolate chips that are also vegan. If you want darker vegan chocolate (higher cacao content), I recommend inquiring at Whole Foods or purchasing them online.
Vegan mini-marshmallows do not contain gelatin, making them vegan-friendly. Trader Joe's makes vegan mini-marshmallows, and Whole Foods might carry them as well.
If you don't need this recipe to be strictly vegan, you can easily substitute regular graham crackers, butter, milk, chocolate chips, and mini-marshmallows. The bars will be just as delicious!
Store in an airtight container for up to 3 days or in the freezer for up to 2 months.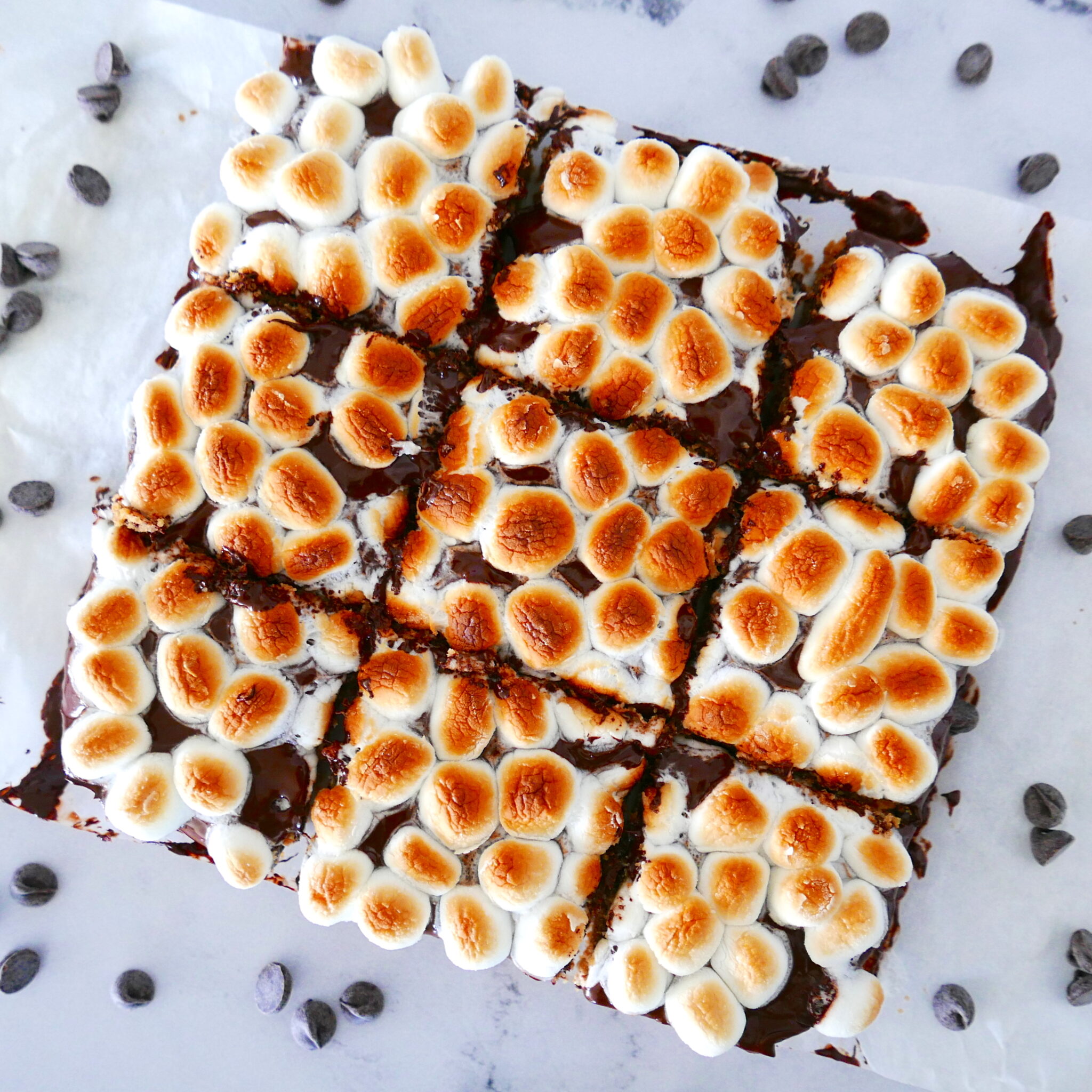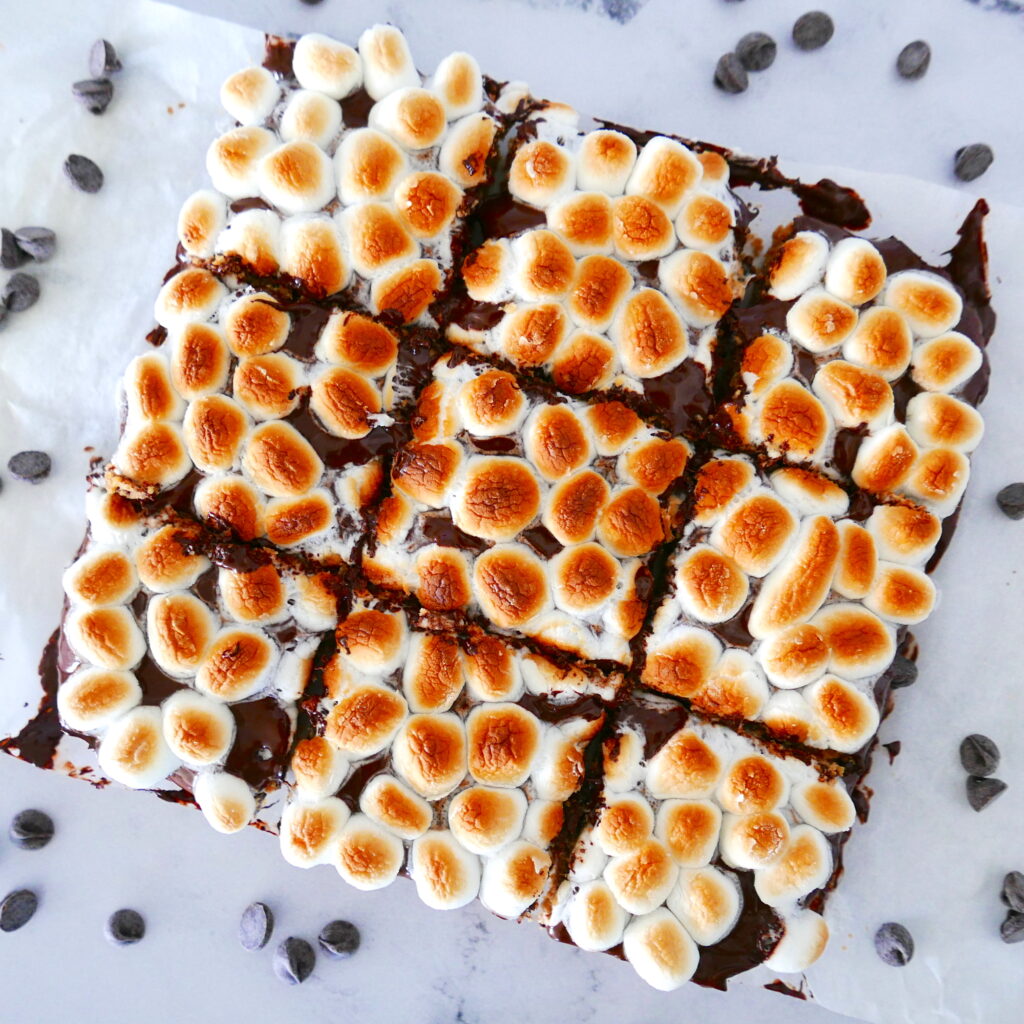 Enjoy your week, and feel free to drop me a line in the comments – I would love to hear if you try this recipe! Or tag me on Instagram @maryannehoekstra to let me know how it turned out! Also, if you are enjoying my blog, please consider recommending it to your friends. They can subscribe here.
More Dessert Recipe Ideas!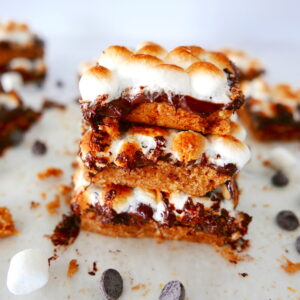 Healthy S'mores Bars (Vegan)
Let these s'mores bars transport you back to childhood summers. A rich graham cookie crust is topped with gooey dark chocolate and toasted mini-marshmallows. Even better than the classic!
Ingredients
Graham Cookie Crust
8

(full)

graham crackers (1 cup of crumbs)

1/2

cup

dairy-free butter, softened

1/2

cup

all-purpose flour

1/4

cup

old-fashioned oats

1/4

cup

light brown sugar

3

Tablespoons

plant-based milk

1

teaspoon

vanilla extract

1/2

teaspoon

baking powder

1/2

teaspoon

salt
Chocolate-Marshmallow Topping
10

oz.

vegan dark chocolate chips (60% or higher)

1 3/4

cups

vegan mini-marshmallows
Instructions
Preheat oven to 350 degrees F. Line a 8"x8" baking dish with parchment paper.

Add graham crackers to a food processor and blend until fine crumbs are formed. Scrape down sides of bowl.

Add softened butter, flour, oats, brown sugar, milk, vanilla, baking powder, and salt, and blend until well combined.

Transfer cookie dough into prepared baking dish. Use your hands or a rubber spatula to press dough evenly into pan. Bake for 30 minutes.

After dough has finished baking, immediately add chocolate chips on top. Let sit for 5 minutes, and then spread melted chocolate with rubber spatula or back of a spoon until evenly covered.

Add mini-marshmallows and spread in an even layer. Broil for 1-3 minutes, until marshmallows become your preferred level of toasted (watch very closely as they can burn very easily).

Cool for at least one hour before cutting into bars. If you cut them sooner, they will be a gooey mess. Grab parchment paper to lift bars out of the pan and use a sharp knife to cut the bars.