A meaty portobello burger recipe topped with smashed avocado and a smoky ranch slaw. Satisfy your burger cravings with this healthy and delicious alternative!
I love mushrooms. They might be in the top ten of my favorite foods. When I was in graduate school, I frequently made mushrooms in all sorts of different preparations for dinner. My thinking at the time was: They are delicious, cheap, and healthy, so I guess I'll make another mushroom dish! I would sauté them in butter and sprinkle with thyme, or I would toss them in olive oil and salt and roast them in the oven.
But one of my favorite preparations was when I would make cheesy mushroom toasts. I would put the toasts under the broiler for a few minutes so the cheese would caramelize and turn a deep golden brown and become crispy on the edges. *sigh. I haven't made those toasts in such a long time. They may have to be a future recipe post because they are just too good to NOT share!
Why I Love Mushrooms
Since then, my appreciation of mushrooms has only deepened. Although they have their own specific flavor and are one of the foods that provide umami, I also enjoy the fact that you can transform mushrooms into any profile flavor you are craving – they will soak up any liquid, spices, etc. that you add to them, and blend nicely with almost any dish. And despite the fact that mushrooms are not creamy per se, they impart a sort of velvety creaminess when added to a dish that I truly relish.
Because mushrooms are not bright and colorful like other vegetables, their nutritious value can often be overlooked. However, according to an article in the New York Times in 2018, mushrooms are, in fact, abounding with nutrients:
"Low in calories and fat and cholesterol-free, mushrooms contain a modest amount of fiber and over a dozen minerals and vitamins, including copper, potassium, magnesium, zinc and a number of B vitamins such as folate. Mushrooms are also high in antioxidants like selenium and glutathione, or GSH, substances believed to protect cells from damage and reduce chronic disease and inflammation."

-Roni Caryn Rabin, "What Is the Health and Nutritional Value of Mushrooms?"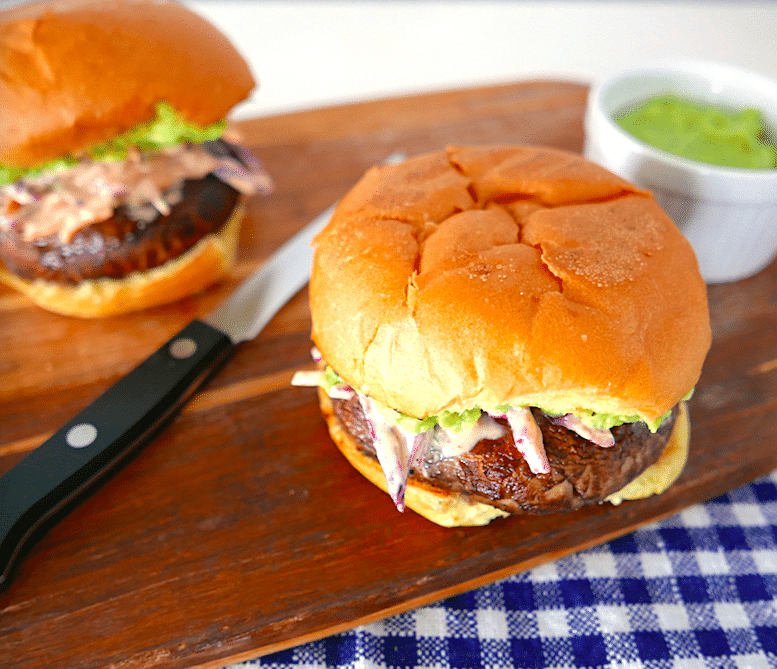 Portobello Burger Recipe with Smoky Ranch Slaw
Let's hear it for fungi! Whenever I'm in the mood for something "meaty" but don't necessarily want meat, the first thing I reach for are portobello mushrooms. They provide all of the aforementioned benefits, and in addition, because of their large size, they have more of a weightiness to them.
Of course, you can make a "classic" by just putting a piece of American cheese on top of a portobello to create a vegetarian cheeseburger. Very delicious. But, sometimes I like to be more adventurous! So I created this recipe for a burger with a smoky ranch slaw (who doesn't love ranch dressing?), which adds crunch, a slight tanginess, AND a deep smoky flavor to the burger. I added smashed avocado to give it a more substantial quality; I wanted this burger to taste like a real indulgence. I think I succeeded!
Enjoy your week, and feel free to drop me a line in the comments – I would love to hear if you try this recipe! Or tag me on Instagram @maryannehoekstra to let me know how it turned out! Also, if you are enjoying my blog, please consider recommending it to your friends. They can subscribe here.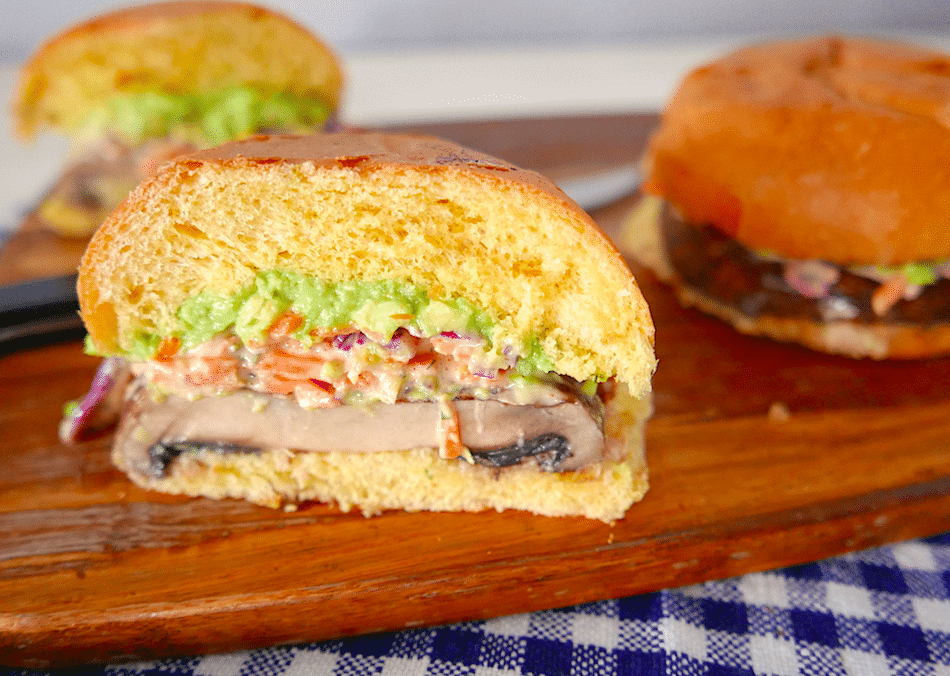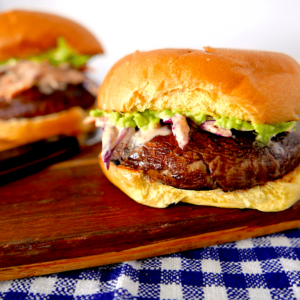 Portobello Burgers with Smoky Ranch Slaw
Meaty portobello burgers topped with smashed avocado and a smoky ranch slaw. Satisfy your burger cravings with this healthy and delicious alternative!
Ingredients
4

large

portobello mushrooms

2

tbsp

olive oil

onion powder

smoked paprika

1/3

cup

mayonnaise

1/2

tbsp

white wine vinegar

1

clove

garlic, minced or thinly sliced

1/2

tsp

dried dill

1/2

tsp

dried parsley

1

tsp

chives

1

tsp

onion powder

2

tsp

Worcestershire sauce

1/2

tsp

smoked paprika

1/8

tsp

cayenne pepper

1/2

tsp

sea salt

1

cup

shredded carrots

1

cup

shredded cabbage

4

hamburger buns, toasted

2

avocado
Instructions
Wipe the mushrooms clean and remove the tough stem. Preheat a large skillet to medium heat, and add 2 tbsp. olive oil to skillet.

Sprinkle mushrooms with a pinch each of onion powder, paprika, and sea salt, and place into skillet. Cover immediately and cook 5 minutes on each side or until they are softened.

Meanwhile, make the ranch slaw: combine mayonnaise, vinegar, minced garlic, dill, parsley, chives, onion powder, Worcestershire sauce, paprika, cayenne, and salt in a medium-sized bowl. Mix thoroughly. Add shredded carrots and cabbage and mix until both are completely covered in sauce.

To assemble burger, smash half of an avocado on top half of a toasted bun. Place grilled mushroom on bottom half of bun and add a generous scoop of the slaw on top.