Make this Tuscan bean salad when you want a hearty and satisfying meal that is also healthy and full of flavor. And it can be prepped in just 15 minutes!
I love making summer dishes that are versatile, portable, and can be eaten at a variety of temperatures. Especially when there is no actual cooking involved. This recipe for Tuscan bean salad is one of those meals. Although I recommend making this recipe as-is, you can have fun with it and substitute your favorite beans, veggies, etc. And it's a great dish to take on your next picnic or to your next gathering, since it can be eaten at room temperature.
This salad is slightly creamy from white beans, with slightly spicy red onion and scallions, sweet sun-dried tomatoes, and briny black olives. Bright garlic vinaigrette and fresh basil bring the whole salad together, and in just 15 minutes! It makes for a satisfying lunch, side salad, or light dinner.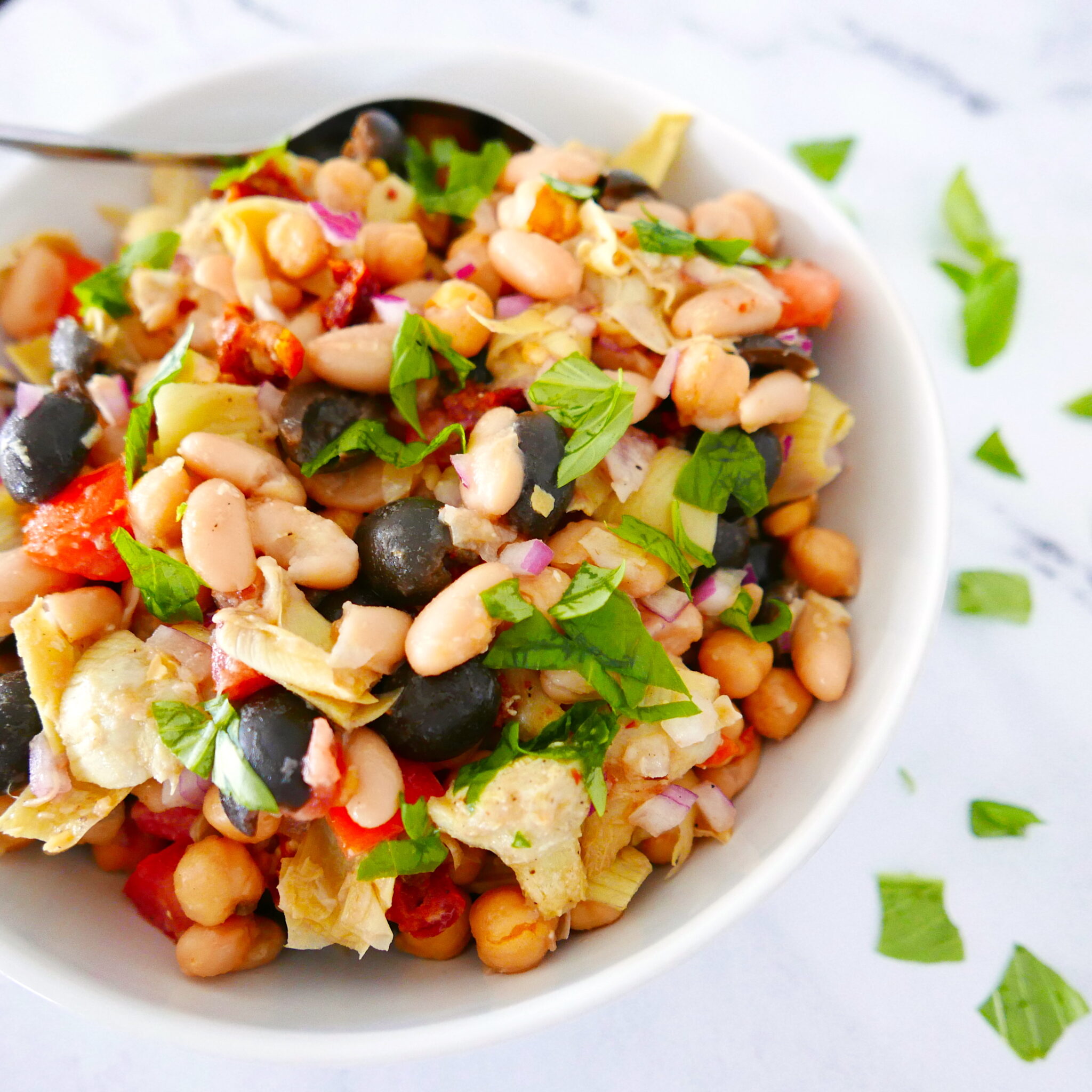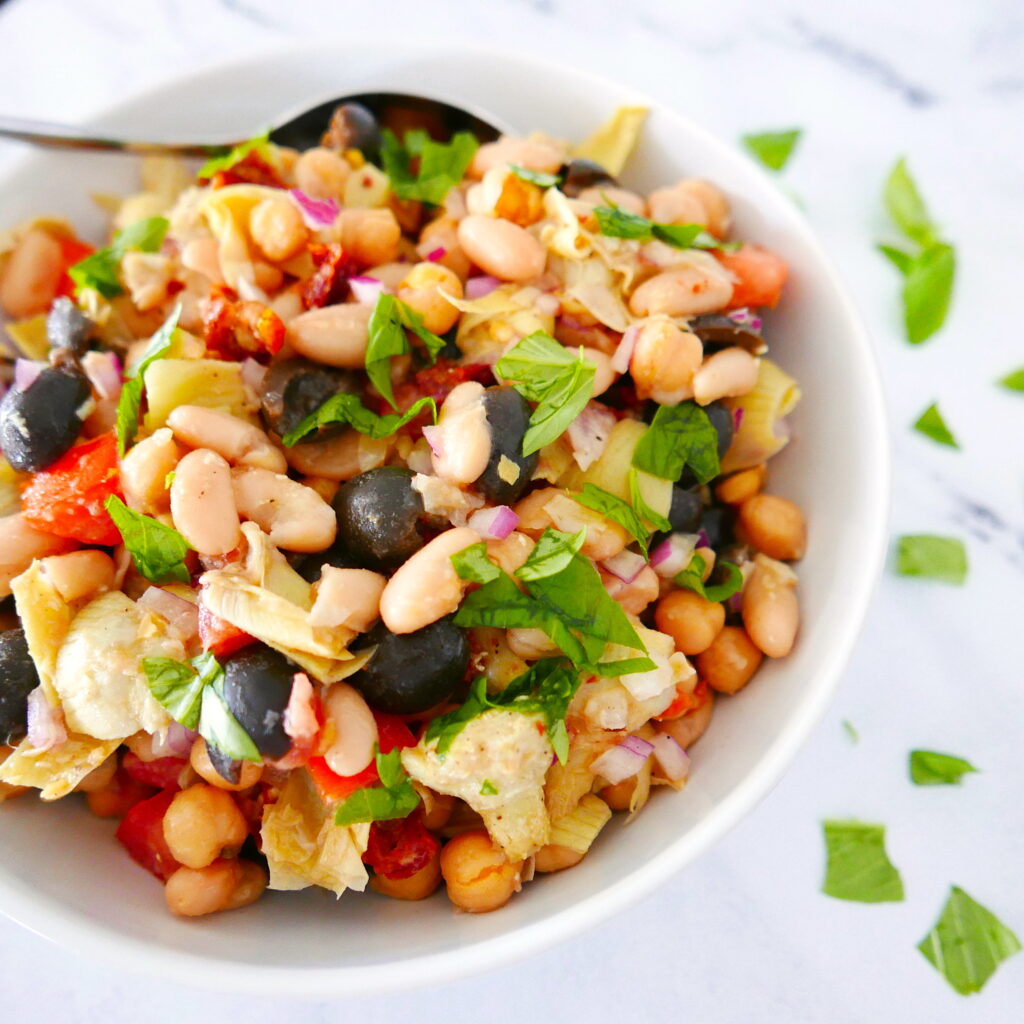 Recipe Notes and Helpful Tips
If you prefer a tangier salad, add an additional tablespoon of white wine vinegar to your garlic vinaigrette.
If using canned artichoke hearts, be sure to drain and rinse well before using.
This Tuscan bean salad is best served at room temperature or slightly warm.
For a heartier meal, serve this bean salad with a slice of crusty bread. Use the bread to sop up any remaining vinaigrette!
Store in the refrigerator (covered) for up to 4 days. I do not recommend freezing this salad.
I highly recommend doubling this recipe, as it will be gone in no time at all!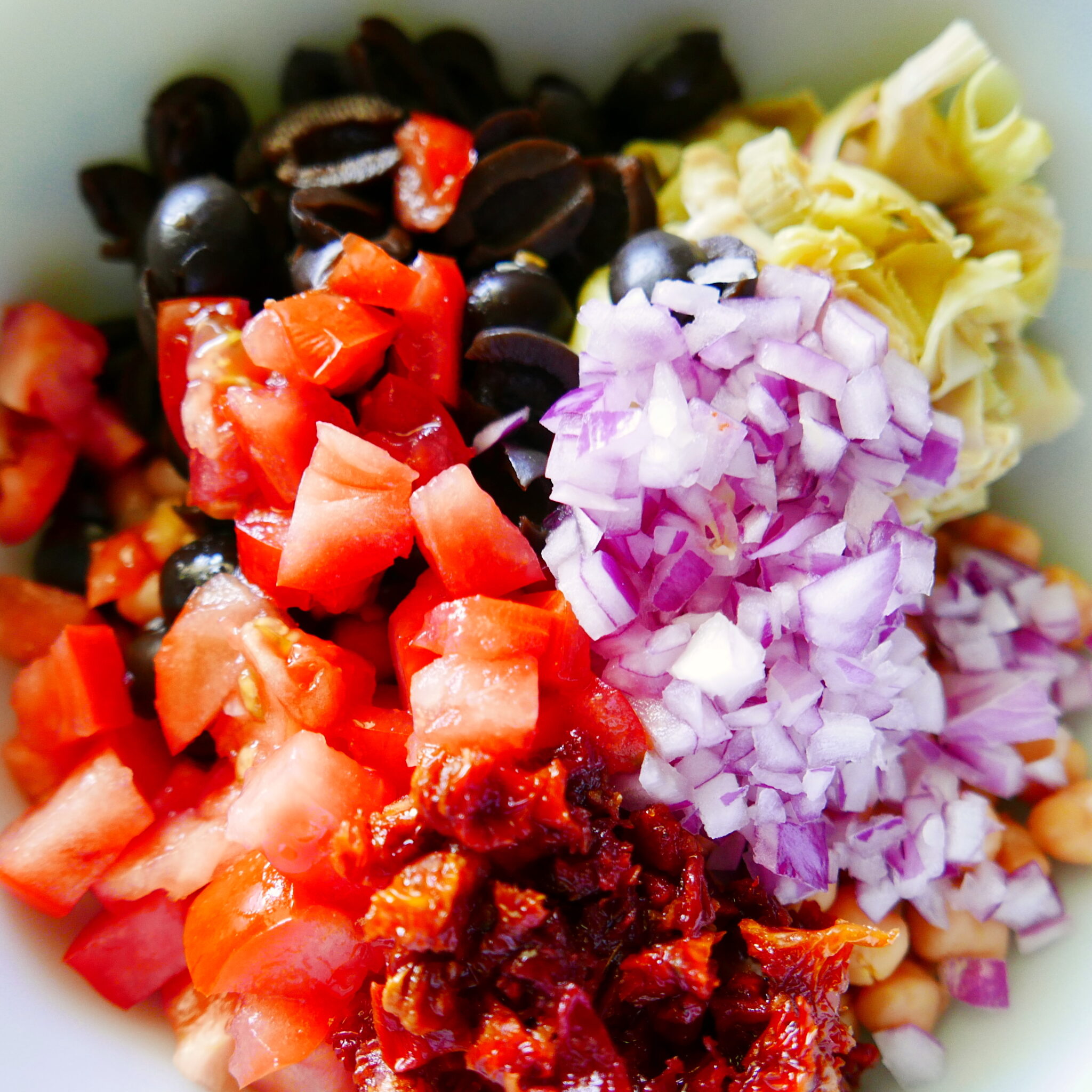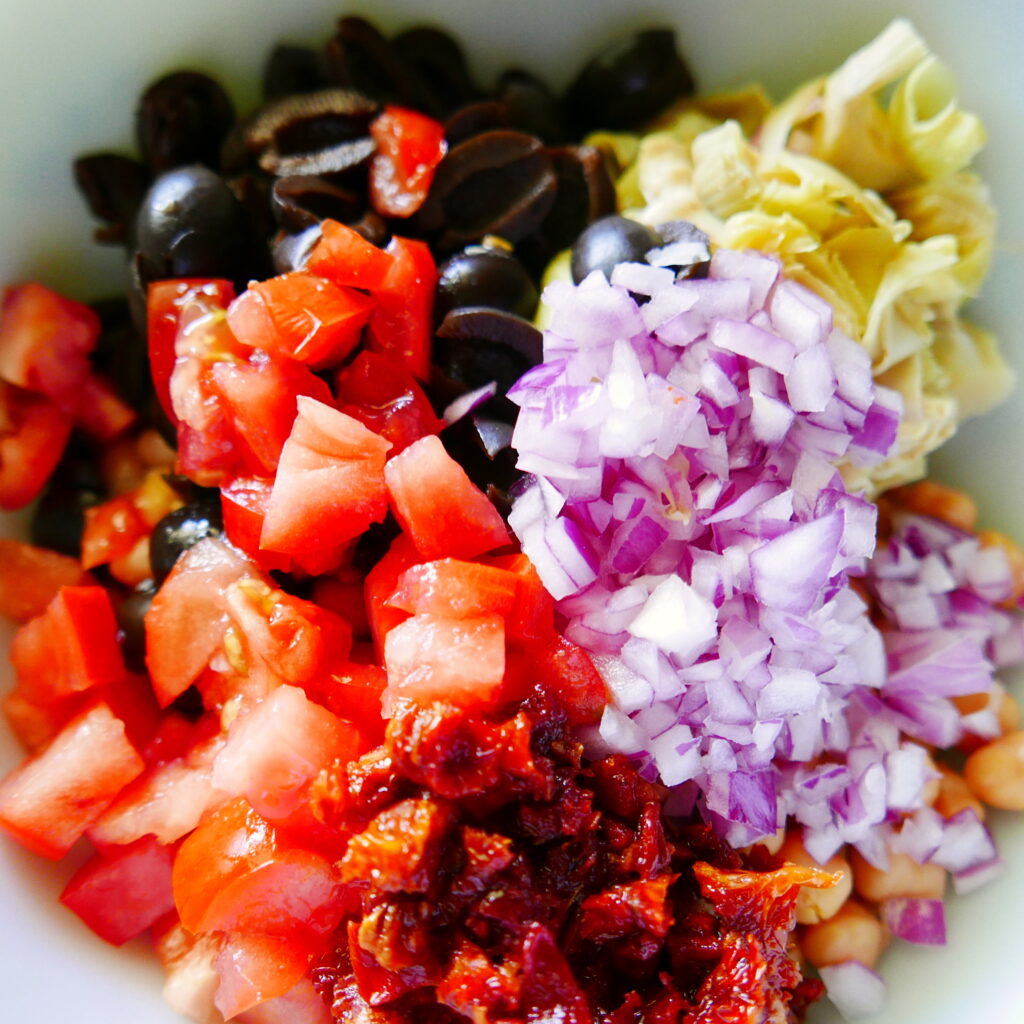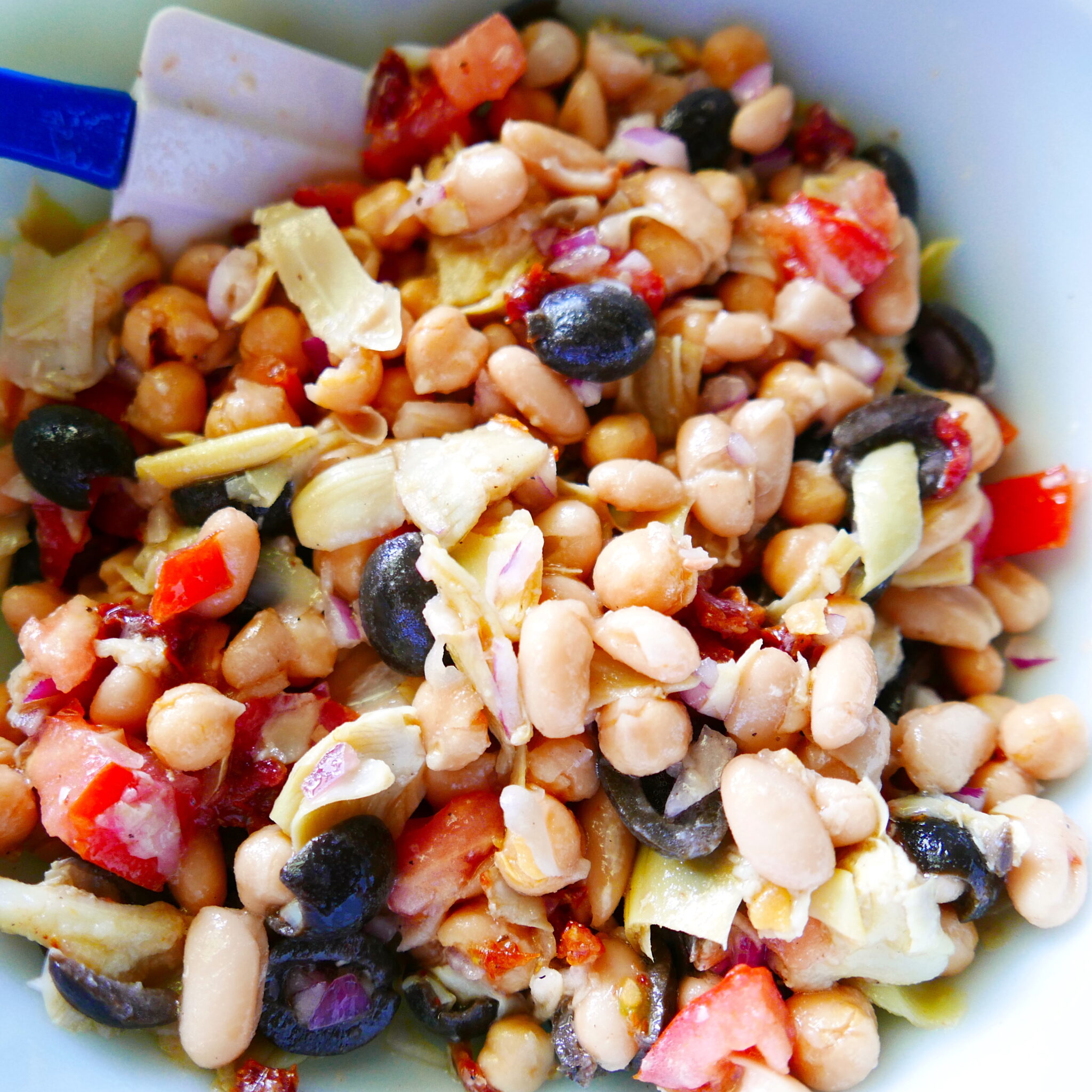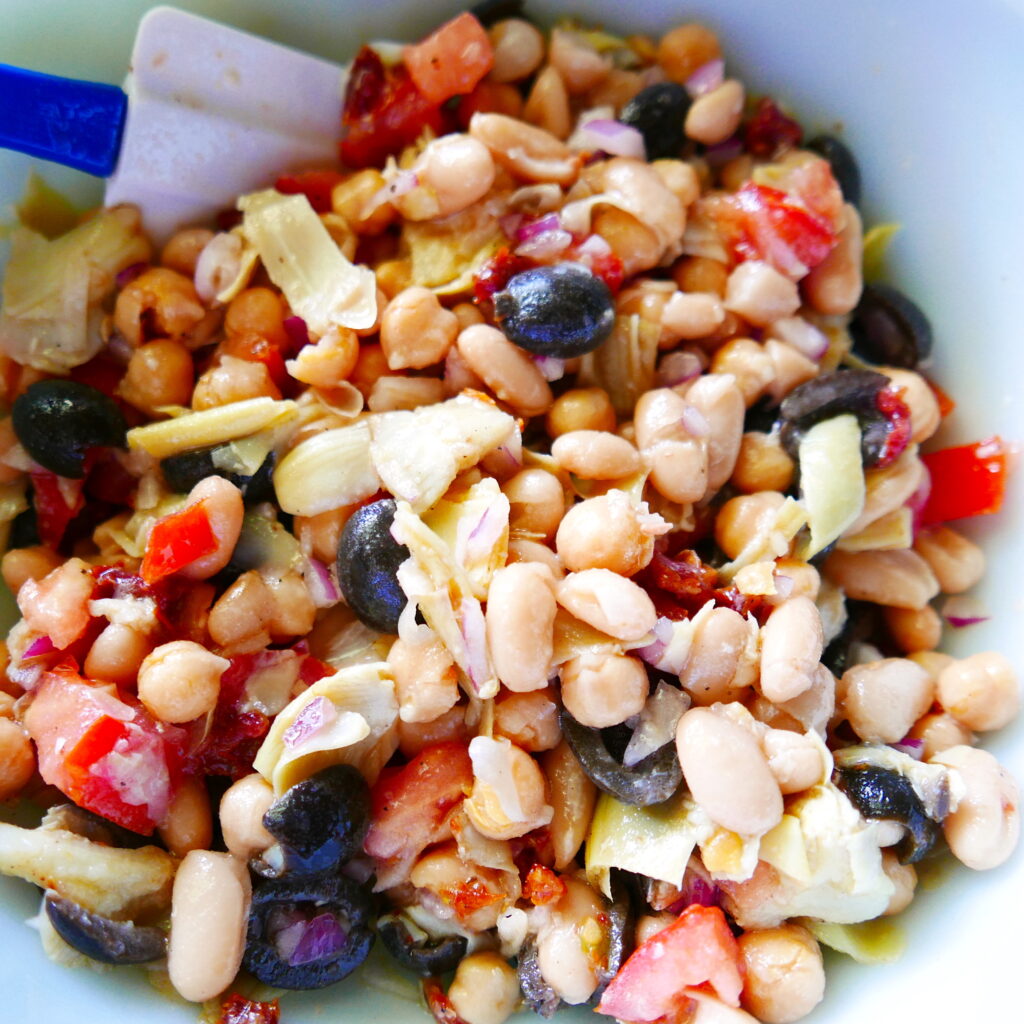 Ingredients Needed
Cannellini beans - a good source of fiber with a creamy texture
Garbanzo beans - rich in protein and fiber, and they add a slight crunch to this salad
Artichoke hearts - provide creaminess and are full of potassium and calcium
Black olives - they bring a lovely brininess to this salad and counteract the sweetness of sun-dried tomatoes
Red onion - I love the spicy bite that raw red onions provide in salads
Sun-dried tomatoes - give a big dose of sweetness due to the flavor being concentrated
Tomato - any variety of tomato will work in this salad (I used a garden tomato)
Scallions - slightly spicy but so much delicious onion flavor
Basil - one of my favorite herbs, and definitely one that I eat all summer long!
White wine vinegar - brings tanginess to this salad
Garlic - this recipe calls for one clove, which makes the garlic flavor very subtle
Extra-virgin olive oil - use whichever brand you have on hand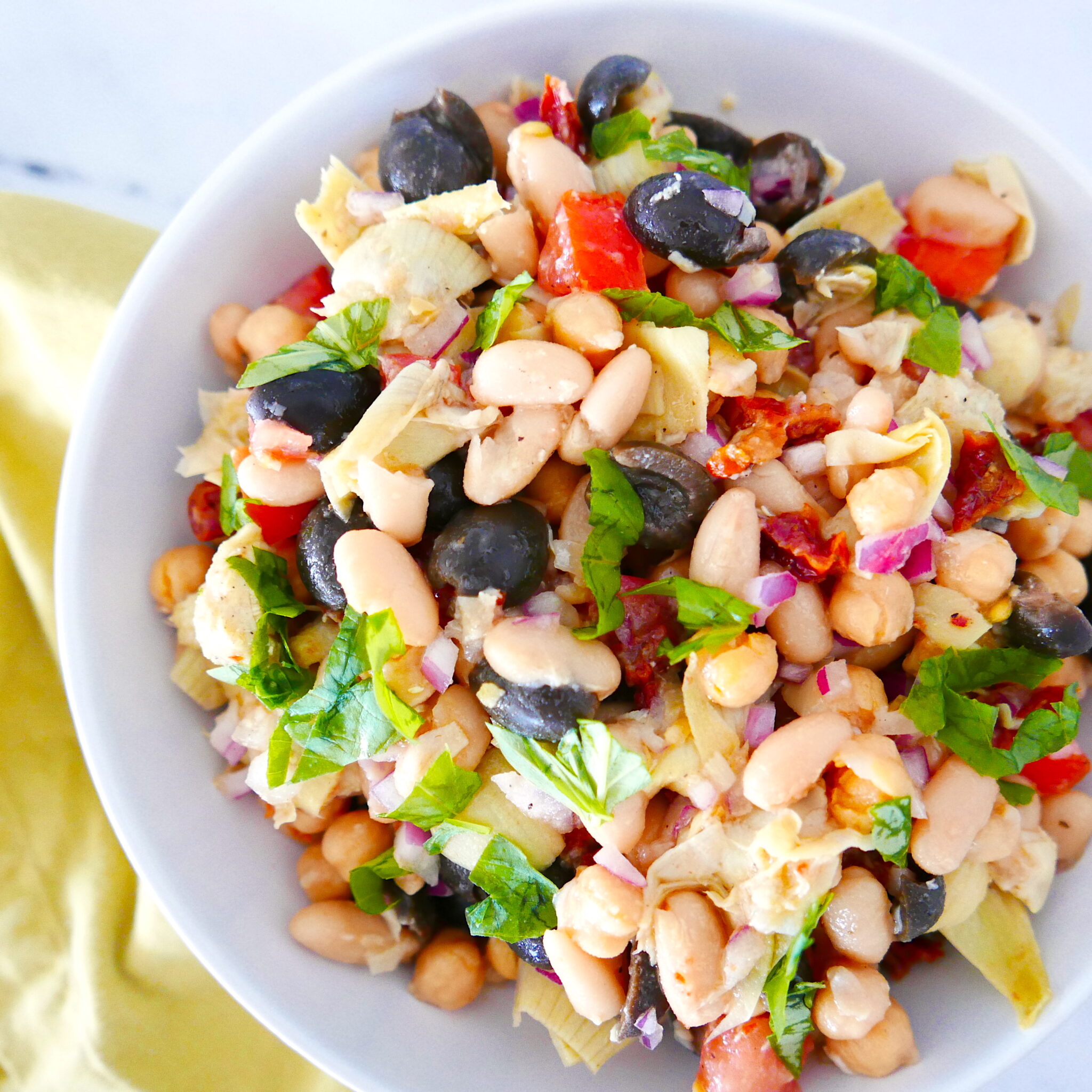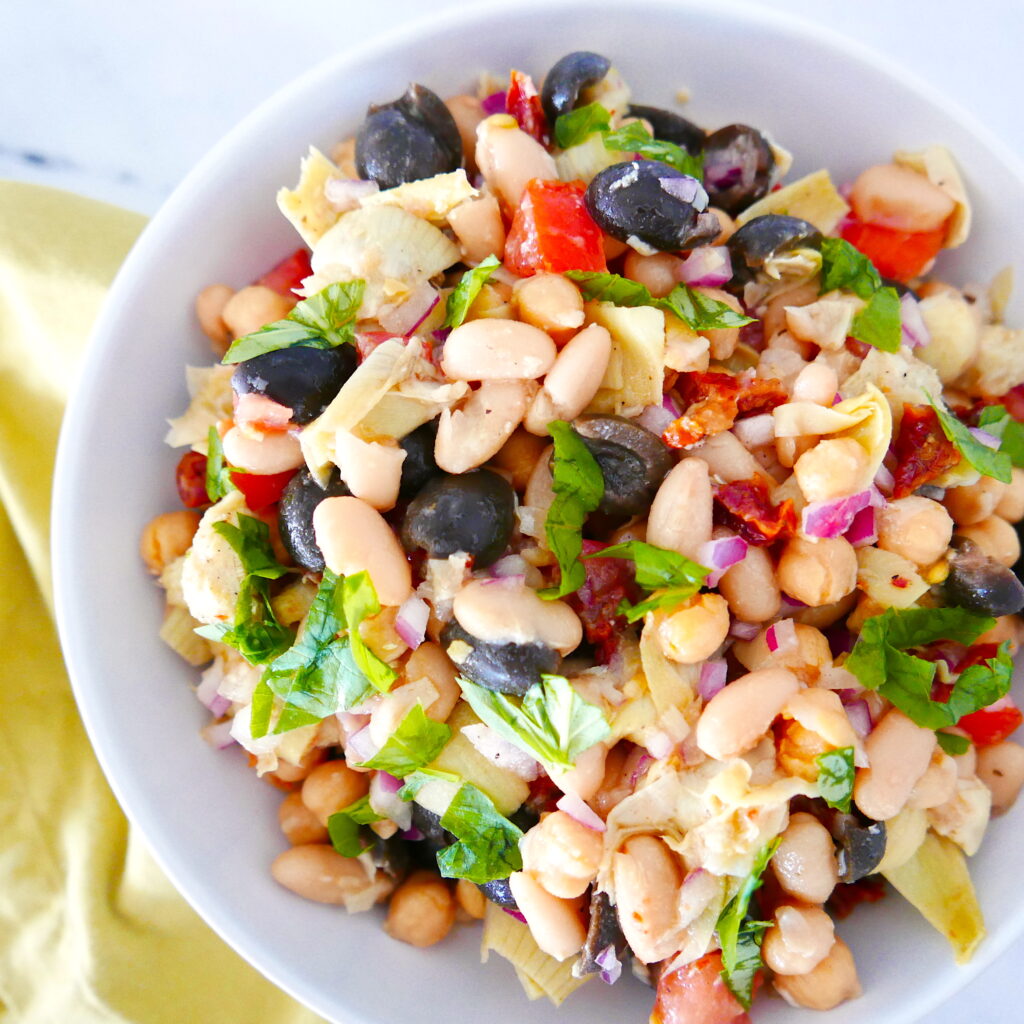 Variations & Substitutions
Use your favorite beans for this hearty salad! Navy beans, black beans, and pinto beans would all work well in this recipe.
Add two tablespoons of chopped parsley or rosemary to your salad for added herbiness.
If you have a garlic allergy (or are just not a fan of garlic), make a simple lemon vinaigrette for this salad instead of the garlic vinaigrette.
Serve this salad over a bed of arugula or spinach for added nutrition!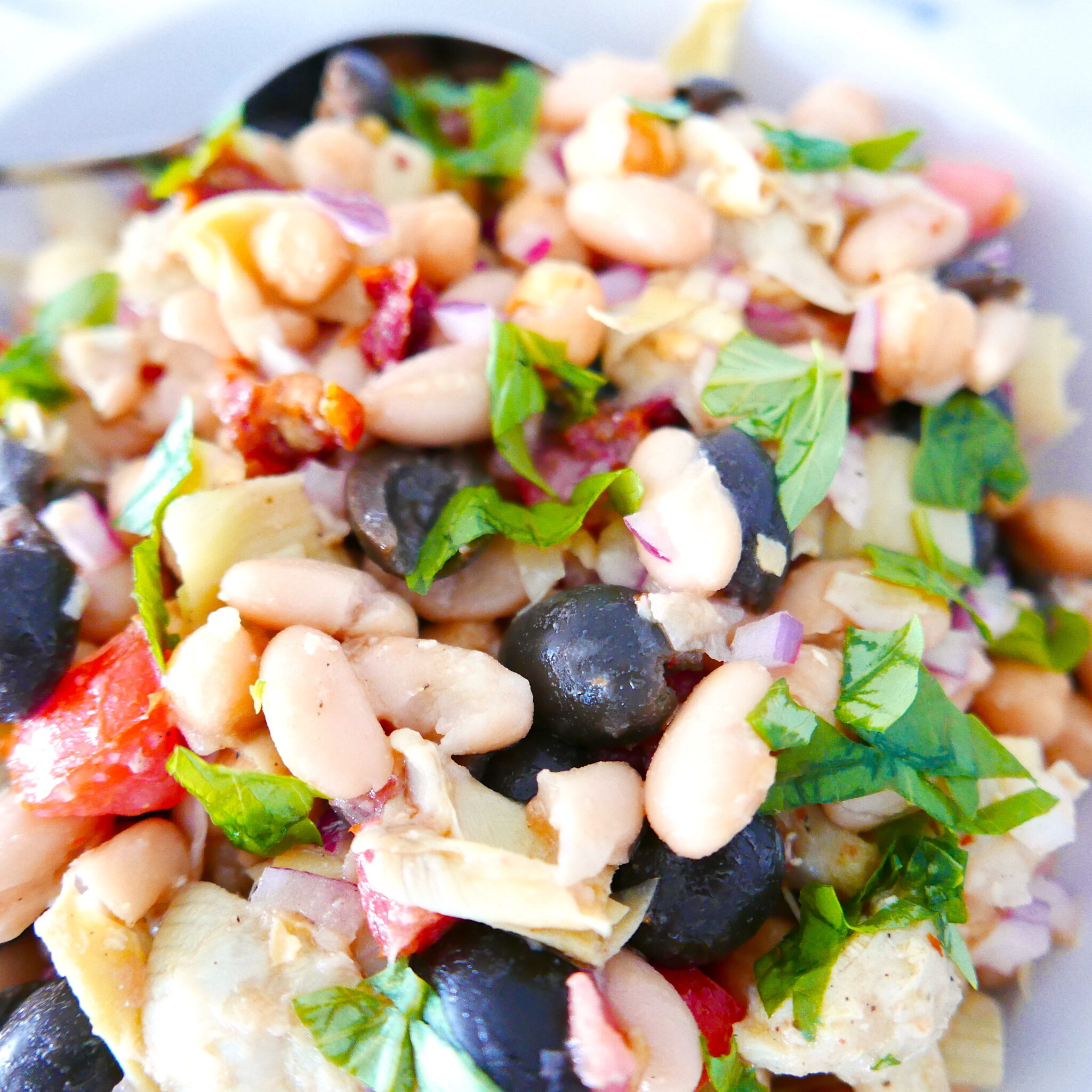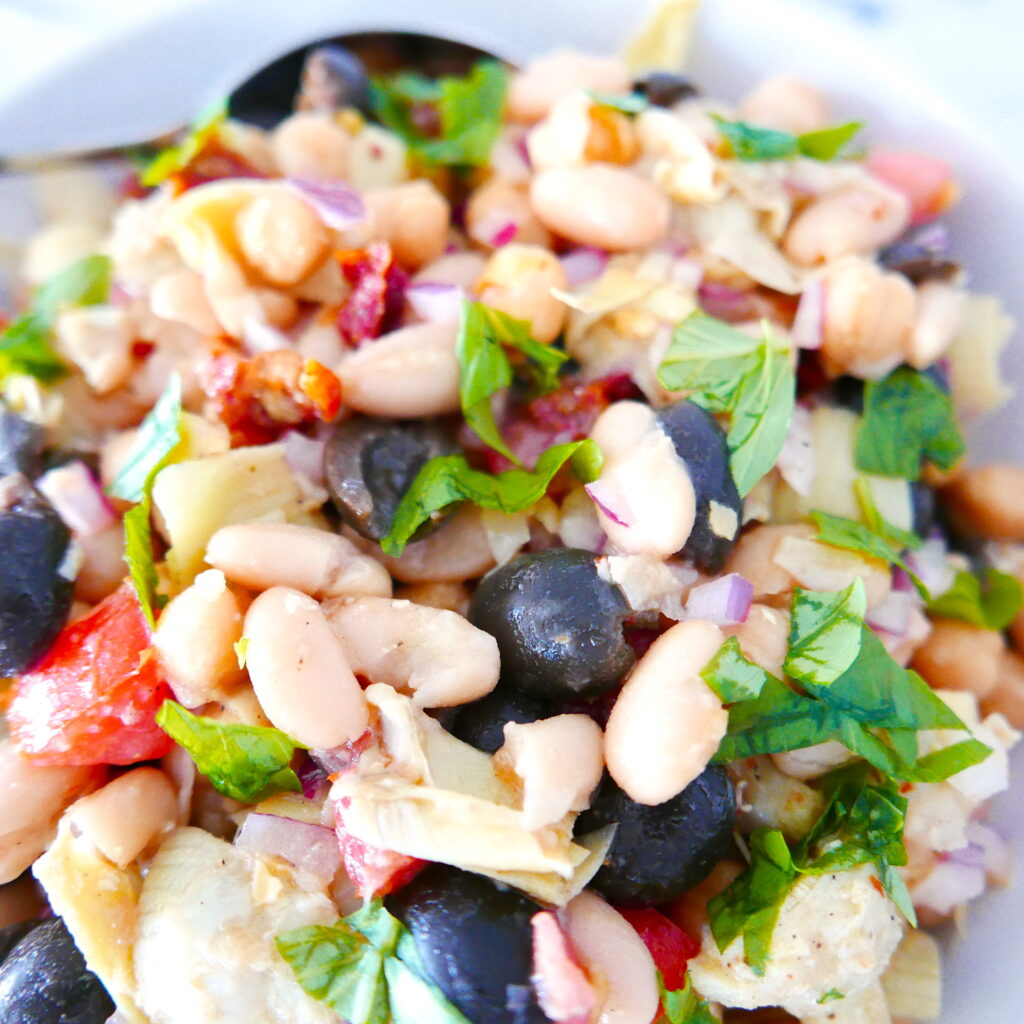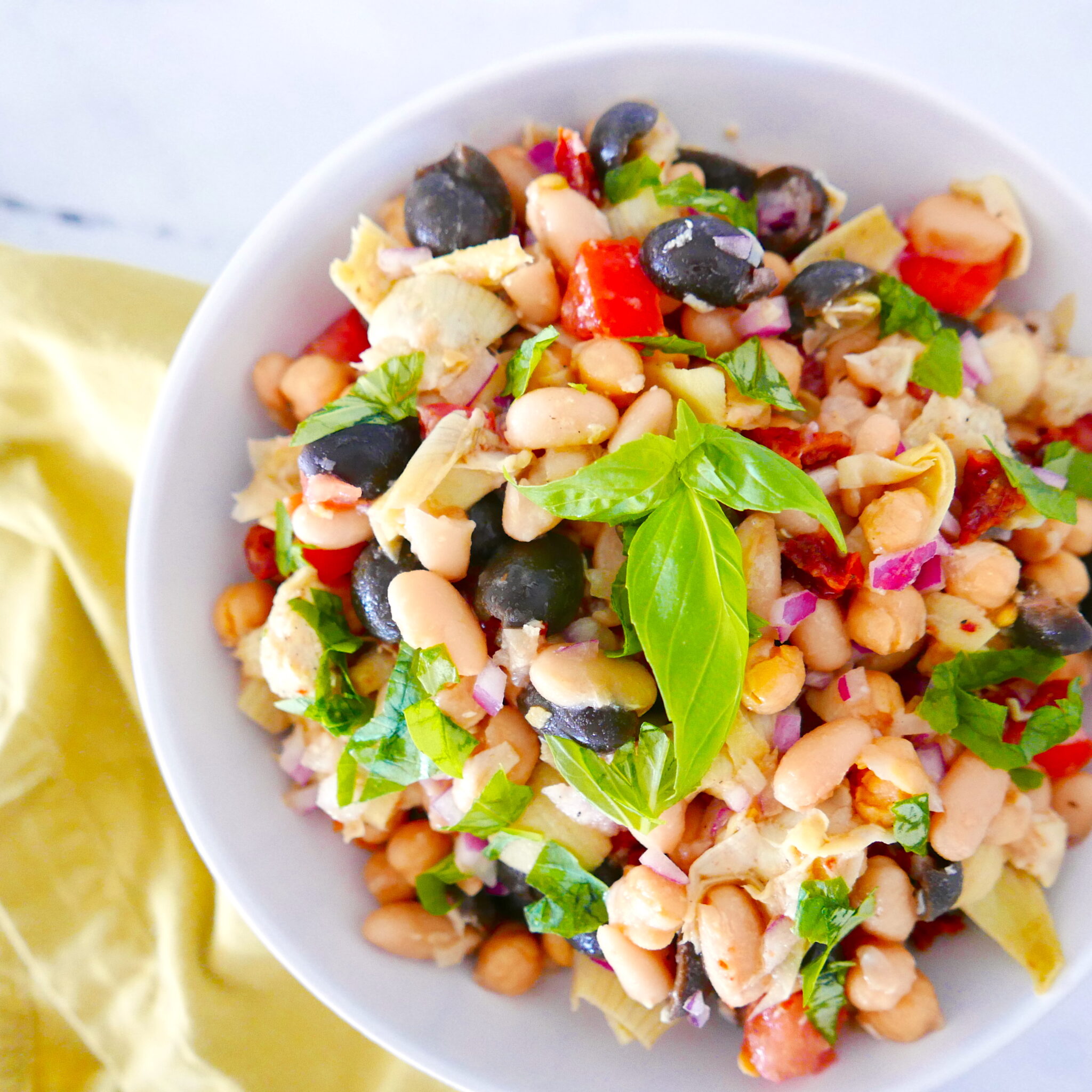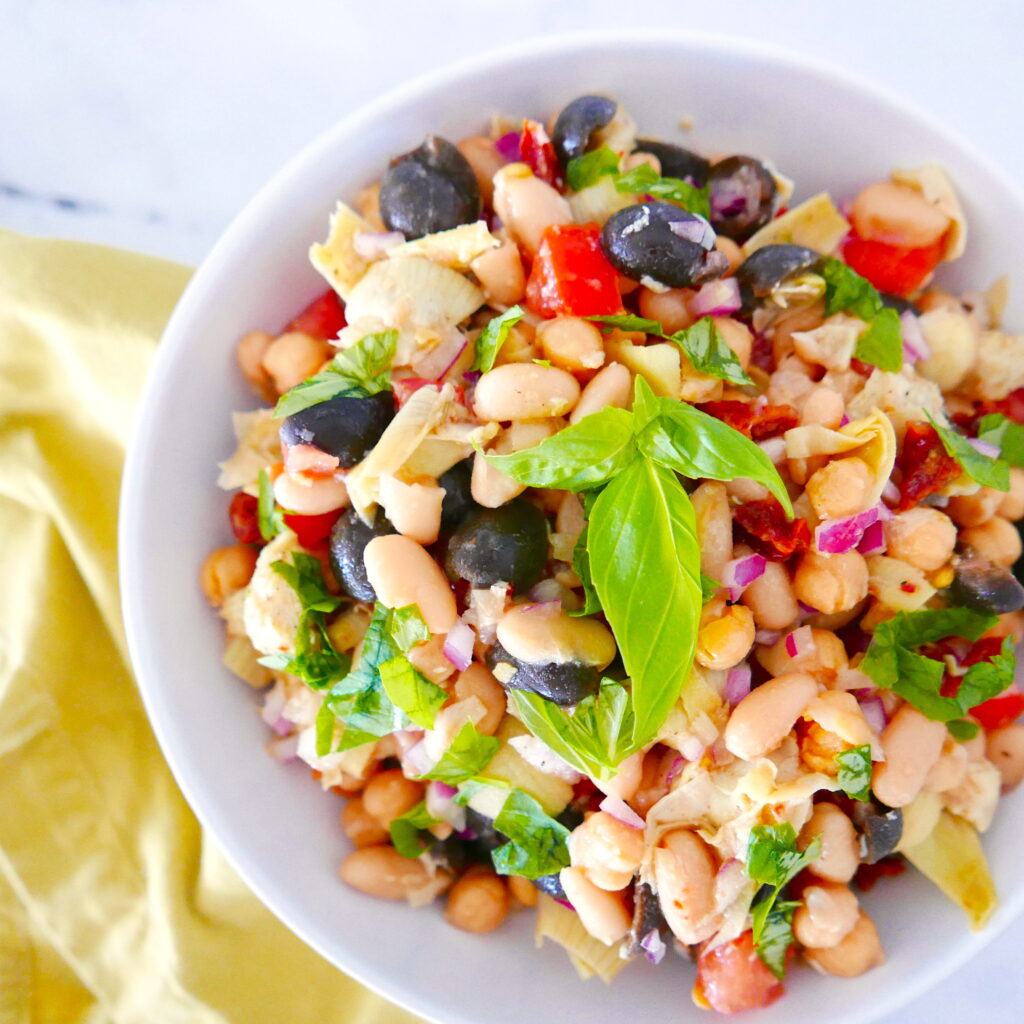 Enjoy your week, and feel free to drop me a line in the comments – I would love to hear if you try this recipe! Or tag me on Instagram @maryannehoekstra to let me know how it turned out! Also, if you are enjoying my blog, please consider recommending it to your friends. They can subscribe here.
More Salad Recipe Ideas!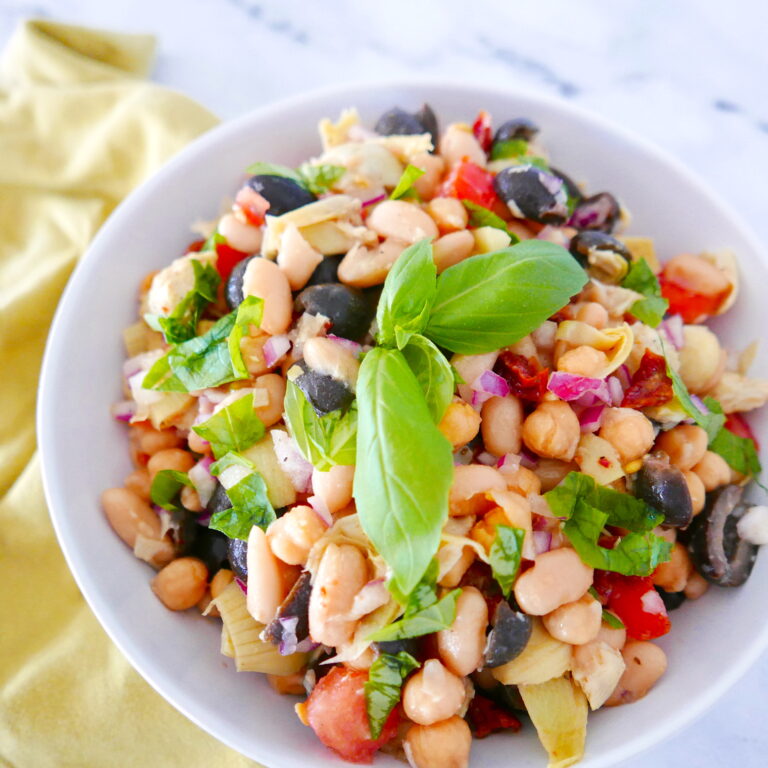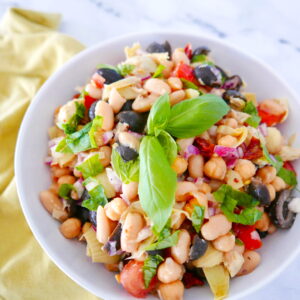 Tuscan Bean Salad
Make this Tuscan bean salad when you want a hearty and satisfying meal that is also healthy and full of flavor. And it can be prepped in just 15 minutes!
Ingredients
Bean Salad
1

(15 oz.) can

cannellini beans, drained and rinsed

1

(15 oz.) can

garbanzo beans, drained and rinsed

1

cup

artichoke hearts, chopped

1

cup

black olives, halved

½

cup

red onion, finely chopped

¼

cup

sun-dried tomatoes, finely chopped (oil-packed)

1

tomato, chopped

3

scallions, thinly sliced

⅓

cup

basil, finely chopped

salt and black pepper
Garlic Vinaigrette
1

Tablespoon

white wine vinegar

1

garlic clove, minced

3

Tablespoons

extra-virgin olive oil
Instructions
In a large bowl, add bean salad ingredients and stir until well combined. Add salt and pepper to taste.

In a small bowl, add white wine vinegar and garlic and whisk together. Slowly add olive oil and whisk until well combined.

Add vinaigrette to salad and toss well to coat thoroughly. Add more salt and pepper if needed.