Loaded with caramelized onions, potatoes, and dill, this old fashioned biscuit recipe is exceptional as-is or used to make delicious breakfast sandwiches!
Up until last March, I was managing a bakery (Amy's Bread) in NYC. When everything closed down, most of the employees were laid off, including myself. I miss working there – I enjoyed talking to our regular customers who would stop by frequently to get their daily fix of goodies. Amy's Bread is known for their enticing bread, and one of their signature loaves is one with potato, onion, and dill; it was one of my favorite items. Because the bakery made many of its breads into rolls as well, I would frequently bring home rolls for dinner or to put in the freezer. I would make a variety of sandwiches with them, or just toast and slather with butter. As you can tell, I was a big fan! I was thinking about the rolls recently, and thought it would be fun to create an old fashioned biscuit recipe with similar flavor profile.
Ideas on How To Eat Biscuits!
The biscuits are quickly disappearing from our freezer. I made two batches this week, thinking they would last us a while. Well, I ate one immediately out of the oven, covered in butter. Amazing. The next morning I made a breakfast sandwich with another biscuit. Insanely satisfying. And the following day I picked a batch of Swiss chard from the garden, sautéed them in a bit of olive oil, and made open-faced biscuit sandwiches with chard and poached eggs. I can't get enough of these biscuits! (*Said in my best Jerry Seinfeld impersonation.)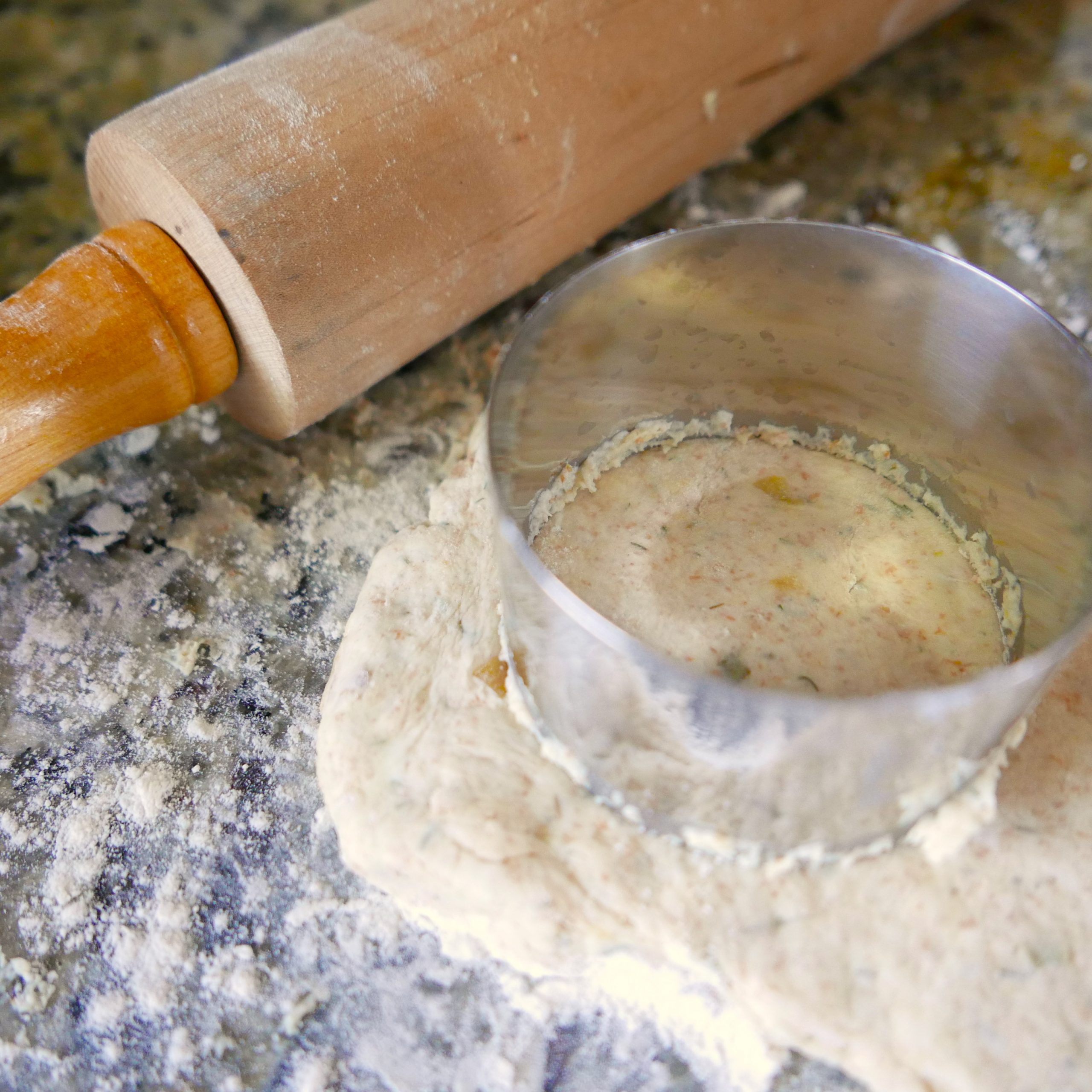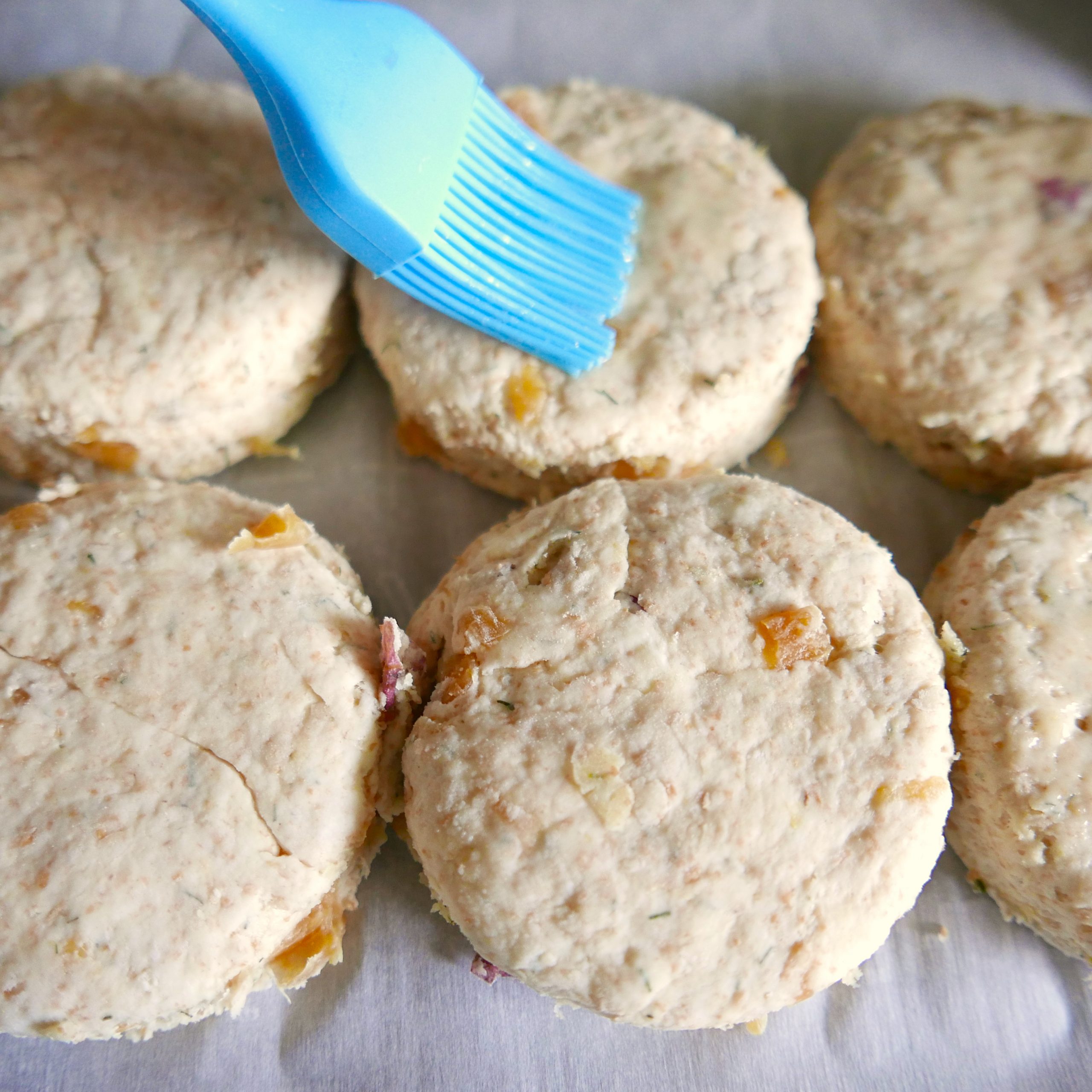 Why This Recipe Works
Imagine the flakiest old fashioned buttermilk biscuits, layered throughout with rich butter. Now add sweetness from caramelized onions, herby-ness of dill and chives, and creaminess from potatoes. Can you taste the delectable goodness? Now top it all off with flaky sea salt that gives it a nice crunch. These biscuits are absolutely divine. And because they are so simple to make, I hope you add them to your meal repertoire. They are tasty on their own, paired with your favorite soup, or used as a sandwich bun when you want extra flavor.
Recipe Tips For Success
If you want to save yourself a bit of time, the potatoes and onions can be prepared earlier and stored in the refrigerator. I simply boil the potatoes for about 10 minutes, or until tender. And I sauté the onions for 10-15 minutes in a bit of olive oil until they become golden in color. I make larger batches of both items and keep them in the freezer so that I always have some on hand.
If you do cook the potatoes and onions right before making the biscuits, I recommend sticking them in the refrigerator or freezer for 10-15 minutes to speed the cooling process. You don't want warm potatoes and onions, or your butter will melt (cold butter is key when making biscuits!).
Additionally, folding the dough over onto itself several times is what creates the flakiness, so don't skip this step. I hope you love this old fashioned biscuit recipe as much as I do.
Enjoy your week, and feel free to drop me a line in the comments – I would love to hear if you try this recipe! Or tag me on Instagram @maryannehoekstra to let me know how it turned out! Also, if you are enjoying my blog, please consider recommending it to your friends. They can subscribe here.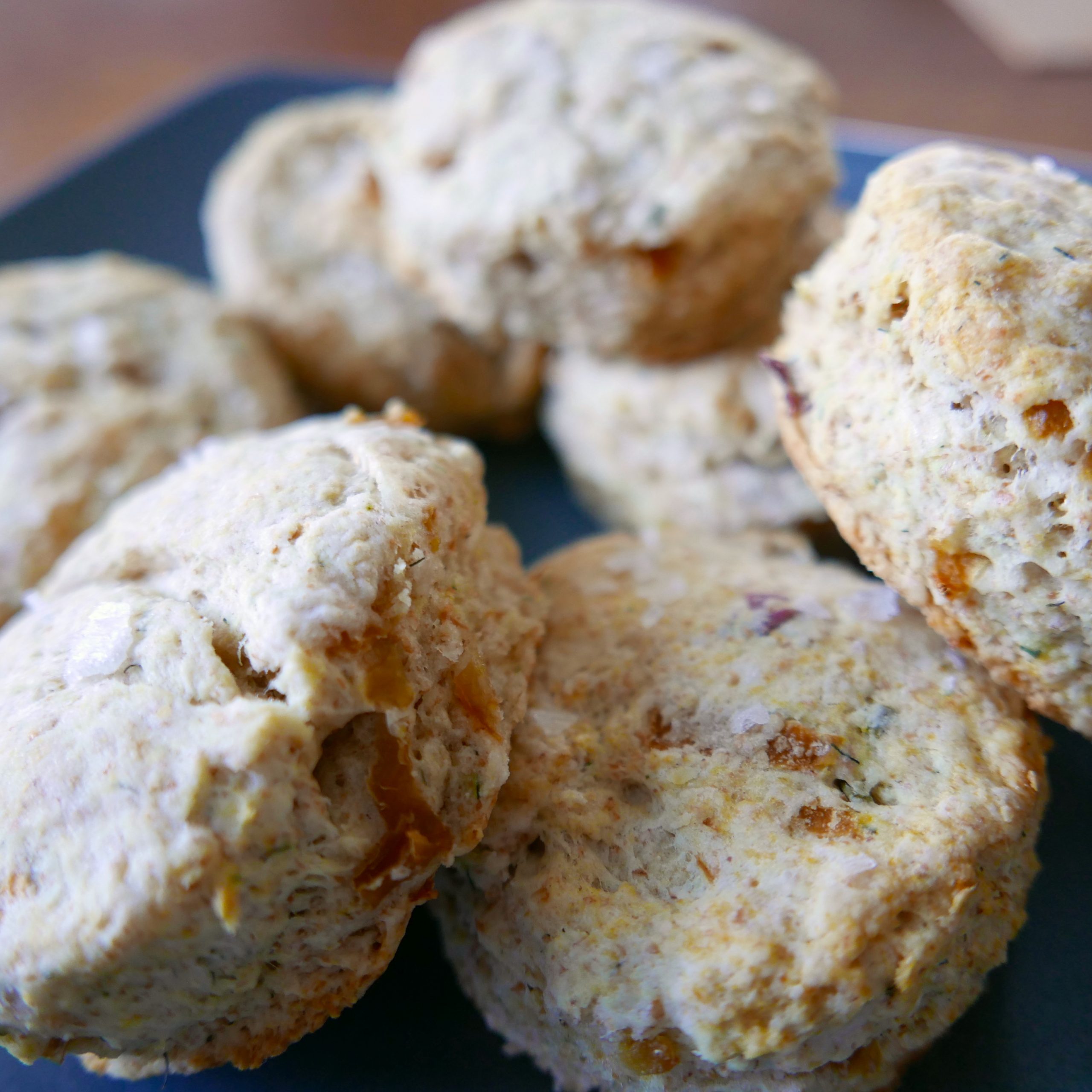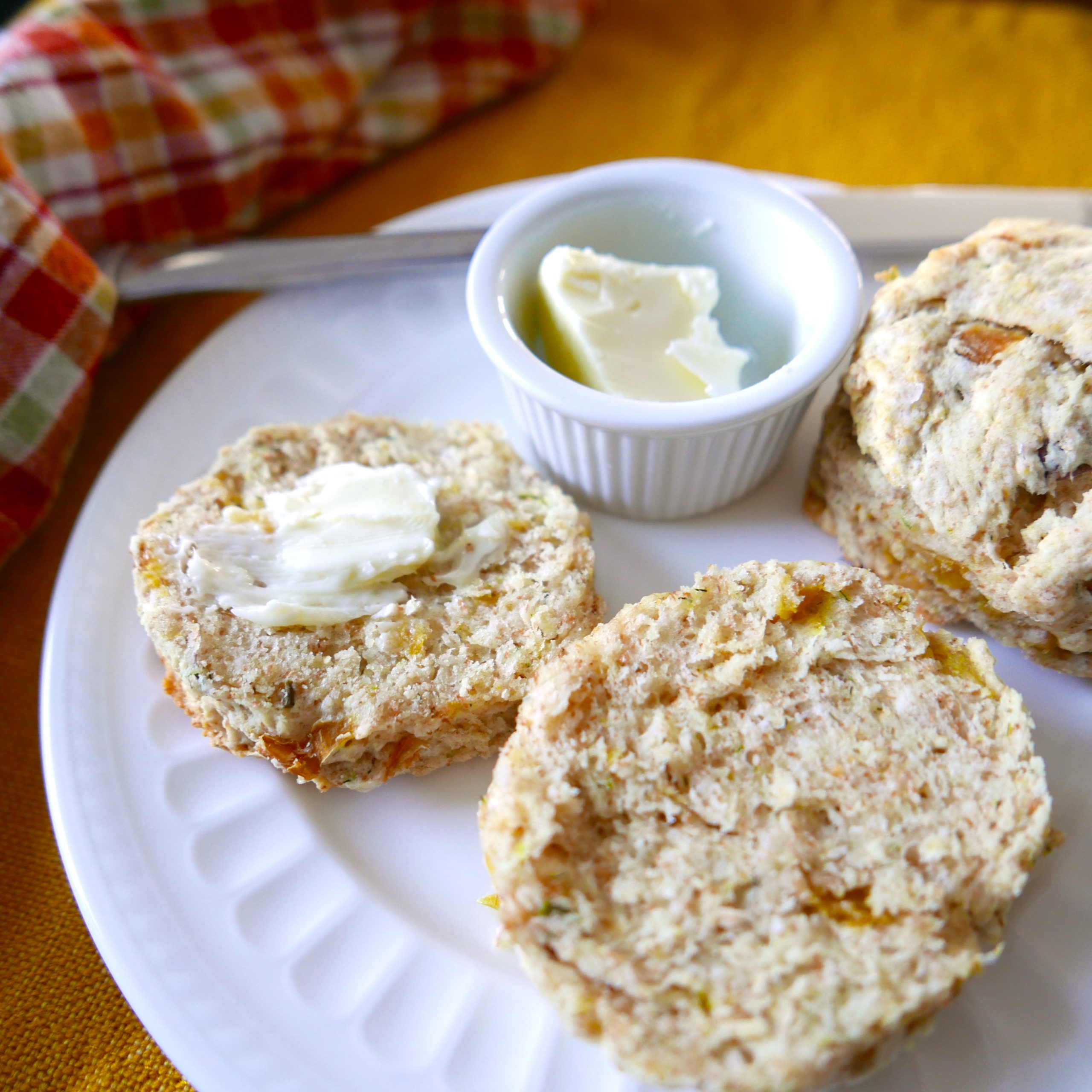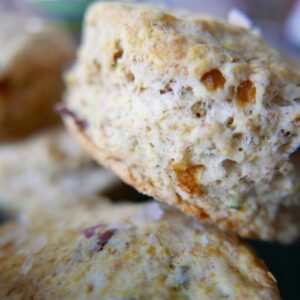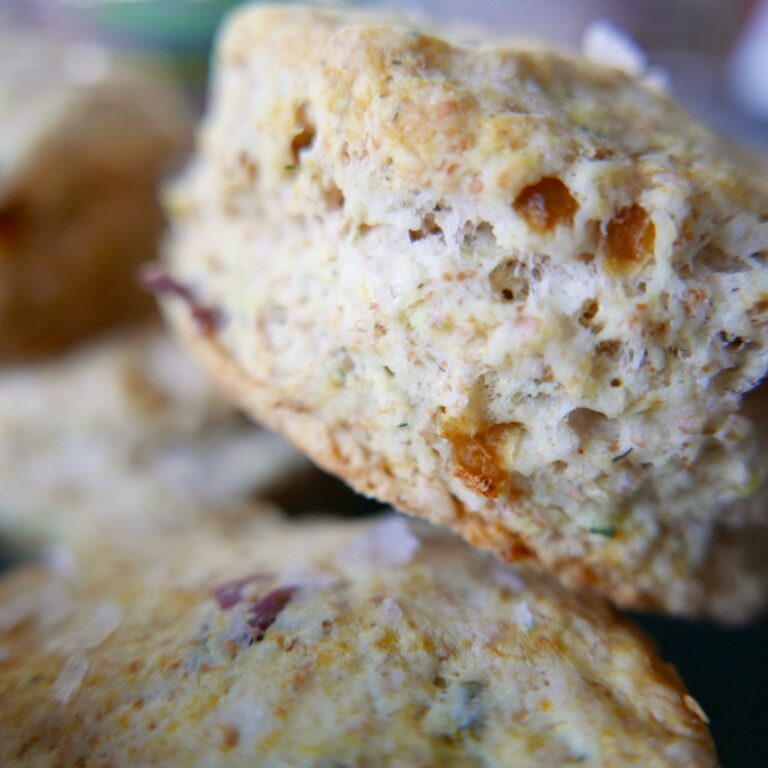 Potato Onion Dill Biscuits
Loaded with caramelized onions, potatoes, and dill, these flaky buttermilk biscuits are exceptional on their own or used to make delicious breakfast sandwiches!
Ingredients
1

cup

buttermilk

2

cups

unbleached all-purpose flour

1/2

cup

whole wheat flour

2

tbsp

baking powder

1

tsp

sea salt

1

tsp

dried dill

1/2

tsp

dried chives

1/2

cup

cold butter, plus more for topping

1/2

cup

red potatoes, cooked and diced into 1/4 inch pieces*

1/4

cup

yellow onion, caramelized and finely diced*

flaky sea salt
Instructions
Preheat the oven to 450 degrees F.

Add all-purpose flour, whole wheat flour, baking powder, salt, dill, and chives to a large bowl and stir to combine.

Add the butter, cooked potatoes, and caramelized onion. Use a pastry cutter or fork to break up butter into small, pea-sized pieces. Try to work quickly so as not to warm up the butter.

Make a well in the middle of dough. Pour in 1/3 cup of buttermilk at a time, and use a wooden spoon to incorporate into mixture. Add only as much buttermilk as is needed to create a sticky dough.

Turn the dough onto a lightly floured surface and dust the top of the dough lightly with additional flour. Fold the dough over and onto itself 4-5 times to create layers of dough (this is what creates flakiness).

Form into a 1-inch-thick disc. Use a 1-inch thick biscuit cutter (or similarly sized rim of a drinking glass) to cut straight down through the dough. Try not to twist cutter, as this will seal off the dough and prevent flakiness from being created.

Repeat and place the biscuits on a baking sheet, making sure they are touching (this helps them rise uniformly).

Gently re-form the dough scraps. Cut out 1 or 2 more biscuits and repeat until all of the dough is used.

Brush the tops of the biscuits with additional melted butter, and sprinkle lightly with flaky sea salt.

Bake for 15-18 minutes, or until fluffy and light golden brown.

If not eating immediately, let biscuits cool completely. Store in an airtight container for 2-3 days at room temperature or place in freezer for up to 3 months.
Notes
*Potatoes and onions can be prepared ahead of time and stored in the refrigerator. I make larger batches of these and keep them in the freezer!