A healthy and tasty salad with peppery arugula, roasted cauliflower, crunchy walnuts, and creamy Gruyère!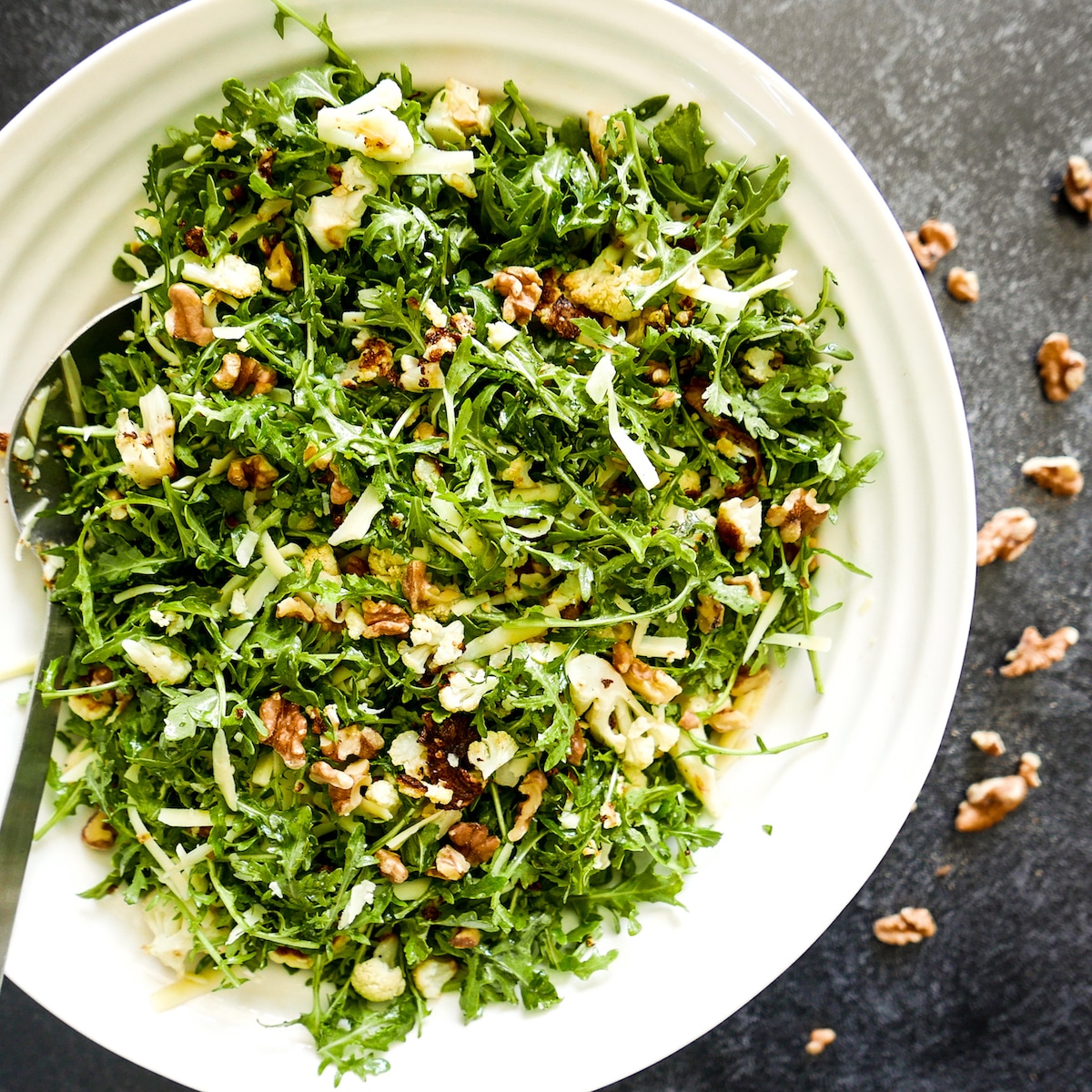 I love the smell of roasted cauliflower. I am writing this while sitting on the futon in our guest bedroom with the sun streaming in, and I can smell the cauliflower roasting in the kitchen. I feel like a cat sitting on a windowsill. Why don't I have a cat? Oh, right: I'm allergic.
This roasted cauliflower salad recipe is hearty enough to eat as a main course, thanks to the addition of crunchy walnuts and creamy Gruyère. But it's light enough to have as a side salad as well (it really depends on portion size). The red wine vinaigrette is light and tangy, and beautifully complements the rich cheese and bitter arugula.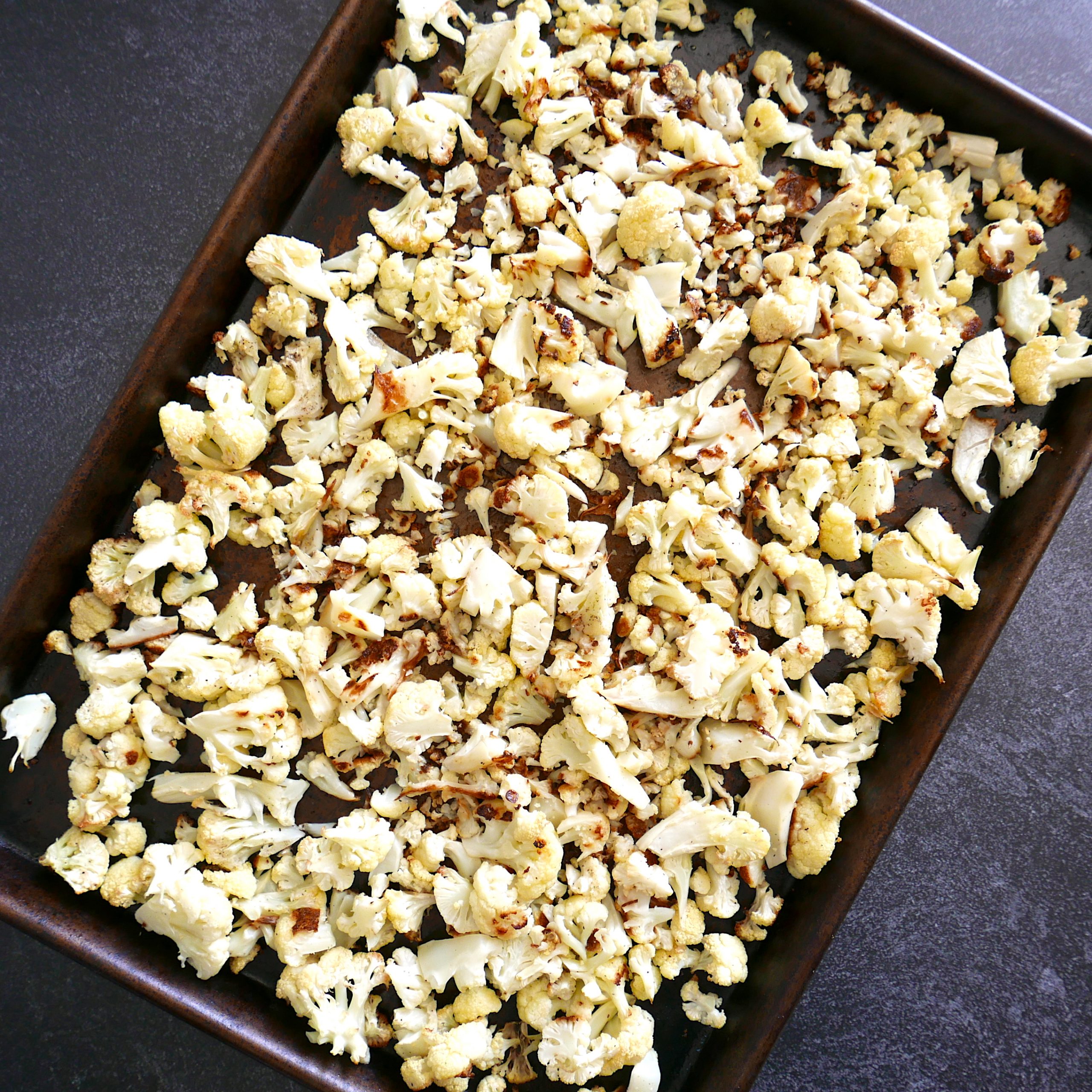 Recipe Ingredients
Cauliflower
Extra-virgin olive oil
Red wine vinegar
Arugula
Gruyère cheese
Toasted walnuts
Why This Recipe Works
Cauliflower is one of those vegetables that I don't really care for raw but I absolutely love roasted. In fact, I think I love any vegetable that has been roasted. It completely transforms the flavor of food, especially raw veggies. I made this recipe, adapted from The New York Times, while my mom and stepdad were visiting last week and we all agreed that it was a keeper. Everyone had two servings and bypassed the pork tenderloin completely. Now that's a good salad!
The arugula adds a nice bitter, peppery flavor while the toasted walnuts and Gruyère add nuttiness and creaminess to the dish. You could easily substitute any other nut if you're not a fan of walnuts. If you have another nutty cheese on hand, like Manchego, that would work just fine too. It's also a very pretty salad that would go nicely on your Thanksgiving table if you want to forego that green bean casserole this year. Sacrilege! Ok, make it in addition to the casserole.
This salad is best served warm. The cauliflower can be roasted one day ahead. Just slip the roasted florets back into the oven for 15 minutes or so right before serving. Assemble the salad, dress it, and let your guests swoon over it.
More Recipes with Roasted Vegetables!
Enjoy your week, and feel free to drop me a line in the comments – I would love to hear if you try this recipe! Or tag me on Instagram @maryannehoekstra to let me know how it turned out! Also, if you are enjoying my blog, please consider recommending it to your friends. They can subscribe here.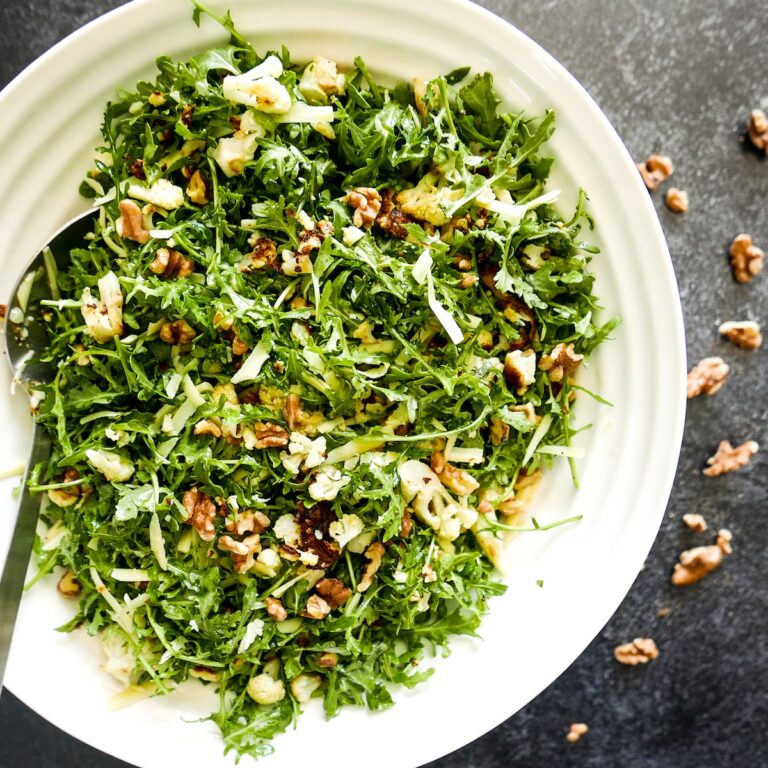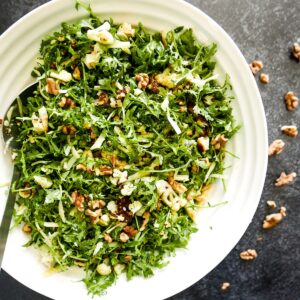 Roasted Cauliflower Salad with Arugula, Walnuts and Gruyère
A healthy and tasty salad with peppery arugula, roasted cauliflower, crunchy walnuts, and creamy gruyère!
Ingredients
1

head cauliflower

cut into bite-size florets

¼

cup

extra-virgin olive oil

1-½

teaspoons

salt

¾

teaspoon

black pepper

1

tablespoon

red wine vinegar

5

oz.

arugula

1

cup

Gruyère

grated

½

cup

toasted walnuts

roughly chopped
Instructions
Heat the oven to 400°F.  In a large bowl, toss the cauliflower with 2 tablespoons olive oil, 1 teaspoon salt and ¼ teaspoon pepper.  Spread the cauliflower on a baking sheet in a single layer.  Roast until golden, 30 to 40 minutes.  Let cool for 10 minutes.

In a small bowl, whisk together the vinegar with the remaining salt and pepper, and then whisk in the remaining oil.

In a salad bowl, toss the arugula, cheese, nuts and warm cauliflower.  Pour the vinaigrette over the salad and toss until well combined.