A hearty quinoa bowl with roasted tofu, eggplant, and broccoli, and a zesty tahini sauce that makes a quick and healthy vegan AND gluten-free meal!
I started making this recipe last spring, after I found myself wanting to experiment with more vegan recipes; I became obsessed with it almost immediately! "Grain bowl" recipes have been a thing for several years now, but I was always skeptical to get on that train. I'm not even sure why. I think it's mainly because I don't like being told what to do, so if something becomes popular or trendy, I immediately don't want any part of it. (My therapist is helping me work thought that. Ha!)
This quinoa bowl recipe features roasted eggplant and broccoli that become caramelized in the oven, hearty quinoa, creamy tofu, and a delicious nutty tahini sauce. And it's incredibly easy to make. Once you get the hang of making grain bowls, you learn that they are largely interchangeable, which is part of what makes them so appealing. Want to substitute carrots for broccoli? Sure! Don't like tofu, AND want to use Brussels sprouts instead? Ok!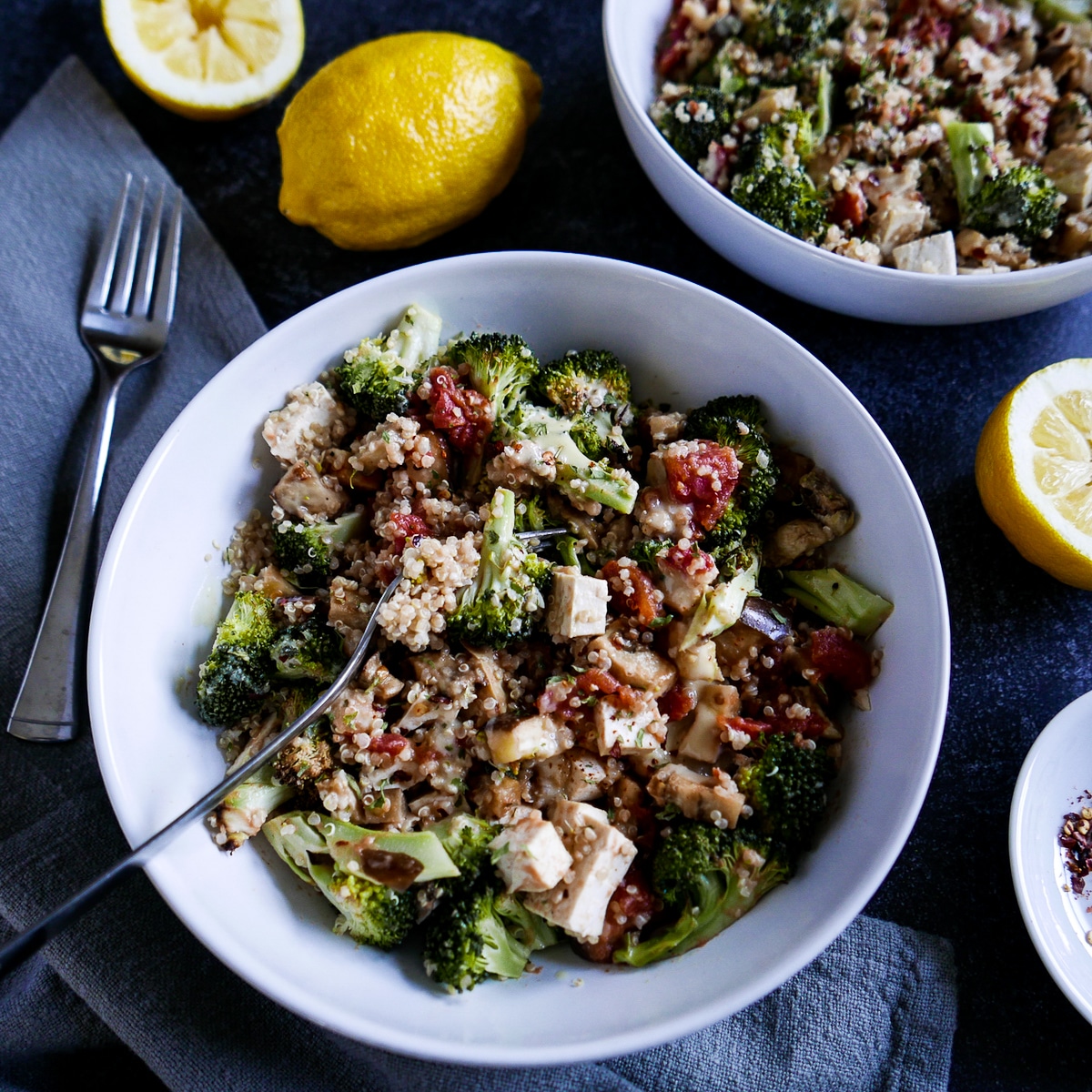 Ingredients Needed
For the dressing:
Fresh lemon juice
Garlic
Extra-virgin olive oil
Tahini
For the grain bowl:
Broccoli
Eggplant
Tofu, extra firm
Extra-virgin olive oil
Quinoa
Fresh lemon juice
Maple syrup
Red-pepper flakes
Diced tomatoes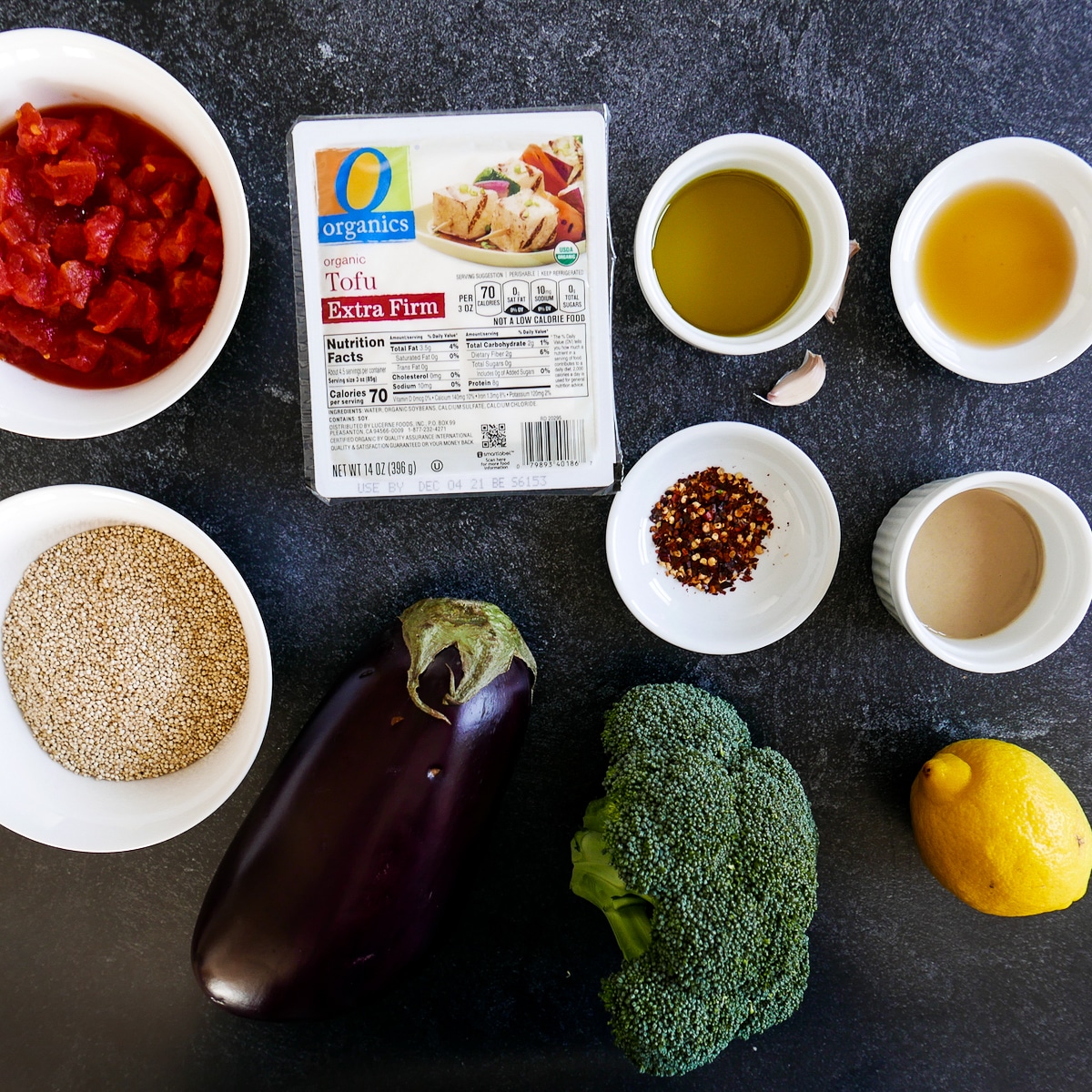 Eating Plant-Based
I heard Mark Bittman, the renowned food journalist and writer, on a podcast recently talking about his new book, "Animal, Vegetable, Junk: The History of Food, from Sustainable to Suicidal". I am adding it to my reading list, pronto! In the book, he discusses the history of our food system, where we are now within that context, and what needs to change.
I have read similar books on this topic over the years, but Mark Bittman takes a deeper dive into the particular topic of technology and food in his new book, which I believe is both relevant and important for where we are today. How can we utilize technology to improve the way we grow, harvest, alter, and distribute food? Learning about the practices of the Food Industrial Complex influenced my decision to start eating vegan last year. And although I'm not a strict vegan, I DO try to avoid meat and dairy as much as possible.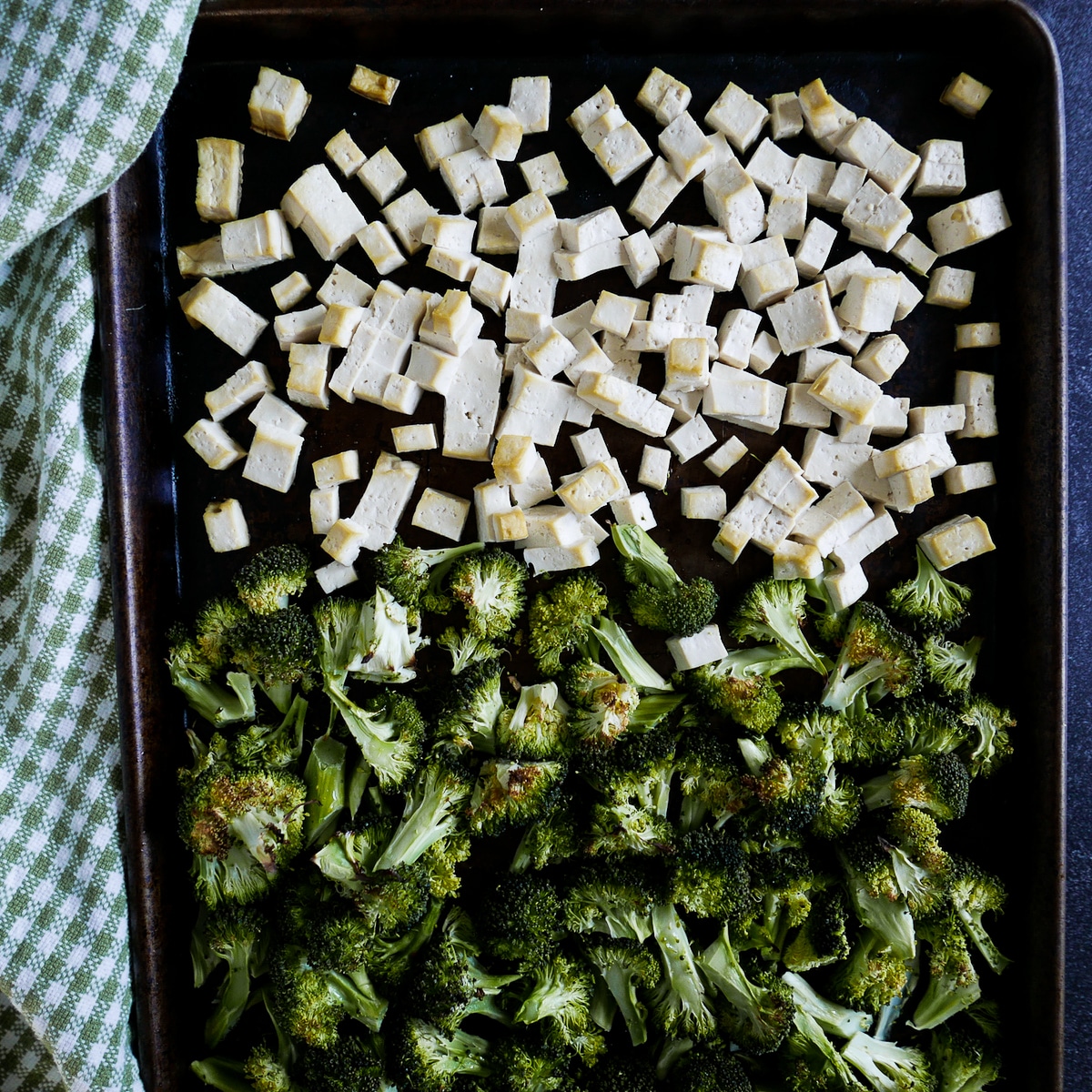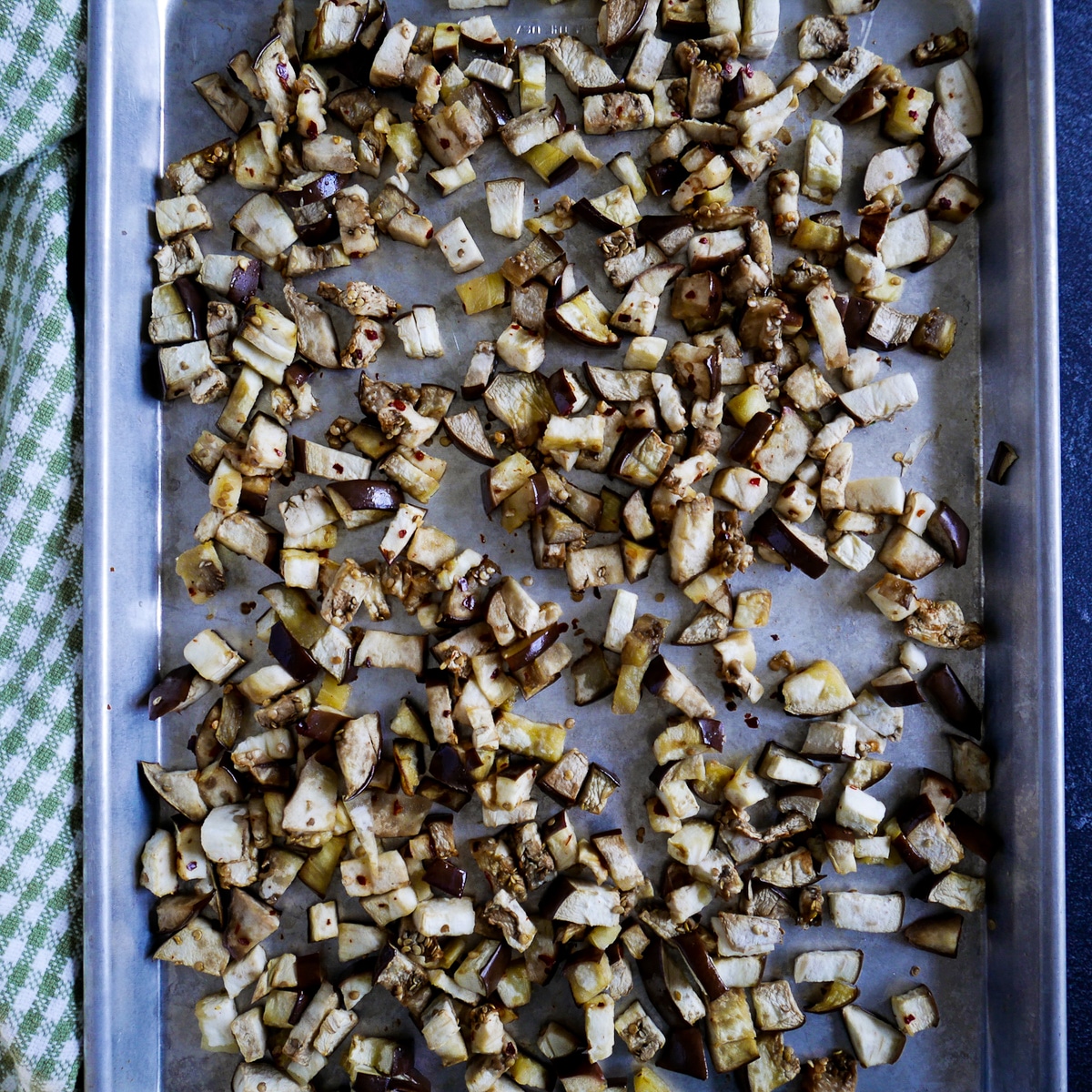 Why This Recipe Works
If I had to name one dish that has gotten me through a very emotional year, it would have to be this tahini quinoa bowl. It's so incredibly comforting, while still being very healthy (vegan AND gluten-free!), and so simple to prepare. I typically make it for dinner, knowing that there will be several servings of leftovers to help get me through the week.
If you aren't a fan of tofu, you can simply omit it; it's essentially an extra serving of protein. But if you do use it, don't skip the first step of draining the tofu. Getting rid of as much water as possible will ensure that the tofu browns nicely in the oven.
If you love tahini as much as I do, be sure to try this No-Bake Tahini Cheesecake or this Smoky Paprika Hummus.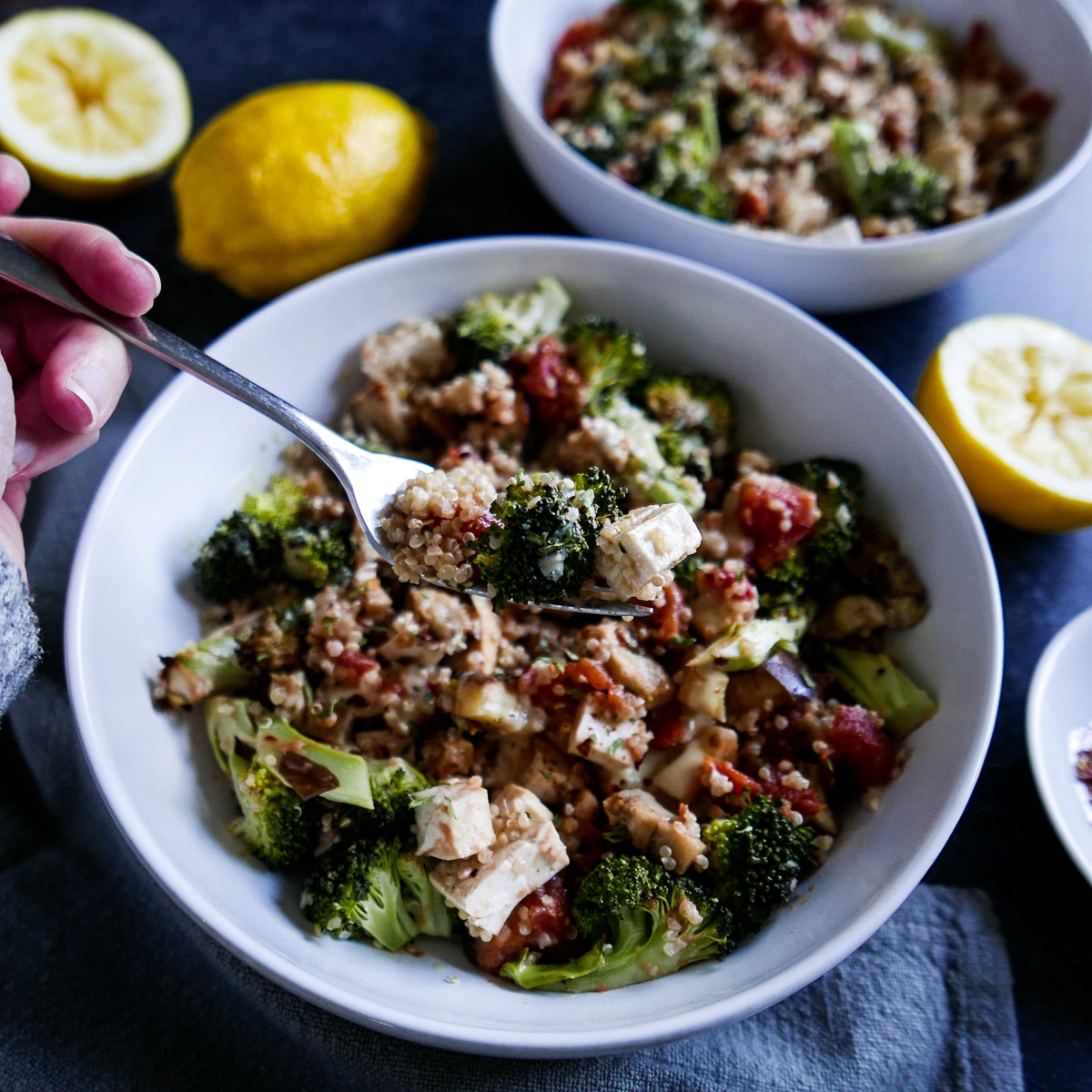 FAQS and Recipe Notes
Can I substitute another grain for the quinoa? Absolutely! I also like to use farro or brown rice for this dish when I don't have quinoa on hand.
What is tahini? It's a phenomenal condiment from the Middle East, and is essentially ground sesame paste. Think of it as similar to peanut butter or almond butter. In fact, loads of people are baking with it these days, as it can easily be substituted for peanut butter if food allergies are an issue. I love tahini so much that I often make an extra batch of the tahini sauce and just drizzle it on any vegetables that I roast for the week!
Is this quinoa bowl spicy? Despite this recipe including red pepper flakes, this quinoa bowl is not really spicy. So, if you want more of a kick, I recommend adding more red pepper flakes at the end to your taste preference.
Store leftovers in the refrigerator for up to 4 days, or in the freezer for up to 2 months.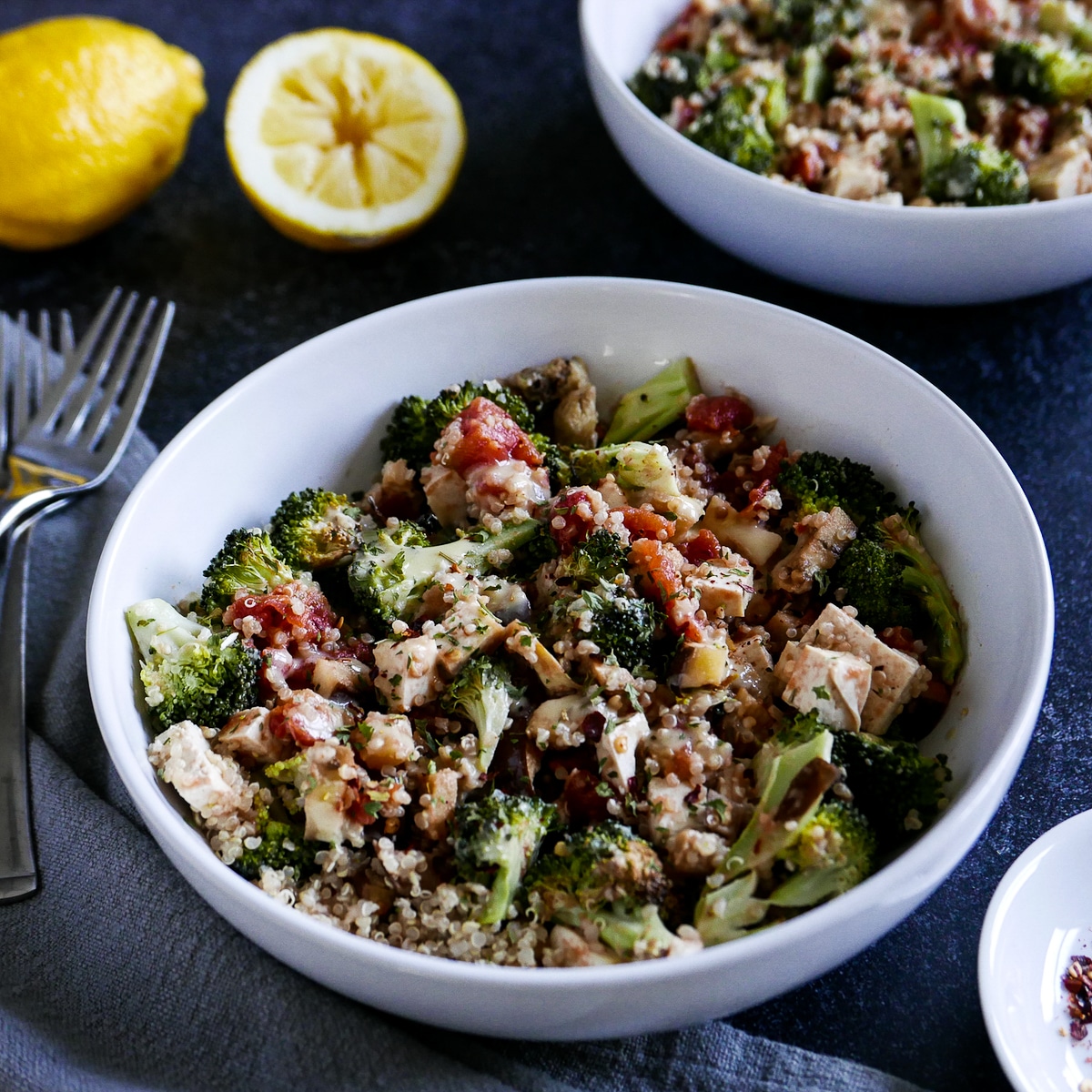 More Vegan Recipe Ideas!
Quinoa Tabbouleh Salad with Chickpeas and Avocado
Enjoy your week, and feel free to drop me a line in the comments – I would love to hear if you try this recipe! Or tag me on Instagram @maryannehoekstra to let me know how it turned out! Also, if you are enjoying my blog, please consider recommending it to your friends. They can subscribe here.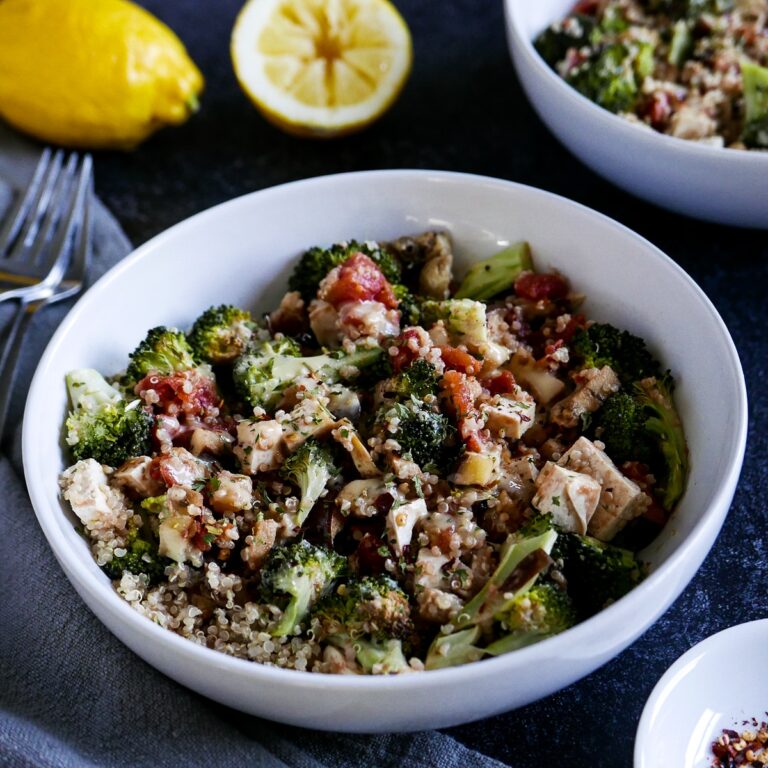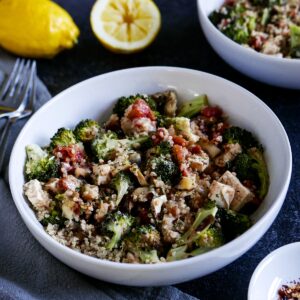 Tahini Quinoa Bowl with Eggplant, Broccoli, and Tofu
A hearty quinoa bowl with roasted tofu, eggplant, and broccoli, and a zesty tahini sauce that makes a quick and healthy vegan AND gluten-free meal!
Ingredients
For the dressing:
2

tablespoons

fresh lemon juice

plus more as needed

2

garlic cloves

finely grated or minced

½

teaspoon

sea salt

plus more as needed

¼

cup

extra-virgin olive oil

3

tablespoons

tahini
For the grain bowl:
1

head broccoli

cut into small florets

1

large eggplant

cut into 1 ½-inch pieces

1

block tofu, extra firm

Extra-virgin olive oil

½

teaspoon

kosher salt

plus more as needed

1

cup

quinoa

1

tablespoon fresh lemon juice

1

tablespoon

maple syrup

½

tablespoon

red-pepper flakes

14

oz.

can diced tomatoes

drained
Instructions
Heat oven to 425 degrees.

Place tofu on a plate between two paper towels. Place heavy saute pan on top of tofu and lightly press to remove as much excess moisture as you can. Let sit for 5 minutes to drain.

Make the tahini dressing: Whisk together lemon juice, garlic and salt in a medium bowl. Let sit for 1 minute, then slowly whisk in oil, a few drops at a time, until emulsified. Whisk in tahini and enough water (by the teaspoon) to make a thin pourable sauce; taste and add more salt and lemon juice if needed. Set aside.

Slice tofu into 1-inch cubes. Place tofu and broccoli on a rimmed baking sheet, and the eggplant on another. Toss all three items with a drizzle of olive oil and a pinch of salt.

Roast broccoli, tofu, and eggplant for 20 to 30 minutes, until vegetables are browned and tender. Toss vegetables once or twice while roasting.

While vegetables are in the oven, make the quinoa: In a medium saucepan, place quinoa, 2 cups water and ¼ teaspoon salt. Bring to a boil, and then lower to a simmer for 15 minutes, until the grains soften and water is absorbed. Set aside.

In a small bowl, whisk together lemon juice, maple syrup, and remaining ¼ teaspoon salt. After removing vegetables from the oven, toss with the lemon - maple syrup mixture to coat. Add red pepper flakes and mix thoroughly.

To serve, place quinoa in six bowls. Divide roasted broccoli, eggplant, and tofu among the bowls. Add diced tomatoes. Generously drizzle tahini dressing over the bowls and garnish with additional red-pepper flakes, if desired.