A quick and delicious (vegan and gluten-free) quinoa tabbouleh salad packed with fresh parsley, mint, creamy avocado, and crunchy chickpeas for extra protein!
The first time I ever ate tabbouleh was many years ago in Montreal. I was visiting a good friend of mine who was studying there, and one day we found ourselves wandering around to find a place for lunch. We happened upon a Middle Eastern restaurant, and my friend asked if I'd ever had falafel before. At this point in my life, I was a still basically a small-town girl from the Midwest, so while I had probably heard of falafel before, I certainly had never eaten it. Boy, was I in for a treat!
I still think about that falafel wrap from time-to-time. It's one of those food memories that really sticks with you. We ordered a tabbouleh salad as well, and I was so confused and amazed by the flavor of this seemingly simple dish. Could I really just be eating a dish of parsley, bulgur wheat, tomatoes, lemon, and mint that is THIS flavorful and delicious? The answer was YES, and Middle Eastern food is now one of my favorite cuisines. If you haven't yet tried my recipe for Smoky Hummus, I highly recommend it!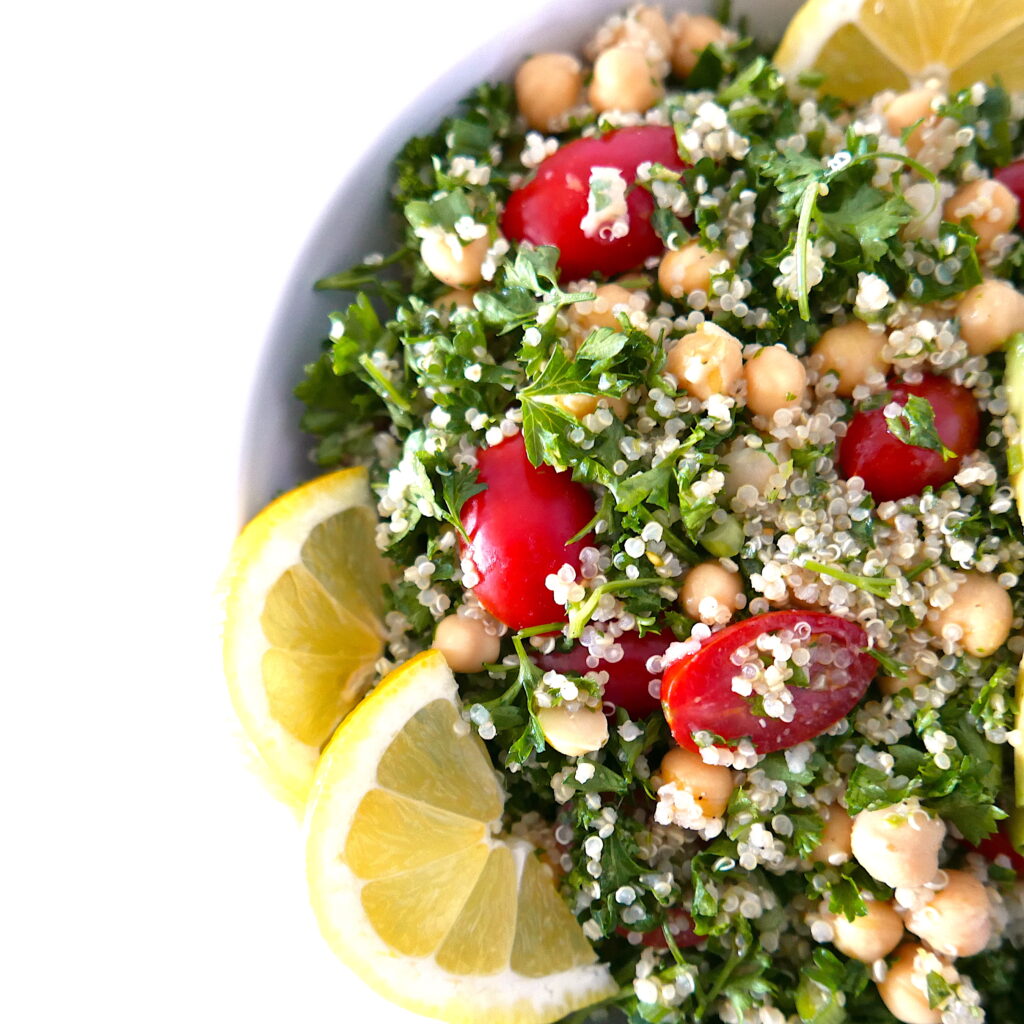 What is Tabbouleh?
Tabbouleh is an herb-forward salad, typically made largely of parsley, mint, and bulgur wheat. The parsley and mint do much of the heavy lifting, providing the fresh, herby flavor that is ubiquitous with tabbouleh salads. I substitute quinoa in my recipe both because it is one of my favorite grains and because it is also gluten-free, and therefore more allergy-friendly. Below is a little history of how tabbouleh came to be in the words of Claudia Roden, one of the most esteemed authors of Middle Eastern cooking:
"...it was born in the mountain region of Zahlé, in the Bekáa Valley of Lebanon, where the local anise-flavored grape liquor arak is produced. Renowned for its fresh air and its natural springs and the river Bardaouni, which cascades down the mountain, the region acquired a mythical reputation for gastronomy. The reputation of the local mountain-village foods the [cafes] offered, of which tabbouleh was one of the jewels, spread far and wide and became a national institution."

-Claudia Roden, The New Book of Middle Eastern Food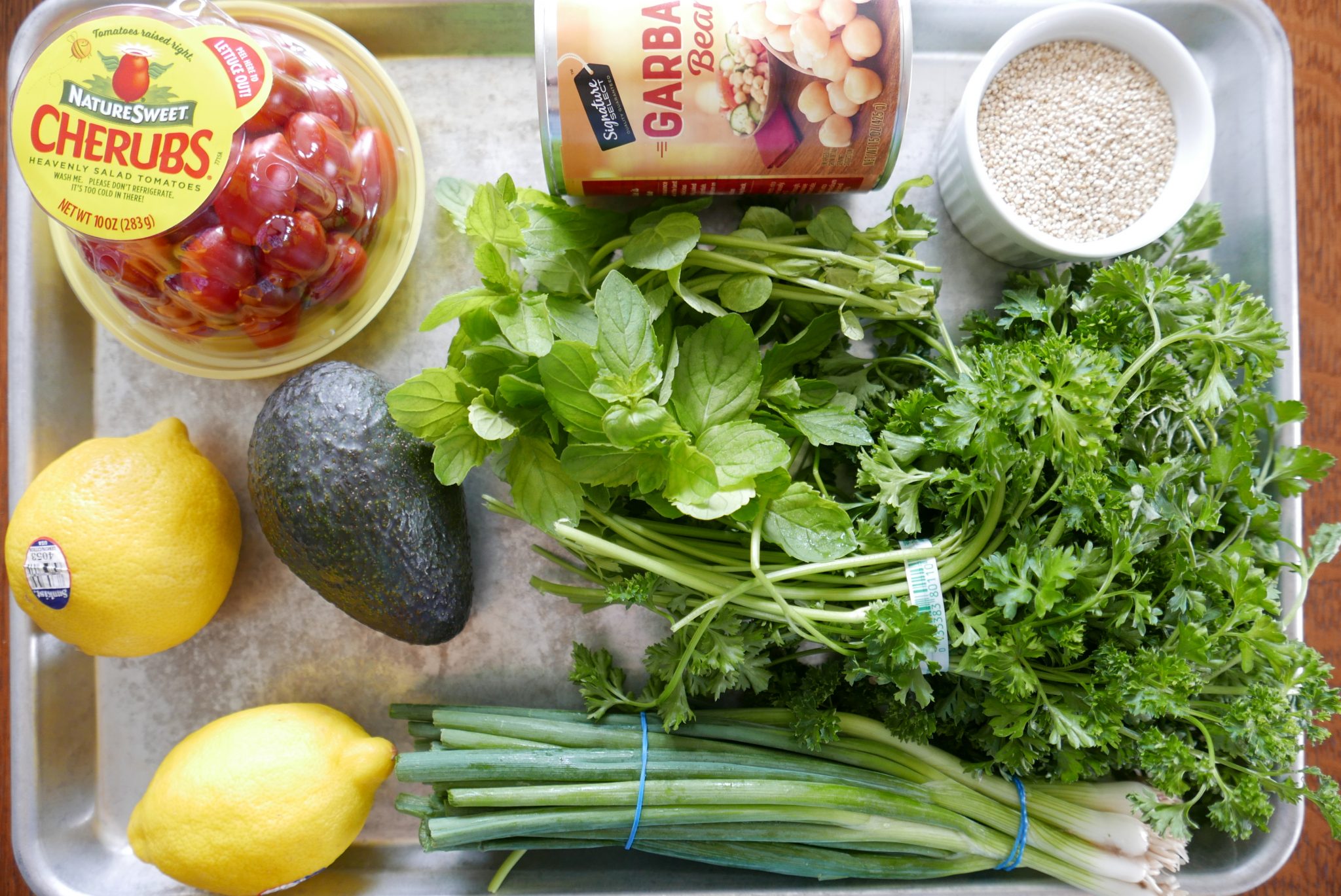 What Are The Ingredients?
Quinoa - one of my favorite grains, it has a high amount of protein and is also gluten-free. If you prefer to substitute a different grain, go for it!
Lemon juice and zest - lemons add to the freshness of any dish, and this dish is no exception
Extra-virgin olive oil - my go-to when cooking. Feel free to substitute your favorite oil if you don't have olive oil on hand.
Cherry tomatoes - Sweet and bite-sized, but you can use larger tomatoes if you prefer.
Chickpeas - Chickpeas are not included in classic vegan tabbouleh recipes, but I wanted to make this a more substantial dish, with added protein. I use canned chickpeas out of convenience, but if you prefer dried chickpeas, go right ahead!
Scallions - scallions provide just the right amount of heat for this recipe, but feel free to use red onion if you have it on hand.
Parsley - Parsley is essential to tabbouleh! No substitutions here.
Mint - Mint is also an important component to tabbouleh. There really is no substitution for mint in this recipe.
Avocado - Although classic tabbouleh does not contain avocado, I added avocado to this recipe because it adds substance, creaminess, and added nutrition.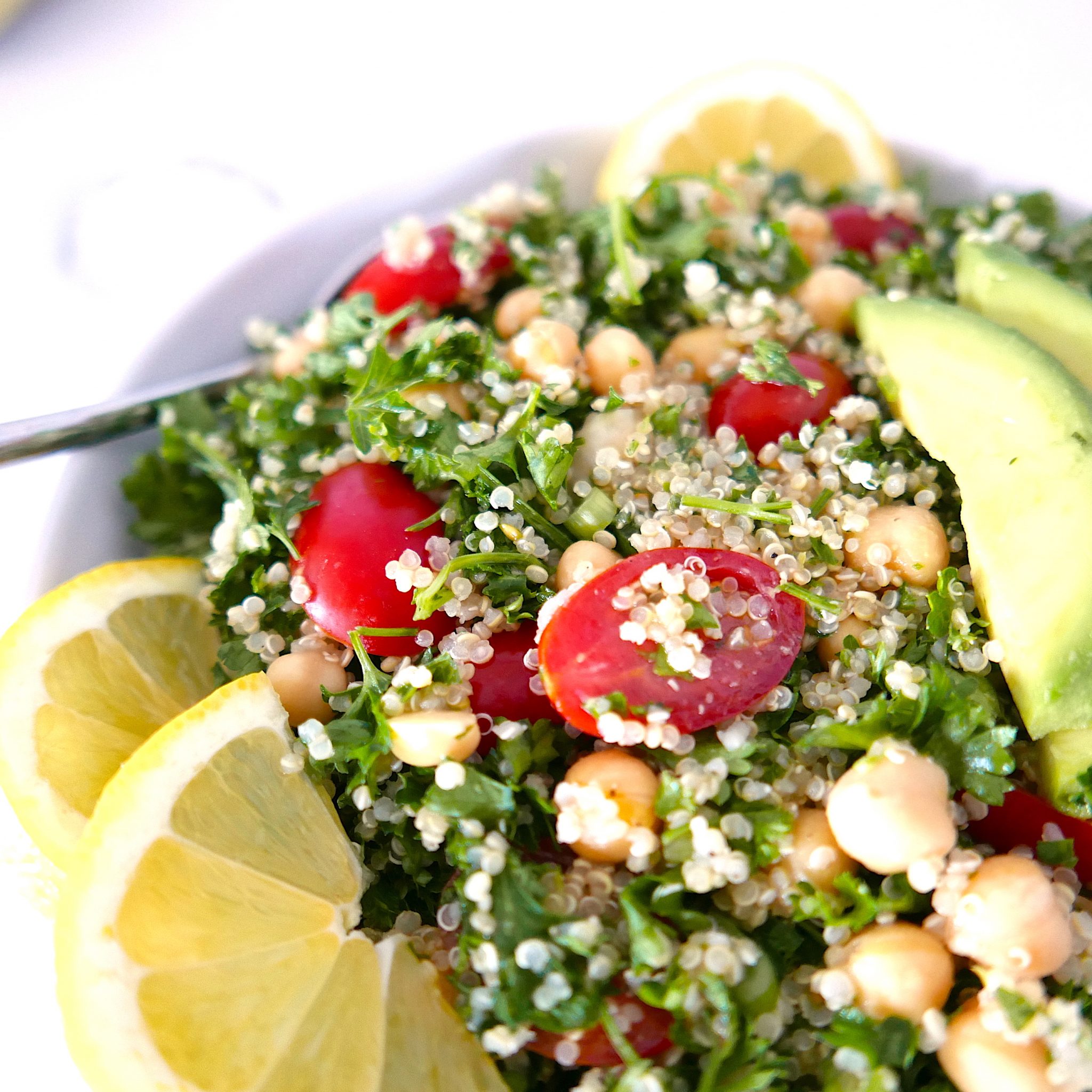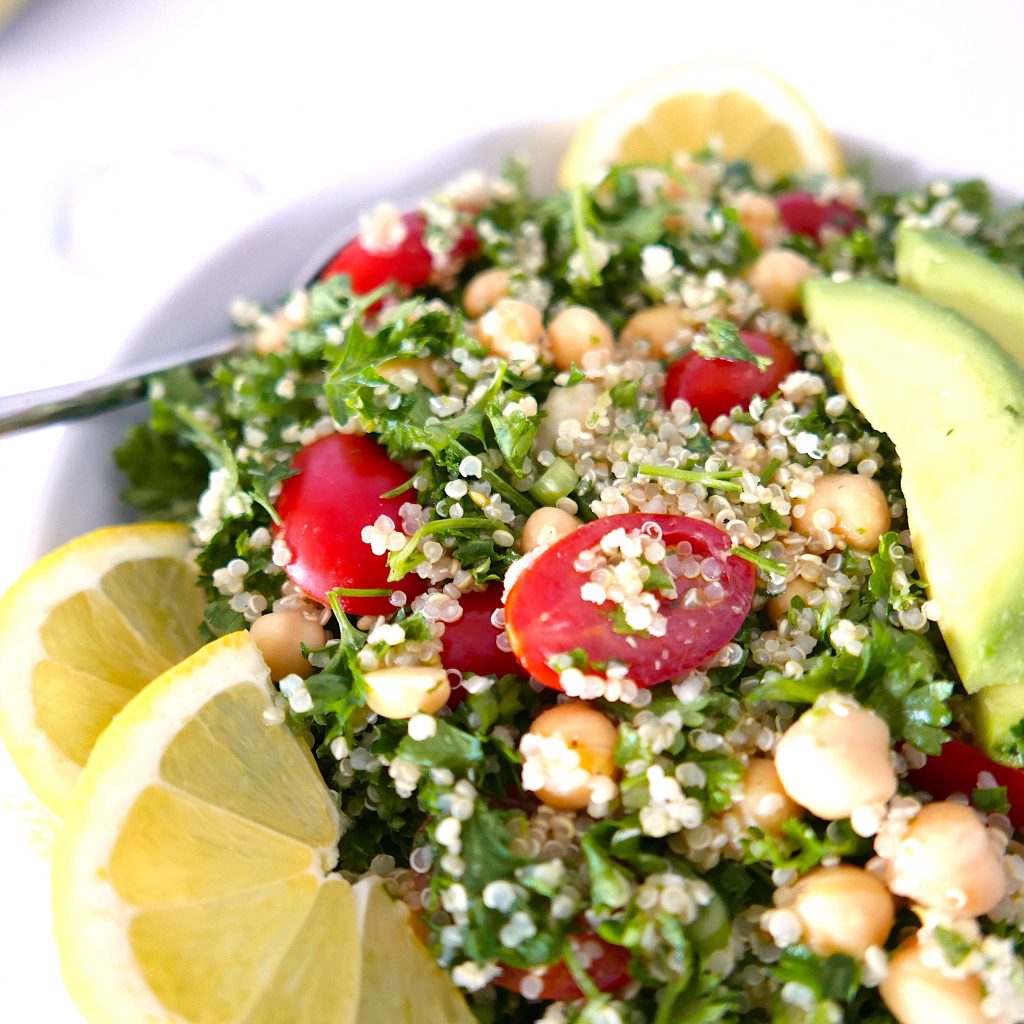 Recipe Tips for (Vegan) Quinoa Tabbouleh Salad
If you are short on time, the quinoa can be made up to one day ahead of time. Just store it in an airtight container in the refrigerator until ready for use.
Use fresh lemon juice if at all possible. It really makes a difference!
Flat-leaf or curly parsley will both work in this recipe. In general, flat-leaf has a more robust flavor, but curly can be used here as well.
If you don't like avocado, go ahead and leave it out. It's not necessary for this salad to be tasty!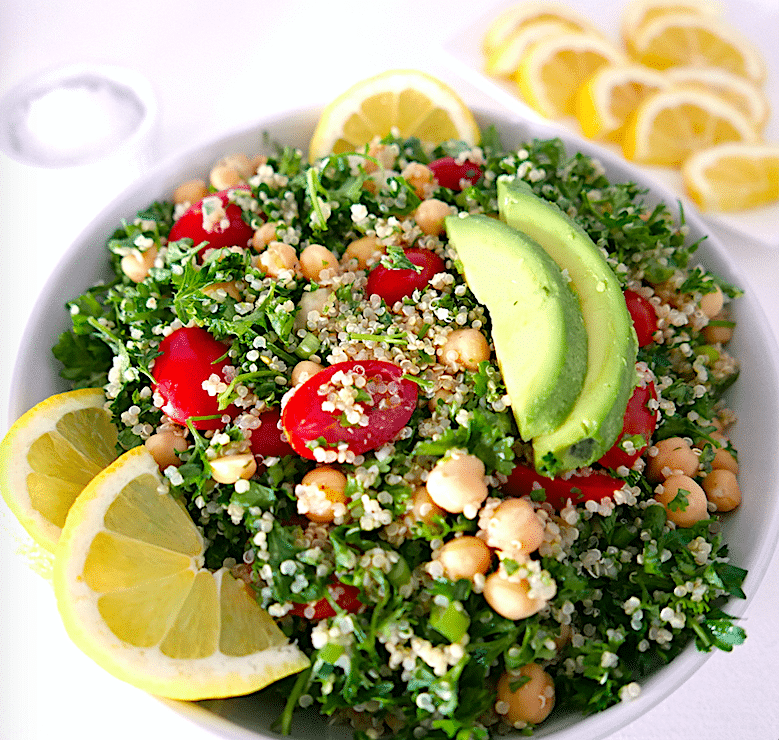 My only regret when making this salad is that I wish I had doubled the recipe. It was gone in an instant, and I found myself craving more of the fresh herby-ness inherent in this salad. It will definitely be added to my summer rotation for the hot, sunny days ahead! Other than cooking the quinoa, the salad takes merely minutes to throw together. It's bright, vibrant, creamy, crunchy, and so incredibly satisfying!
Enjoy your week, and feel free to drop me a line in the comments – I would love to hear if you try this recipe! Or tag me on Instagram @maryannehoekstra to let me know how it turned out! Also, if you are enjoying my blog, please consider recommending it to your friends. They can subscribe here.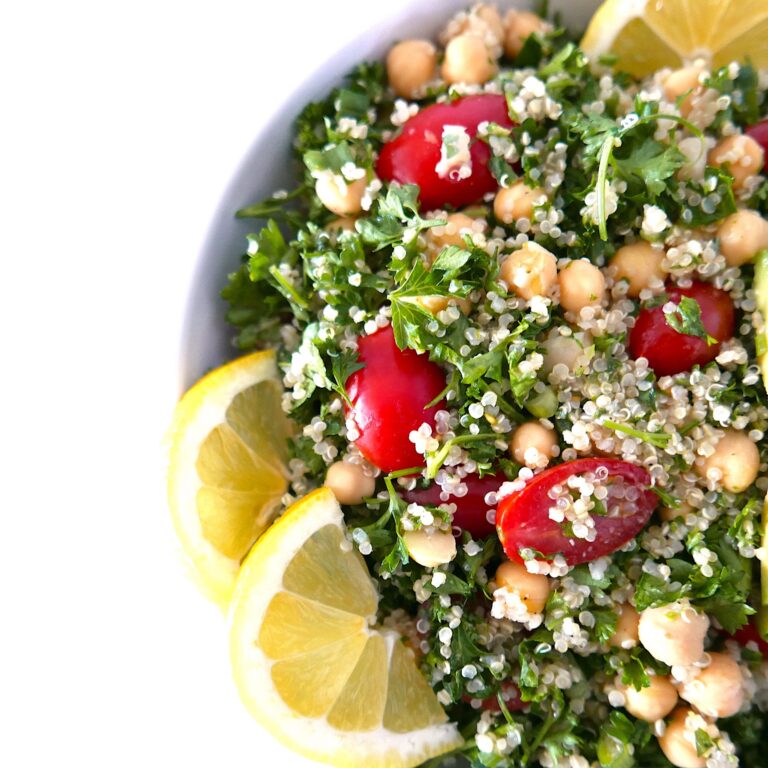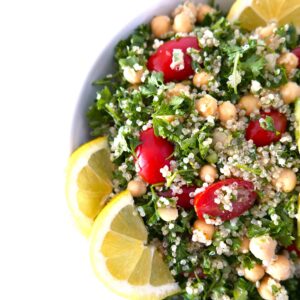 Quinoa Tabbouleh Salad with Chickpeas and Avocado
A quick and delicious (vegan and gluten-free) quinoa tabbouleh salad packed with fresh parsley and mint, creamy avocado and crunchy chickpeas for extra protein!
Ingredients
1

cup

quinoa, uncooked

½

tsp

salt

Juice of 2 lemons (about 2 Tbsp.)

Zest of ½ lemon

½

cup

extra-virgin olive oil

salt and pepper

1

pint

cherry tomatoes, halved

1

15 oz. can

chickpeas, drained and rinsed

5

scallions, thinly sliced

2 ½-3

cups

flat-leaf parsley, finely chopped

½

cup

mint, finely chopped

1

avocado, sliced lengthwise
Instructions
Add 1 cup of dry quinoa to a saucepan, and add 2 cups water and ½ tsp. salt. Bring to a boil. Reduce heat to low, cover, and simmer for around 20 minutes, or until all of the liquid is absorbed. Transfer to a medium-sized bowl to cool slightly.

In a small bowl, whisk together lemon juice, lemon zest, olive oil, salt, and pepper. Set aside.

Add tomatoes, chickpeas, scallions, parsley, and mint to bowl with cooled quinoa and toss to combine. Add dressing and toss once more. Top with avocado slices.

Store in an airtight container in the refrigerator for up to 4 days.