I made it to yoga this morning.  It was a small achievement in my day.  I went a couple of weeks ago for the first time in almost a year, and it was a less than satisfying experience.  I couldn't believe how hard the moves felt compared to a year ago.  I struggled with every pose, my legs shaking like jello.  And because I mistakenly placed my mat towards the front of the room like a confident person (fake it till you make it, right?), I felt everyone's eyes on me.  In my mind they, along with the instructor, were judging me and wondering why I thought I could do this.  This was an "open" class and the instructor stated that if we weren't comfortable doing a pose to simply return to a pose that we were more comfortable with.  I did ok until the last 15 minutes, when the instructor led us into poses meant for Olympic athletes.  Everyone in the class seemed to have no problem contorting their bodies into strange and incredibly difficult poses.  I immediately felt like a failure for not being able to do any of them.  I returned to child's pose and felt the shame wash over my body.  I had recently made a pact with myself to start doing yoga on a weekly basis.  Walking home after class, I knew it was going to be a struggle to return the following week.
I'm reading a book about fear right now.  The author's thesis is that no matter what our fear is, it is rooted in the belief that we won't be able to handle whatever it is that we fear.  So whether it's facing the death of a loved one, unemployment, or a divorce, we are supposed to repeat the mantra, "I can handle this!" and then move forward in life impervious to said fears.  Alas, I skipped yoga the following week.  It was a tough week.  Despite this, or because of this, I should have made more of an effort to attend my yoga class.  Regardless, I made some mental readjustments over the weekend and was determined to do yoga this week.  I didn't want one class to scare me away.  Walking to class this morning, I told myself to try and utilize the mindfulness aspect of the class instead of focusing simply on my strength, or lack thereof.  My legs still shook during certain poses, but I concentrated more on my breathing and simply staying mindful.  This time, instead of shame washing over my body during my last pose, I felt a sense of calm and stillness.  It was nice.  I did get distracted a few times by the instructor.  I found myself mesmerized by her voice, so much so that I found myself wondering if she does voiceover work.  I think I've lived in New York too long.  As I approached the steps to my apartment, an older man came walking up to me.  Angrily, he shouted, "I hate Astoria!  I would rather live in Puerto Rico any day than this shithole.  I hate this place."  I shrugged at him and inserted my key into the lock.  I wasn't going to let this random guy ruin my Zen state.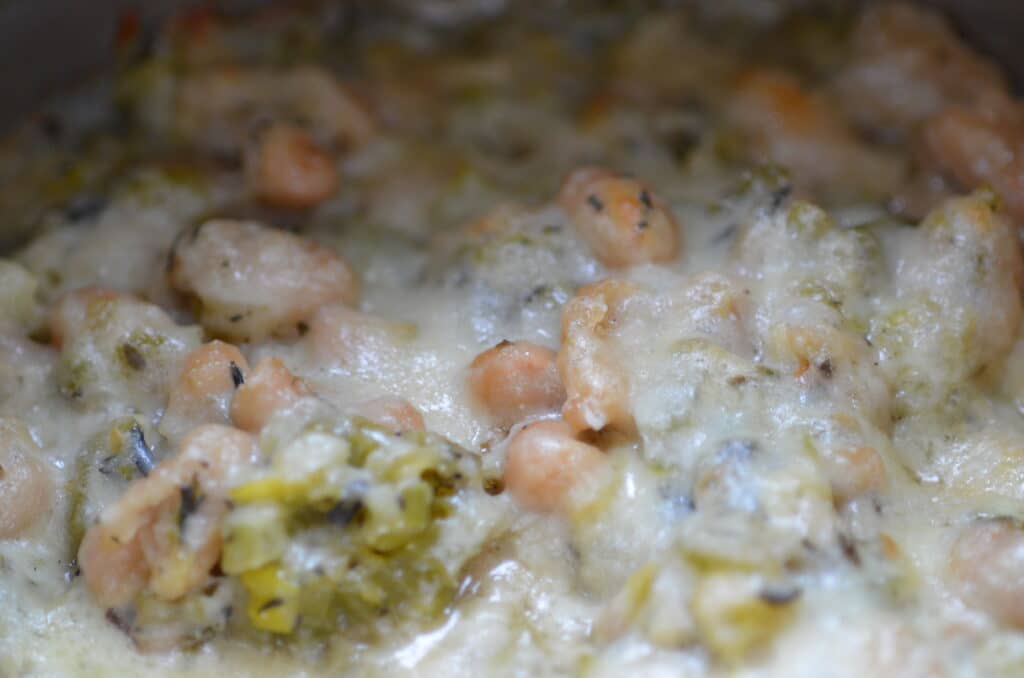 Seeing as this winter is never going to end (I heard NYC has had 18 snowstorms so far this winter!), I have been trying to balance my cravings for hearty food with healthy alternatives.  This recipe falls into both categories.  It's pretty darn healthy and still a satisfying, substantial winter dish.  After taking my first bite, it reminded me of both a cheesy, herbaceous goulash and French onion soup.  I licked the spoon like it held brownie batter and not white beans and leeks!  The original recipe, from The Sprouted Kitchen, called for dried cannellini beans, but I simplified it by substituting canned beans.  The result was a fast and easy recipe that would be perfect for a weeknight meal when you don't have a lot of time but you want something rib-sticking good. Enjoy!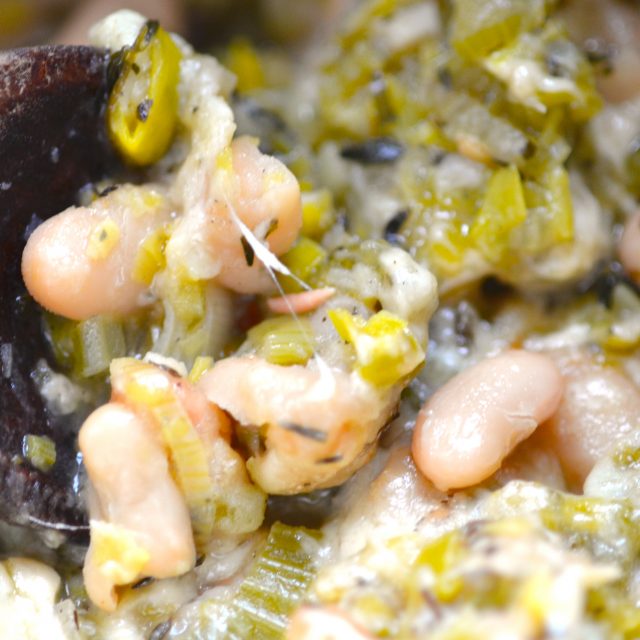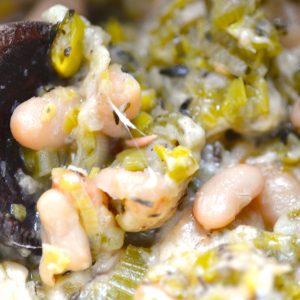 Braised White Beans and Leeks
A hearty, healthy, and delicious dish that is a mash-up of cheesy goulash and French onion soup!
Ingredients
15

oz.

can cannellini beans

3

large leeks

1

tablespoon

extra-virgin olive oil

2

celery stalks

divided

4

cloves

garlic

coarsely chopped

2

tablespoons

fresh thyme leaves

2

teaspoons

herbes de Provence

1/2 to 1

teaspoon

red pepper flakes

Sea salt and freshly ground black pepper

1

cup

low-sodium vegetable broth

1

cup

shredded mozzarella

1/2

cup

freshly grated Parmesan cheese
Instructions
Arrange a rack in the lower third of your oven and preheat the oven to 500 degrees F.

Trim the leeks, discarding the tough green tops, halve vertically, and rinse in cold water, making sure to clean out any dirt trapped between the layers.  Slice into thin half circles.

In a large Dutch oven or heavy skillet over medium heat, warm the olive oil.  Add the celery, garlic, and leeks and cook until the vegetables are softened, 3 to 5 minutes.

Add the beans, thyme, herbes de Provence, red pepper flakes to taste, salt and pepper.

Stir in the vegetable broth and bring the mixture back up to a gentle boil.  Cook for approximately 25 minutes or until almost all of the liquid is gone.

Sprinkle the mozzarella and Parmesan on top of the bean mixture and place the pot in the oven, leaving the lid off.  Cook until the cheese is completely melted and brown in spots, 8-10 minutes.  Serve warm.