A delicious and healthy salty-sweet coconut almond granola. The perfect topper for fruit, yogurt, or ice cream!
If you've never made homemade granola before, you are in for a real treat with this healthy-ish coconut almond granola. I call it "healthy-ish" because although this recipe does contain maple syrup, brown sugar, and oil, it's a fairly small amount compared to most granola recipes. The oats, almonds, and coconut hold the spotlight here so you don't have to skimp when you dish up a bowl. And you will be amazed at how quick and easy it is to make!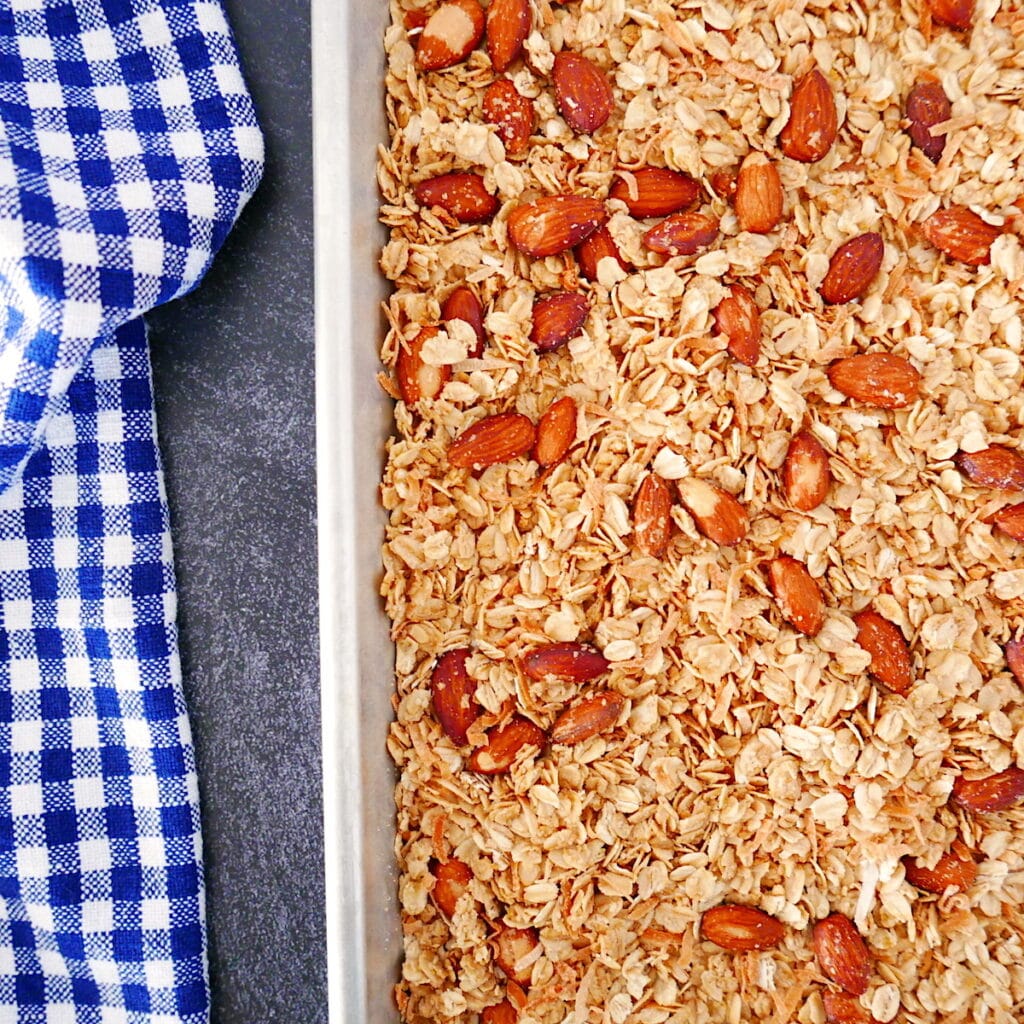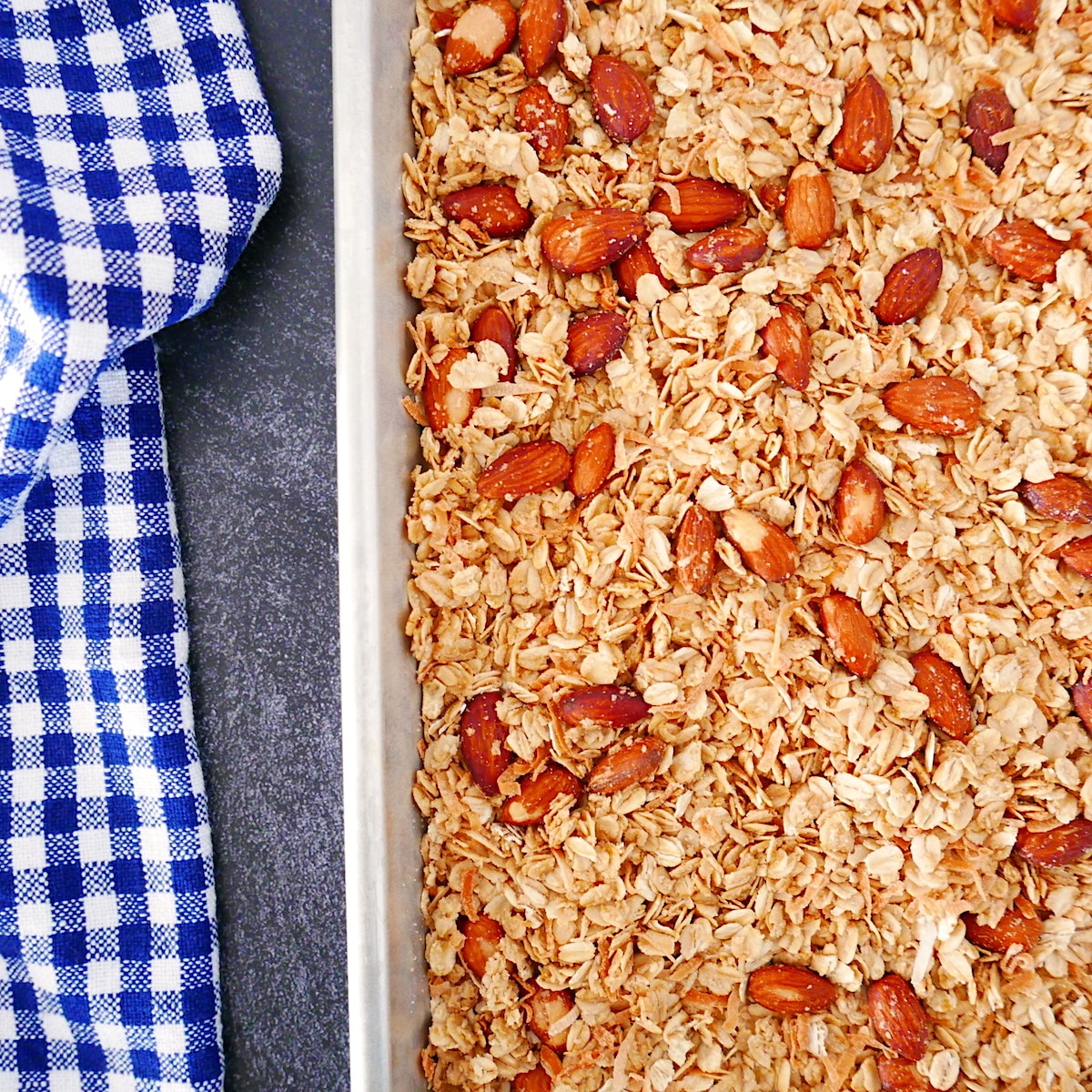 Coconut Almond Granola Ingredients
3 cups rolled oats
1 cup unsalted almonds
3/4 cup shredded, sweetened coconut
1/4 cup light brown sugar
1/4 cup maple syrup
1/4 cup vegetable oil
3/4 teaspoon salt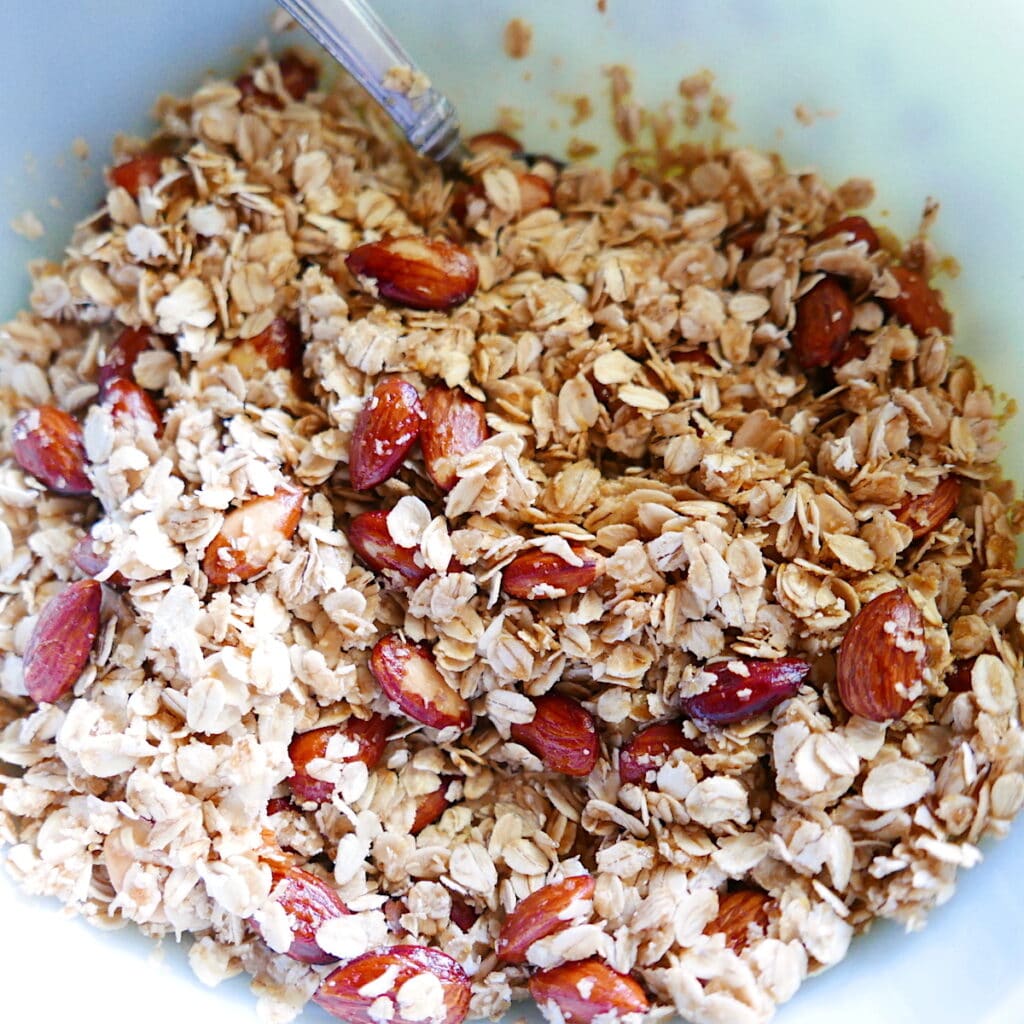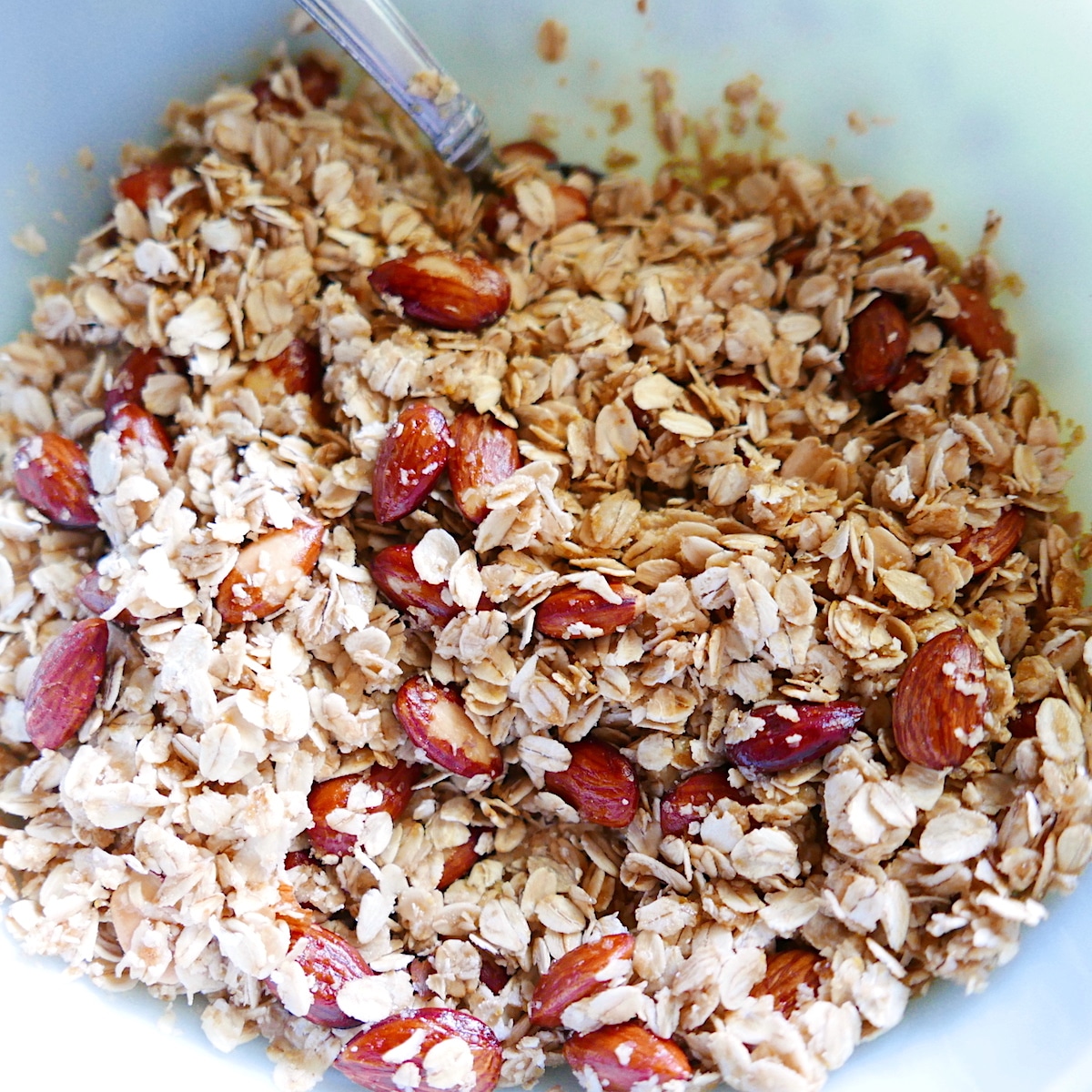 All About Granola
I feel like granola is often touted as a healthy snack food, but the thing is, store-bought granola isn't all that healthy. Most mass-market granola is covered in sugar and oil, making it very delicious but very loaded with calories.
However, a lot of smaller granola producers have sprung up over the last few years, and they have much less added sugar and oil. Instead, they highlight the oatmeal, nuts and dried fruit that make up the majority of the granola mixture. This makes for a less sweet (and usually much less crunchy) but healthier granola. And this style is just as delicious!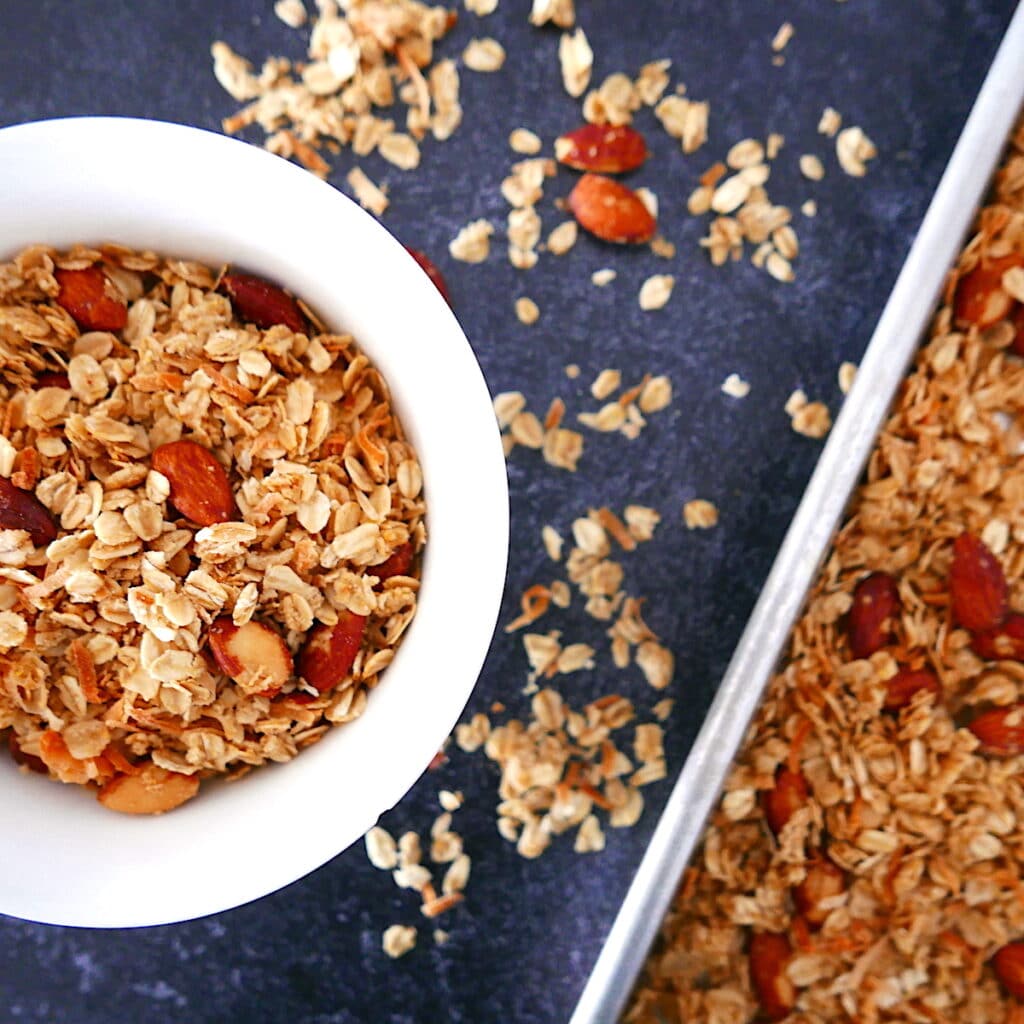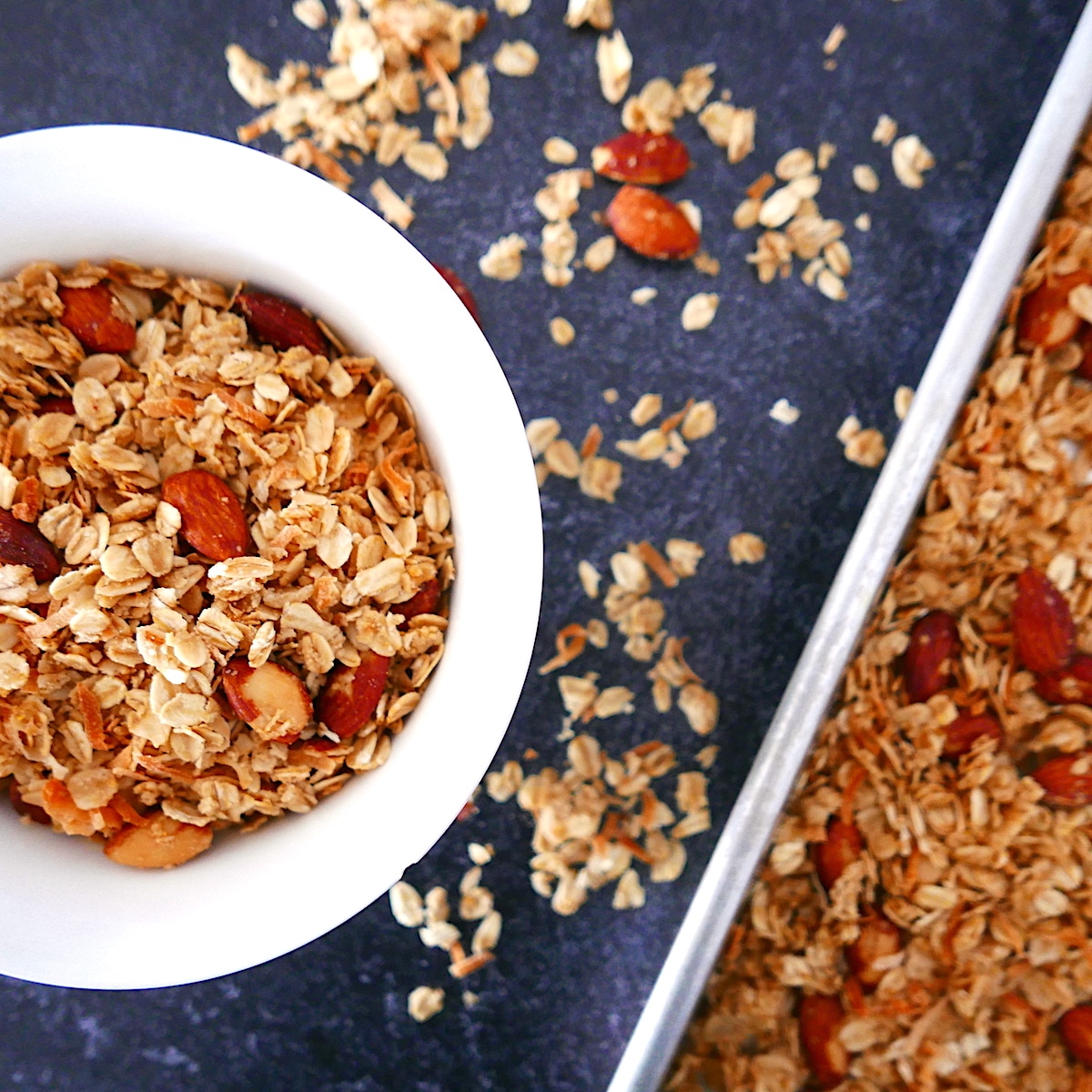 Healthy-ish Coconut Almond Granola
My granola recipe, adapted from Alton Brown, falls somewhere in between the two styles. While it's much healthier than the mass-produced varieties, the brown sugar and maple syrup provide a wonderfully rich sweetness. I'm a sucker for salty-sweet snacks and this falls under that umbrella. If you aren't crazy about salty sweets the way I am, you can easily cut back on the salt.
I've been making this incredibly tasty granola regularly over the last year; we are never out of it at our house! My husband and I like to eat it with fruit and coconut yogurt for dessert most nights. This crunchy salty-sweet snack would be delicious added to a bowl of ice cream as well!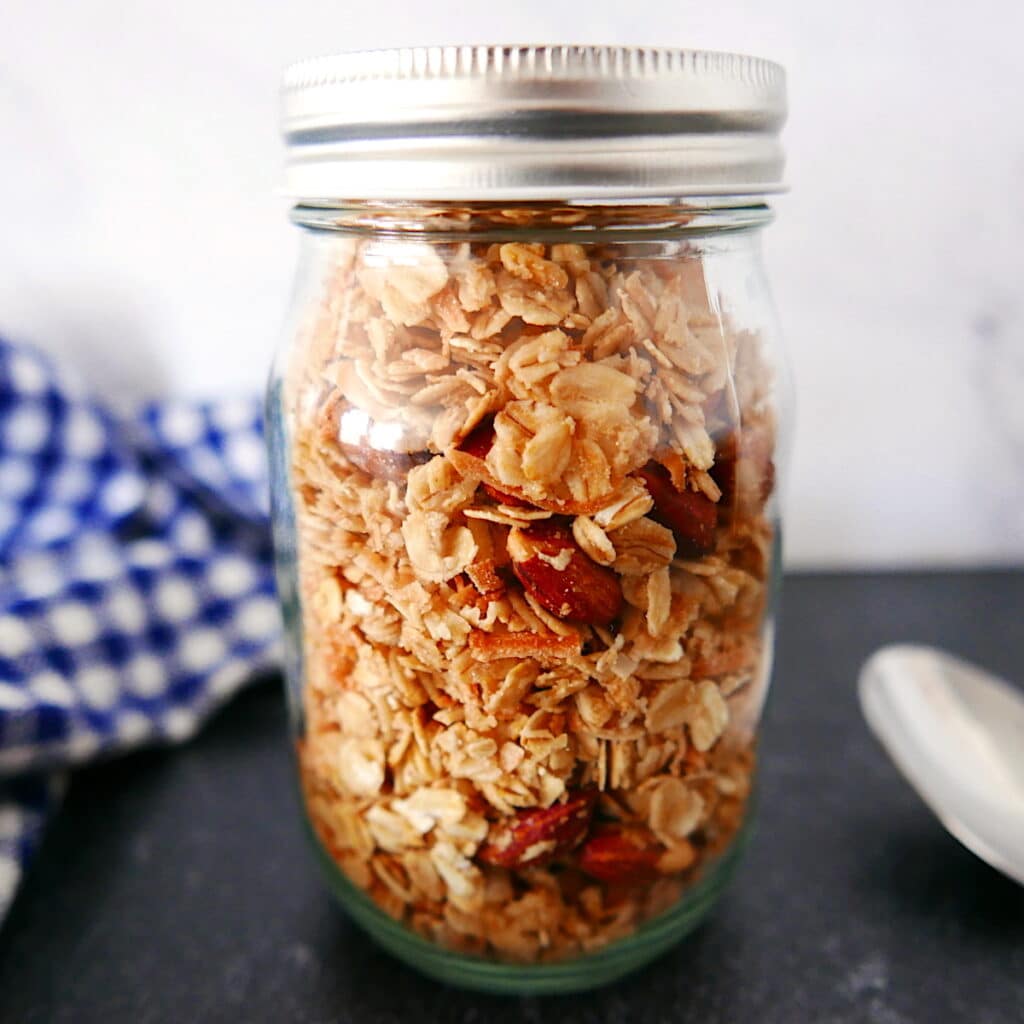 I've made this recipe with pecans and walnuts as well, and both versions are delicious! If you use nuts that are already salted, I would recommend skipping the added salt. You can always add more salt at the end if you prefer.
Enjoy your week, and feel free to drop me a line in the comments – I would love to hear if you try this recipe! Or tag me on Instagram @maryannehoekstra to let me know how it turned out! Also, if you are enjoying my blog, please consider recommending it to your friends. They can subscribe here.
More Snack Recipe Ideas!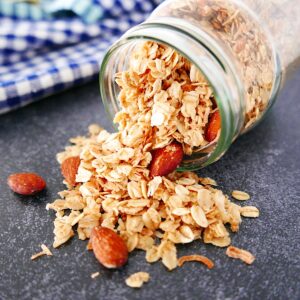 Healthy-ish Coconut Almond Granola
A delicious and healthy salty-sweet granola with almonds, coconut, and maple syrup. The perfect topper for fruit, yogurt, or ice cream!
Ingredients
3

cups

rolled oats

1

cup

unsalted almonds

3/4

cup

shredded, sweetened coconut

1/4

cup

light brown sugar

1/4

cup

maple syrup

1/4

cup

vegetable oil

3/4

teaspoon

salt
Instructions
Preheat oven to 250 degrees F.

Line a baking sheet with parchment paper.

In a large bowl, combine the oats, nut, coconut, and brown sugar.

In a separate bowl, combine maple syrup, oil and salt.

Add oil mixture to oats mixture and stir until combined.

Pour mixture onto parchment-lined baking sheet.

Cook for 1 hour and 15 minutes, tossing every 15 minutes to ensure even toasting.

Remove from oven and let cool for 1 hour.

Transfer granola to a tightly-sealed container.