This hearty vegan black eyed peas and tomato stew with creole spices will transport you to New Orleans! It's a perfect comfort dish that is also incredibly healthy. Pair it with cornbread for the perfect weeknight meal.
One of my many awakenings last summer was that I did not own a cookbook authored by a Black chef. I am familiar with cuisines from various parts of Africa, and I love Southern food, so I set out to research one that I would use, and that could even be friendly to my new vegan lifestyle. I discovered "Afro-Vegan" by Bryant Terry. When I actually sat down to read his book, I fell in love with it. Terry is a renowned chef in the Bay Area as well as a food justice activist. As he states beautifully in "Afro-Vegan", one of his main reasons for writing the book is to:
"…move Afro-diasporic food from the margins closer to the center of our collective culinary consciousness and to put its ingredients, cooking techniques, and flavor profiles into wider circulation. But there is more to the story than that. Because these riches have been hard-earned, under-acknowledged, and even exploited, using them wisely means coming to terms with the problematic narratives that surround them. There is a notable failure to acknowledge that the modern world is indebted to ancient Africans for basic farming techniques and agricultural production methods"….

-Bryant Terry
Why This Recipe Works
I read this cookbook cover to cover, and I plan on making so many of his recipes. This vegan blacked-eyed pea and tomato stew, adapted from one of Terry's recipes, was very simple to make (perfect for a weeknight meal!) and has such great flavor. The creole seasoning is so delicious – a variety of earthy herbs and spices and just the tiniest bit of heat.
Growing up in Minnesota, I was pretty unfamiliar with black-eyed peas until well into my 20's. My mother-in-law uses them in several dishes, and they are always delicious. I learned that black-eyed peas are actually a legume! I don't know what I thought they were – a vegetable? Actual peas? Well, now I know. And I will be adding them to my rotation of beans and lentils.
In the original recipe, Terry calls for making cornbread croutons that come from another recipe in the book. They were delicious but a bit more labor intensive than I wanted. My recommendation would be to make a pan of regular ol' cornbread, or even cornbread muffins, to pair with this stew. The slightly sweet cornbread pairs perfectly with the spices and gentle heat in the creole seasoning. It will transport you to New Orleans in no time.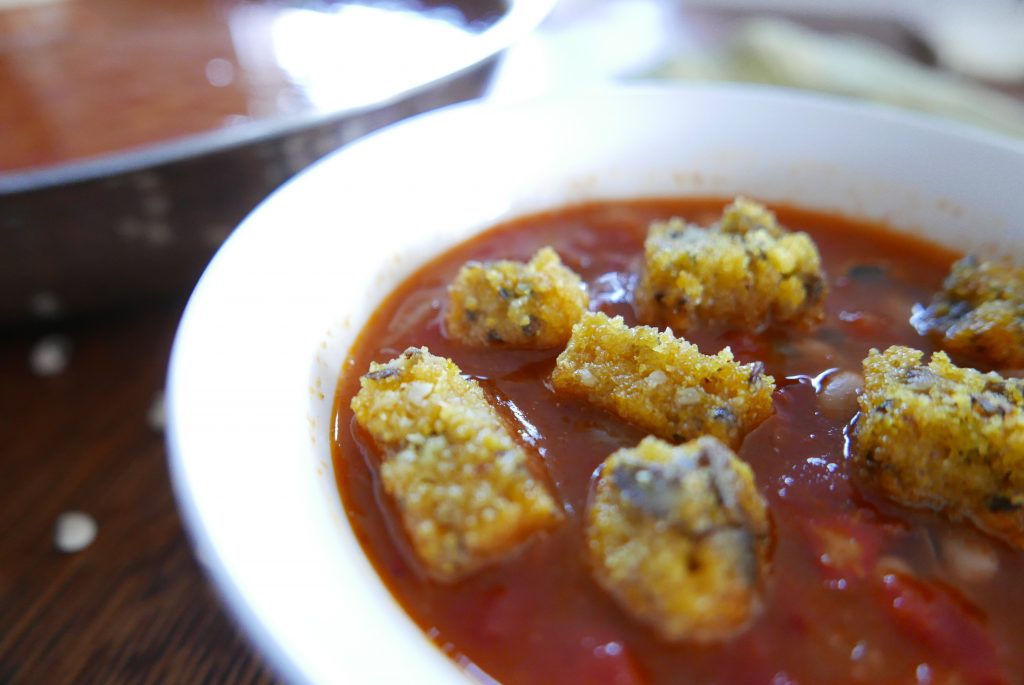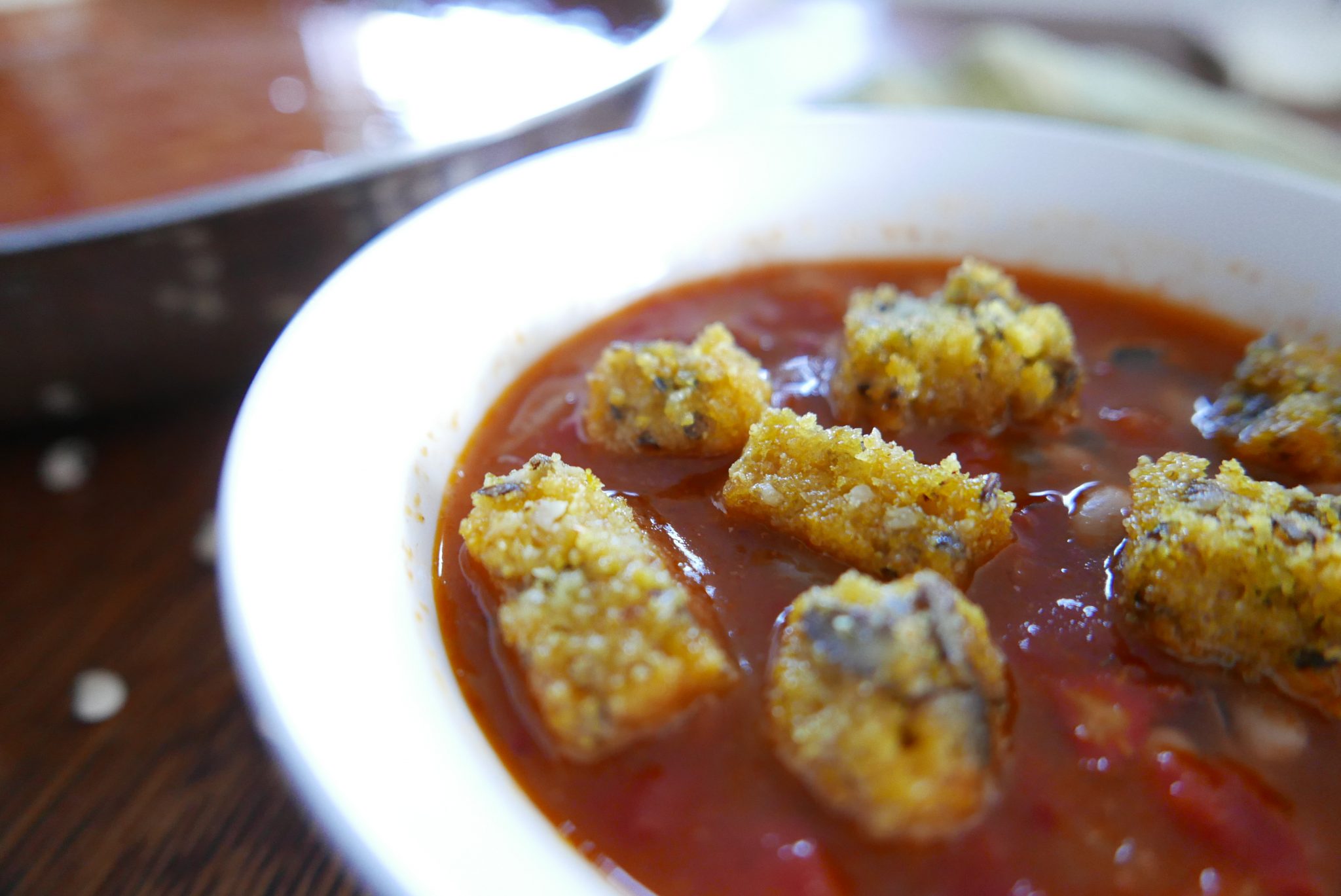 More Vegan Recipe Ideas!
Enjoy your week, and feel free to drop me a line in the comments – I would love to hear if you try this recipe! Or tag me on Instagram @maryannehoekstra to let me know how it turned out! Also, if you are enjoying my blog, please consider recommending it to your friends. They can subscribe here.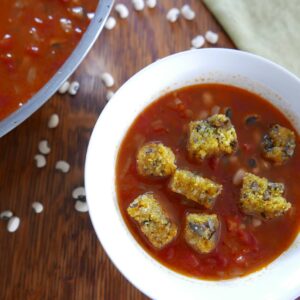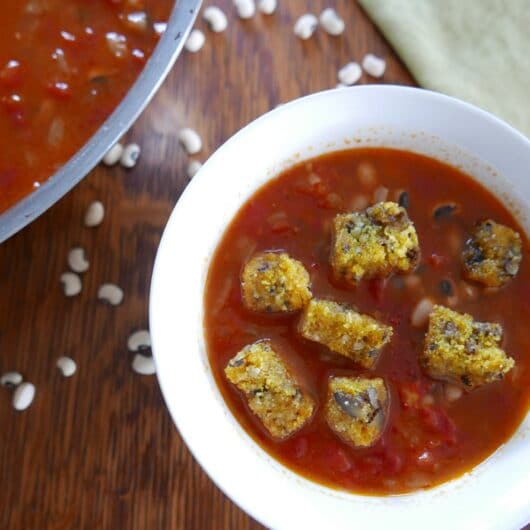 Black-Eyed Peas & Tomato Stew
This hearty and tangy stew with creole spices will transport you to New Orleans! It's a perfect comfort dish that is also incredibly healthy. Pair it with cornbread for the perfect weeknight meal.
Ingredients
1 1/2

cups

black-eyed peas,

sorted and soaked in water overnight

1 1/2

tsp

sea salt

1

tbsp

olive oil,

extra virgin

1/2

cup

yellow onion,

finely diced

1

clove

garlic,

minced

2

tsp

Creole seasoning

1

(28 oz.) can

diced tomatoes

4

cups

vegetable stock
Instructions
Drain the black-eyed peas and rinse them well. Transfer to a medium saucepan and add enough water to cover by 2 inches.

Bring to a boil over medium heat. Decrease the heat to medium-low, skim off any foam, and partially cover.

Simmer just until tender, 40 to 50 minutes. Stir in 1 tsp. of the salt and simmer for 5 minutes. Drain well.

Meanwhile, warm the oil in a medium saucepan over medium heat. Add the onion and sauté until soft, 5 to 7 minutes. Add the garlic, creole seasoning, and the remaining 1/2 tsp. salt and sauté until the garlic is fragrant, about 3 minutes.

Add the diced tomatoes, vegetable stock, and the black-eyed peas to the saucepan, stir, and bring to a simmer. Decrease the heat to medium-low, cover, and simmer, stirring occasionally, about 45 minutes. Taste and season with more salt if desired.
Notes
Makes delicious leftovers!
Adapted from "Afro-Vegan" by Bryant Terry