This green bean and mushroom curry is an easy weeknight meal that also happens to be vegan! The warm, aromatic spices imbue wonderful deep flavor, and the mushrooms add a lovely creaminess. Try it over a bed of rice or with a side of chapathis!
I was introduced to South Indian cooking through my mother-in-law. I already loved Indian food, but up until meeting my husband's family, my experience of Indian cooking was of the Northern variety, which includes more of the rich, creamy dishes that often feature meat (biryani, anyone?). I loved it all! And because I didn't know any better, that was the kind of food I was expecting at my mother-in-law's house the first time I visited.
About South Indian Cuisine
I was pleasantly surprised to learn that their region of India (shout out to Bangalore!) eats a lot of veggie dishes with rice. And dosas! And chapatis! I have come to savor the trifecta of Indian cooking: garlic, ginger, and chiles. Absolute bliss. South Indian cuisine differs from other parts of India in that it uses ingredients like rice, lentils, chilies, and coconut in heavy rotation. But I think one of the biggest differentiators of South Indian cuisine is that it is largely dairy-free, other than yogurt, which accompanies many meals.
Everything my mother-in-law makes is absolutely delicious. I really miss her cooking. Anytime we've taken a trip to Maryland, we've packed an extra bag to fill with my mother-in-law's cooking to bring home with us on the train. She would freeze it for us, and it would make the 4-hour journey back to NYC still frozen. We would thaw a few items to be eaten immediately, and the rest would stay in the freezer until a later date. We had a great system in place! As for our Indian wedding, that will have to be a story for another time….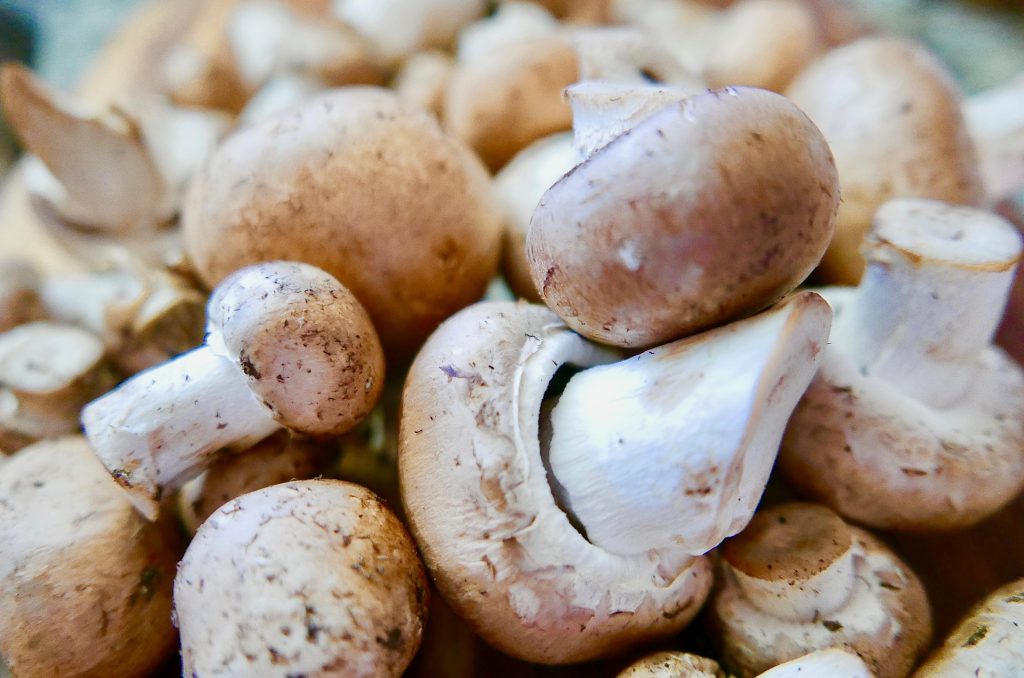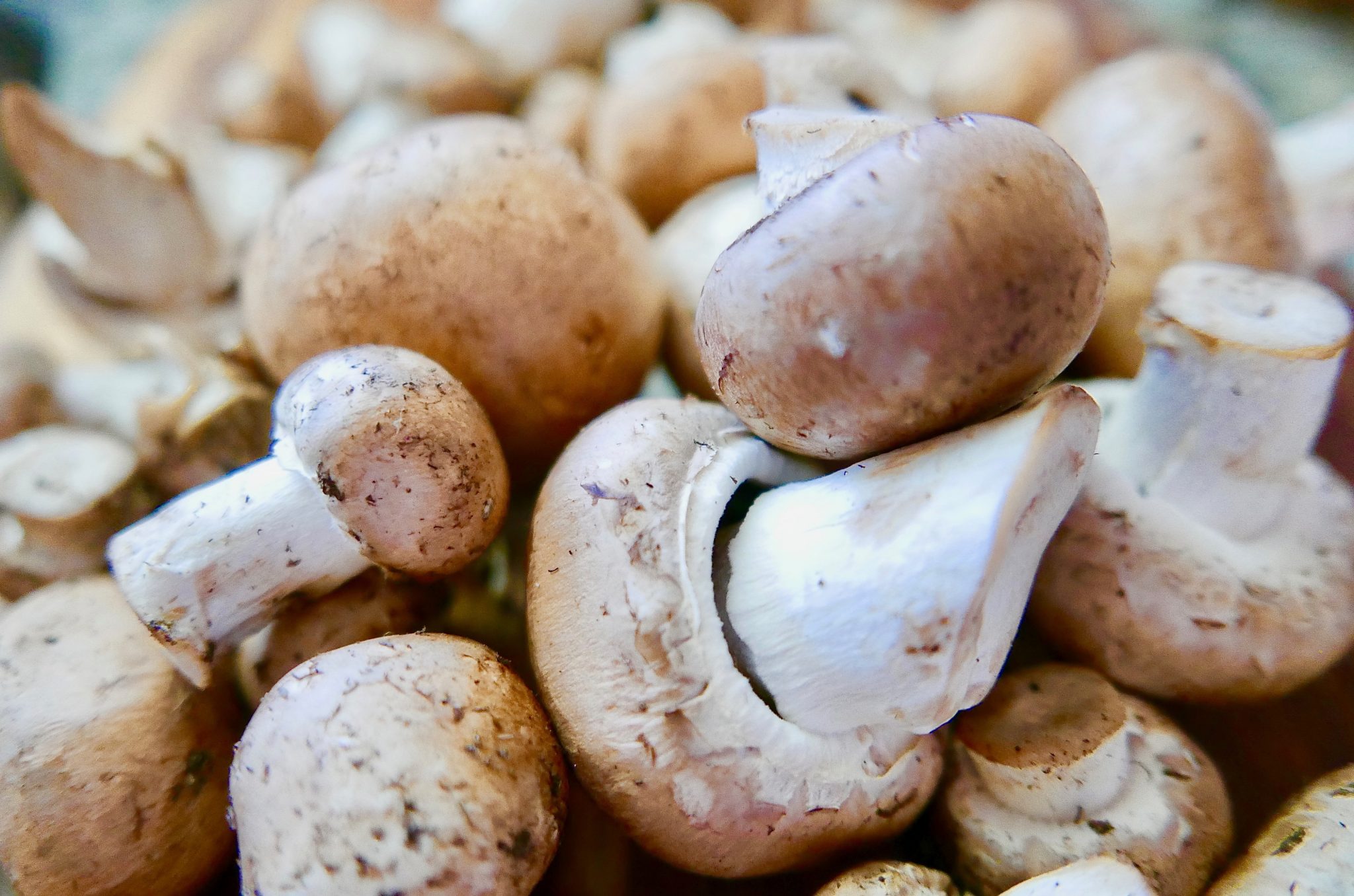 More Vegetarian Recipe Ideas!
I think it took me a while to really start learning how to cook South Indian dishes simply because I was intimidated. I knew K loved his mom's cooking, so I didn't want to even try my hand at it. I figured I would just stick to what I knew. But over the years, I've learned how to make several dishes and added them to my repertoire. When everything shut down last spring, I had the urge to make more than my usual share of Indian meals. It just felt (and tasted) comforting. And now this green bean and mushroom curry recipe is one of my All-Time Favorite Dishes, and I make it every other week!
Madhur Jaffrey: The Julia Child of Indian Cooking
This green bean curry, which happens to be vegan, is adapted from one of Madhur Jaffrey's cookbooks. If you are not familiar with her, she is an Indian-born food and travel writer. Ms. Jaffrey is credited with introducing Indian cuisine to the West in the 1970's. She essentially was to Indian cooking what Julia Child was to French cooking. If you aren't acquainted with Indian fare, a great place to start would be with Jaffrey's cookbook entitled, Quick & Easy Indian Cooking. I've found so many great recipes in that cookbook, and they are all very approachable.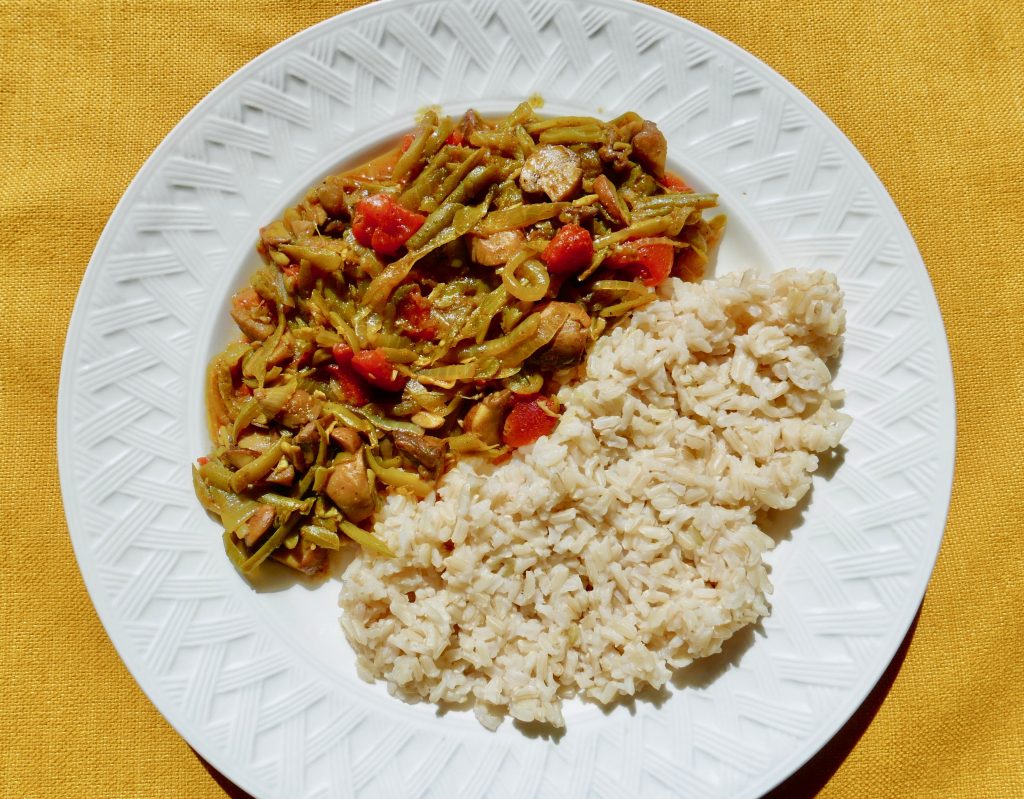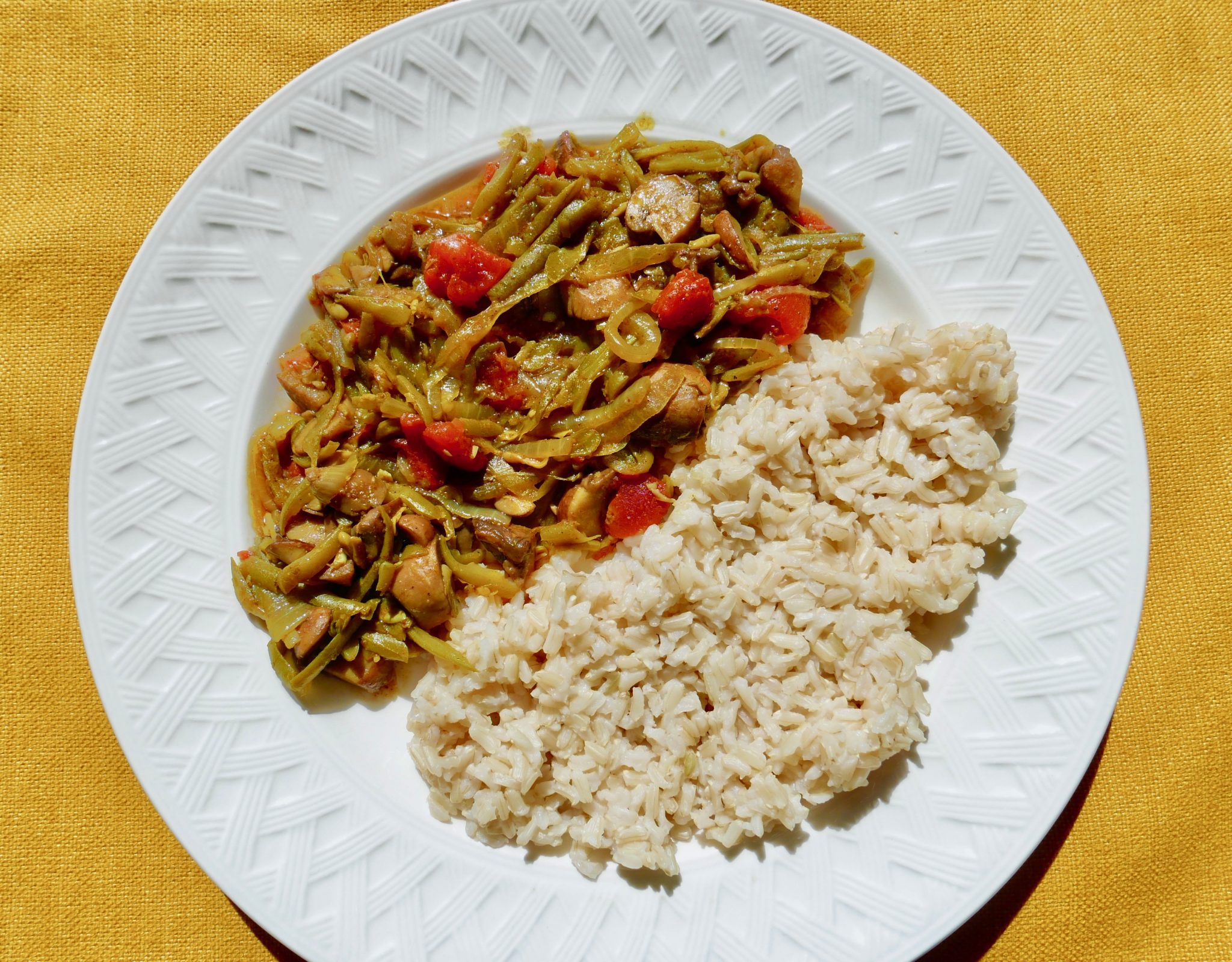 Recipe Tips For Success
What can I say about this green bean curry recipe other than that it's addictive and I start to salivate every time I make it? The warm, aromatic spices imbue wonderful deep flavor, and the mushrooms add a lovely creaminess. I prefer slicing onions into half rings because of the textural quality, but if you prefer to dice them, go right ahead; this recipe is very forgiving.
The original recipe calls for fresh green beans, but I have always used canned simply because it's easier. I have also used canned diced tomatoes in the past when I've been in a pinch and not had tomatoes on hand. They work just fine.
Depending on where you live, garam masala might be hard to find. If so, you can find recipes on how to make it at home. It's a pretty integral part of the dish, so try not to go without. We typically eat the curry over a bed of brown rice, but when I am not in the mood for rice, I will accompany it with a homemade sourdough roll – another skill I've learned thanks to quarantine!
Enjoy your week, and feel free to drop me a line in the comments – I would love to hear if you try this recipe! Or tag me on Instagram @maryannehoekstra to let me know how it turned out! Also, if you are enjoying my blog, please consider recommending it to your friends. They can subscribe here.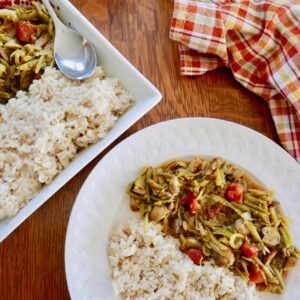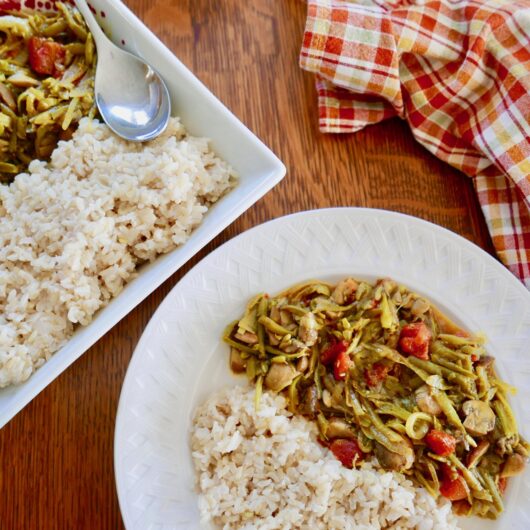 Green Bean and Mushroom Curry
An easy weeknight meal that also happens to be vegan! The warm, aromatic spices imbue wonderful deep flavor, and the mushrooms add a lovely creaminess. Try it over a bed of rice or with a side of chapathis!
Ingredients
5

tbsp

extra-virgin olive oil

1

yellow onion

peeled and cut into fine half rings

1-

inch

piece fresh ginger

peeled and grated

5

cloves

garlic

peeled and grated

8

oz.

crimini mushrooms

roughly chopped

1-16

oz.

can green beans

drained

1

tsp.

coriander

2

tsp.

cumin

¾

tsp.

turmeric

¾

tsp.

garam masala

½

tsp.

cayenne pepper

1

tsp.

sea salt

1

medium tomato

coarsely chopped
Instructions
Place the oil in a large sauté pan and set over medium-high heat.

When the oil is hot, put in the onion. Stir and fry until the onion browns, about 8 minutes.

Add the ginger and garlic. Stir until the garlic starts to brown, 2 to 3 minutes.

Put in the mushrooms, stir, and cook for another 2 minutes.

Add the green beans, coriander, cumin, turmeric, garam masala, cayenne, salt, and tomato.

Lower the heat and let simmer for around 5 minutes. Serve over brown rice.