A moist yellow cake with a tender crumb, and tangy chocolate-sour cream frosting that will wow your guests!
It's been a minute! After taking a much longer-than-expected hiatus, I decided it's time to get back to posting again. I don't think I need to say anything about 2020. We all know how that year will look in the history books. But, I can say that one of the silver linings of quarantining (stay home if you can, and wear a mask!) has been expanding my cooking repertoire. Of course, I learned how to make sourdough like everyone else on the internet. But I also just started to cook so much more. And I've really enjoyed it. I kind of can't believe that I am still enjoying it, actually. I've heard a lot of people mention that by the six-month mark of quarantining, they couldn't bare the thought of making yet another meal. I get it. I think for me it's how I relax and unwind at the end of the day. And I've grown more confident in my cooking skills.
Surprising to both my husband and I is the fact that we have been eating vegan (with a few exceptions here and there) for over one year now! We initially started in January 2020 thinking that we would try it for one month and see if we could do it. We enjoyed it so much that we just kept going! I think learning about vegan cooking has been part of the fun of learning new recipes over the last year. I have several Indian dishes that are now in my regular rotation that we both love. And one of the great benefits of this undertaking is that we just eat so many more veggies. AND, largely because I make sourdough regularly, but also because I've expanded my bread-making skills to focaccia, rolls, English muffins, etc., I am eating way more bread than I have in years. But it doesn't feel unhealthy. I think it makes a difference that it's not processed and full of additives, etc. That said, I won't be posting ONLY vegan recipes here. But it will most likely be many more than before.
So – minor life change – my husband and I moved to Southern California last fall. And we drove across the country (from NYC) in the middle of a goddamn pandemic!! We still can't believe we pulled it off. It was both very thrilling to drive cross-country, and terrifying that it was during a pandemic. We were very careful throughout the entire trip. We made several stops along the way, but limited ourselves to activities and sights that were outdoors. We saw Frank Lloyd Wright's Fallingwater and we visited Zion National Park! We had been considering moving for a few years, and now here we are! We've adjusted to the warm and sunny SoCal living pretty easily. Ha! (Friends and family living in Minnesota – please don't hate me. I know the high is -6 degrees F today, but spring is on the way?)
Yellow Layer Cake with Chocolate Sour Cream Frosting
Now, as you can see, this yellow cake recipe with chocolate-sour cream frosting is not in any way vegan. There is lots of butter, eggs, and sour cream! At the beginning of the pandemic, I decided I was going to learn how to make beautifully decorated cakes. Well, that didn't last long, and I have yet to learn anything about decorating other than some piping techniques, but I have made a few cakes, albeit simple. I happen to love yellow cake, but they are hit-and-miss. I've tried them at several bakeries over the years, and they can be very dry or super moist.
This recipe, adapted from Bon Appétit, falls somewhere in the middle, with a nice, tender crumb. The sour cream in the frosting adds a slight tang, but you could also just make a straight-up chocolate frosting if you don't want the tanginess. And lastly, the recipe calls for 3-9" cake pans, but I halved the recipe and made 2-6" cake pans (along with a few cupcakes). There's only two of us here, and we can only eat so much cake! Feel free to let me know what you thought of the cake in the comments section. I hope you are all staying safe and taking good care of yourselves and those around you.
Enjoy your week, and feel free to drop me a line in the comments – I would love to hear if you try this recipe! Or tag me on Instagram @maryannehoekstra to let me know how it turned out! Also, if you are enjoying my blog, please consider recommending it to your friends. They can subscribe here.
More Dessert Recipe Ideas!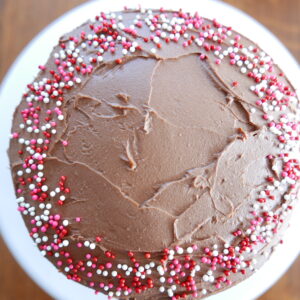 Yellow Layer Cake with Chocolate – Sour Cream Frosting
A moist yellow cake with a tender crumb, and tangy chocolate-sour cream frosting that will wow your guests!
Equipment
Three 9"-diameter cake pans with 2" sides
Ingredients
Cake
Nonstick vegetable oil spray

4

cups

cake flour

2

teaspoon

baking powder

1½

teaspoon

baking soda

1½

teaspoon

kosher salt

1½

cups

buttermilk

½

cup

vegetable oil

2

cups

sugar

1

cup

2 sticks unsalted butter, room temperature

1

vanilla bean

split lengthwise

6

large egg yolks

3

large eggs
Frosting and Assembly
14

oz.

semi-sweet or bittersweet chocolate, chopped

1/4

cup

light corn syrup

2

cups

sour cream

1

tsp

salt

1 1/2

tsp

vanilla extract

2 3/4

cups

powdered sugar

3/4

cup

(1-1/2) sticks unsalted butter, room temperature
Instructions
Cake
Arrange racks in upper and lower thirds of oven; preheat to 350°. Coat cake pans with nonstick spray. Line bottom of pans with parchment-paper rounds; coat paper. Whisk flour, baking powder, baking soda, and salt in a large bowl until no lumps remain. Combine buttermilk, oil, and vanilla in a medium bowl.

Combine sugar, butter, and brown sugar in another large bowl. Scrape in seeds from vanilla bean. Using an electric mixer, beat butter mixture until light and fluffy, 3–4 minutes. Add yolks and eggs one at a time, beating to blend between additions and occasionally scraping down sides and bottom of bowl.

Continue to beat mixture, occasionally scraping down sides and bottom of bowl, until almost doubled in volume and very light, airy, and pale yellow, 5–6 minutes. It's very important that no lumps remain at this stage. (Occasional scraping of the bowl, especially the bottom, helps prevent lumps.)

With the mixer on low, add dry ingredients in 3 additions, alternating with buttermilk mixture in 2 additions, beginning and ending with dry ingredients.

Divide batter evenly among prepared pans, about 3½ cups per pan. Smooth tops.Bake, rotating cakes from left to right and top to bottom halfway through, until cakes are light golden brown, the centers spring back when gently pressed, and a tester inserted into the centers comes out with a few moist crumbs attached, 35–40 minutes.

Transfer cakes to wire racks; let cool in pans for at least 30 minutes. Invert cakes onto racks, peel off parchment, and let cool completely.

Using a long serrated knife, remove top dome and any bumps from each cake to create a flat surface. Slice each cake in half horizontally to make 6 layers total. Cakes can be baked 1 day ahead. Wrap tightly in plastic wrap and store at room temperature.
Frosting and Assembly
Stir chocolate and corn syrup in a large metal bowl set over a large saucepan of simmering water until melted and smooth; remove from heat. Stir sour cream, salt, and vanilla in a medium metal bowl; set over same saucepan of simmering water. Stir until mixture is warm but not hot, about 2 minutes. Add sour cream mixture to chocolate mixture; stir until smooth and glossy. Set aside.

Using an electric mixer, beat powdered sugar and butter in a medium bowl until light and fluffy, 2–3 minutes. Scrape down sides of bowl. Slowly beat in chocolate mixture. Continue beating until no lumps remain, about 2 minutes. Frosting should be smooth and shiny. Cover and chill until slightly firmed up, about 30 minutes.

Place 1 cake layer on a cake stand or large plate. Spoon ⅔ cup frosting over; using an offset spatula or the back of a spoon, smooth frosting to edge of cake, creating an even layer. Place another cake layer on top. Repeat with frosting and remaining cake layers. Spread remaining frosting over top and sides of cake. DO AHEAD: Cake can be made 1 day ahead. Cover with a cake dome and store at room temperature.