A delicious and healthy sheet pan salmon meal with bitter greens, creamy mushrooms, and a spicy wasabi paste!
Life is a mixed bag.  We will all have our fair share of joy as well as pain and suffering in our lifetimes, but our perception of the world is key.  The universe is never at one time or another conspiring against us or working in our favor, although it can appear that way at times.  It's simply how we choose to see things.  Labels are powerful, and as we go throughout our day we assign labels, and therefore meaning, to things.  Someone criticized your work.  What kind of significance are you going to give that?  You can either start beating yourself up because you know the criticism is accurate, or you can decide to let the criticism float away like a balloon because you know the criticism is simply a reflection of that person's view of the world.



My husband left for Switzerland a few nights ago.  The last time he went on a trip was when my intense depressive episode hit.  I promised myself that I would do everything in my power to not let that happen again.  It's extremely helpful for me to stay busy when I am alone.  Right after he left Tuesday night, I immediately washed the dishes, cleaned the bathroom, paid bills, and organized some files simply so as to avoid watching television and feeling sad.  It worked!  I went to bed that night determined to enjoy my solo time while he is away.  I will pretend to be a tourist this weekend in NYC!  I will go to the Met!  I will get a manicure!  Maybe I'll even get a facial!



My positive outlook was cut a bit short yesterday.  I woke up at 4 a.m. and couldn't get back to sleep.  I decided to skip the gym and told myself doing laundry was more important.  I felt like a zombie at work, but really made an effort to display a cheerful attitude and focused on doing a good job.  By the time I got home, my brain was swirling with lots of useless thoughts.  I told myself that I did my best to make the day a productive and favorable one despite the fact that I was exhausted.  I really wanted to medicate myself with a carb-heavy dinner but I knew it was only a short-term solution to numbing the pain.  I opted for some hard-boiled eggs, dried figs and Manchego cheese, and an apple with peanut butter instead.  After dinner, I immediately felt more relaxed knowing that the day was almost over and that I did the best I could with where I was mentally.  Tomorrow will be a fresh start, and getting a good night's sleep will fire up those neurons.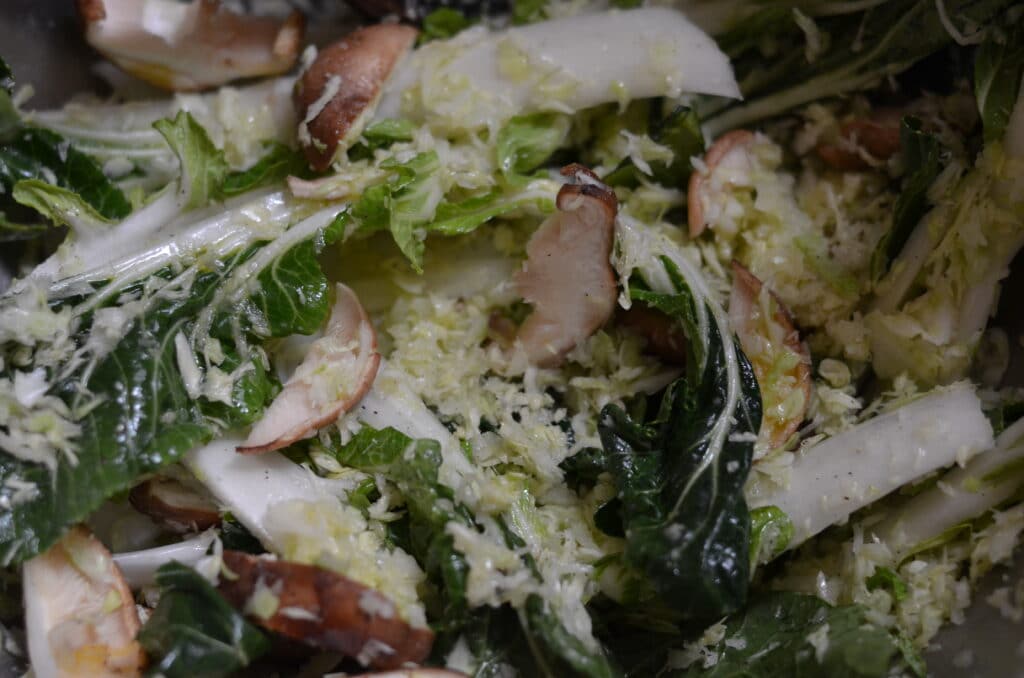 I found this recipe in Bon Appétit  and knew I had to try it immediately. I love everything about this dish!  I haven't had salmon in a while, and it was a nice way to be reminded of how much I enjoy it. I also love pairing asian flavors with salmon. Something about the fattiness of the fish marries nicely with the umami flavors and spices found in Asian cuisine. I couldn't find baby bok choy at my local market so I used the larger size.  The wasabi mayo lends a nice level of heat, which complements the salmon, as well as the creamy mushrooms and bitter greens. Let me know if you try this recipe, and have a great week!


Wasabi Salmon with Bok Choy, Green Cabbage, and Shiitakes
A delicious and healthy sheet pan salmon meal with bitter greens, creamy mushrooms, and a spicy wasabi paste!
Ingredients
1/4

cup

mayonnaise

1

tsp.

wasabi paste

Japanese horseradish paste

1 1

" piece ginger

peeled, finely grated

2

large garlic cloves

finely grated

4 6-

oz.

skinless salmon fillets

Kosher salt

freshly ground pepper

1

lb.

baby bok choy

halved

2

cups

packed finely shredded green cabbage (about 5 oz.)

4

oz.

shiitake mushrooms

stemmed, sliced if large

2

Tbsp.

olive oil
Instructions
Preheat oven to 450 degrees F.  Heat a large rimmed baking sheet for 15 minutes.

Meanwhile, mix mayonnaise and wasabi in a small bowl.  Stir in half of ginger and half of garlic; set aside.

Season fish all over with salt and pepper.  Place bok choy, cabbage, and mushrooms in a large bowl.  Drizzle with oil and add remaining ginger and garlic.  Toss to coat; season with salt and pepper.

Scatter vegetables across one side of baking sheet.  Arrange salmon on other side.  Roast , stirring vegetables occasionally, until salmon is coked through, 12-15 minutes.

Divide vegetables among plates; top with salmon.  Serve wasabi mayonnaise alongside.