Tender and juicy veal meatballs that are slightly sweet and balanced with bitter mustard greens.
I was chosen for jury duty this week. I feel like you can bring up jury duty to almost any New Yorker and they will tell you their story of having to serve on a jury. I'm kind of surprised that it's taken 11 years for me to do my time on a jury, although I've been called up numerous times over the years.
Since the case is not yet over, I can't say anything about it other than that it is a criminal trial—one that I have to travel 4 hours round-trip to get to every day. It's kind of ironic that I'm complaining about having to travel, when the reason for the traveling is to decide the fate of another human being's life. Ohhhhhh, my privileged life.
And that is exactly what I have been trying to focus on this week as I sit in a courtroom day after day listening to stories of how numerous crimes were committed. I am trying not to focus on the awful things I am hearing each day when I step into that courtroom, but rather on how beautiful my life is: how fortunate I have been throughout my life, the opportunities that have come my way, the never-ending support from friends and family, and the love. It really does make a difference in the outcome of one's life.

As the days progressed this week, I felt the need to connect. I wanted to call my friends and family on my lunch hour and express how much I value them and how important they are to me. Our daily reality is just that; it belongs to no one else. At some point, I stopped complaining about the long commute to the courthouse each day. Instead, I am choosing to find meaning in this experience.
Meatballs. Who doesn't love a good meatball?? Except for, well, maybe vegetarians. But I bet they eat their fair share of veggie meatballs! I have to confess that meatballs are yet another item that I had never made before. I think it was simply another intimidation situation. But I love the fact that these meatballs were my first. This is a recipe adapted from Food & Wine magazine. The veal meatballs are juicy and full of flavor—exactly the way any good meatball should taste. And the mustard greens are the perfect bitter complement to the sweetness of the meatballs. Of course, you can toss them into a plate of pasta if this recipe isn't hearty enough on its own. But this dish definitely doesn't need a starch to accompany it. My only suggestion is to speak like Tony Soprano when you take your first bite.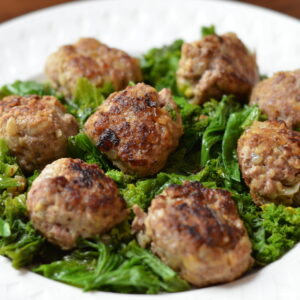 Veal Meatballs with Mustard Greens
Tender and juicy veal meatballs that are slightly sweet and balanced with bitter mustard greens.
Ingredients
1/4

cup

extra-virgin olive oil

1

cup

minced onion

2

garlic cloves

minced

1/2

teaspoon

ground fennel seeds

1/4

teaspoon

mustard powder

1/4

teaspoon

crushed red pepper

1/4

teaspoon

ground coriander

1/4

teaspoon

chipotle or other smoked chile powder

1

pound

ground veal

1/2

cup

fresh bread crumbs

1/4

cup

heavy cream

1

large egg

lightly beaten

1/2

teaspoon

kosher salt

1/2

pound

mustard greens

thick stems discarded and leaves chopped

1/3

cup

chicken stock or low-sodium broth
Instructions
In a medium skillet, heat 2 tablespoons of the olive oil until shimmering.

Add the minced onion and cook over moderately high heat, stirring occasionally, until softened and starting to brown, 5 minutes.

Stir in the minced garlic, the fennel seeds, mustard powder crushed red pepper, coriander and chile powder and cook, stirring, until fragrant, about 2 minutes; let cool.

In a large bowl, mix the cooled onion mixture with the veal, bread crumbs, cream, egg and salt.

Form into 11/2-inch meatballs and transfer to a rimmed baking sheet.

In a large skillet, heat the remaining 2 tablespoons of olive oil until shimmering.  Add the meatballs and cook over moderately high heat, turning until browned all over, 5 minutes.

Gently push the meatballs to one side of the skillet.  Spoon off all but 2 tablespoons of the fat from the pan, then add the mustard greens and stock.

Cover and cook over moderate heat until the greens are wilted, 4 minutes.  Spoon the meatballs and greens into bowls and serve.