The roasted pork loin is extremely juicy and pairs beautifully with the figs and rosemary.  Serve this the next time you have guests over; they will be impressed!
This past week has been an emotional roller coaster.  Suffice it to say that I have been waiting on some medical news and I am not the most patient person.  Up until this morning, I thought the news was going to be positive.  But I just found out that it's not likely to be good news after all.  No one's life is in danger, but this impending news could be heartbreaking nonetheless. 
Self-pity seems to be a default mode for my brain when I experience pain or sorrow.  I've always admired people who somehow manage to keep their chin up when faced with a tough situation.  I have a quote on my refrigerator about attitude that I will stop and read from time to time.  One of the lines reads, "I am convinced that life is 10% what happens to me and 90% how I react to it."  So true and yet so damned hard to do.  Especially when your mood is melancholy much of the time.  
Did you know that, up until 75 years ago, "melancholia" used to be the word used for depression?  I have been reading William Styron's Darkness Visible and, besides sharing this factoid, he explains why "brainstorm" is a much more apt word for this disorder.  He describes depression as a noun "with a bland tonality and lacking any magisterial presence."  I agree that it is a pretty non-descript word for such a horrible mental affliction.
I am getting better at not allowing myself to wallow in my own misery, but it takes a lot of hard work.  I have to literally have a conversation with myself where I take on the role of the rational person speaking to my irrational brain.  Have you ever tried this?  It almost feels like a parent talking to a child.  I also have to prevent myself from eating everything in sight when I'm feeling morose.  I am someone who equates food with comfort.  Comfort food for me is always Italian or sweets. The sweets connection I often attribute to a time when I was pretty young, maybe 6 or so.  I was very sad because my mom was in the hospital, so one of my aunts gave me a package of M&M's to try and cheer me up.  Neuronal firing, commence!  I am getting better at reshaping those little neural pathways but it's a constant battle.
Stuffed Pork Loin With Figs
I made this pork loin recipe, adapted from The New York Times, over the weekend.  If you love the smell of rosemary like I do, you will really enjoy how good your house smells when this is roasting in the oven.  Divine, divine I say!  Why have I never thought of throwing some rosemary into a simmering pot of water for a potpourri effect?  I will add that to my to-do list. 
I also am obsessed with dried figs.  I often eat them with blue cheese as a midday snack.  In fact, I made a sandwich with the leftovers from this roast by just adding blue cheese and using Hot Bread Kitchen's scrumptious walnut raisin bread.  It was the perfect savory/sweet combo.  The roasted pork loin is extremely juicy and pairs beautifully with the figs and rosemary.  Serve this the next time you have guests over; they will be impressed!
What To Serve with Stuffed Pork Loin with Figs
Enjoy your week, and feel free to drop me a line in the comments – I would love to hear if you try this recipe! Or tag me on Instagram @maryannehoekstra to let me know how it turned out! Also, if you are enjoying my blog, please consider recommending it to your friends. They can subscribe here.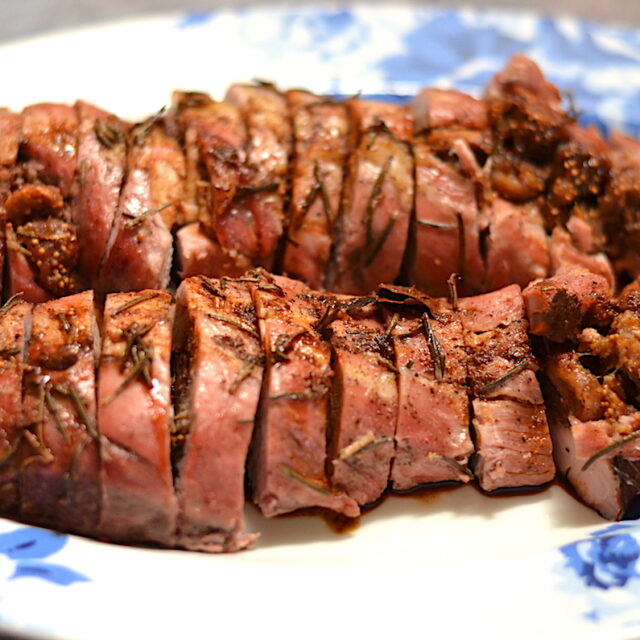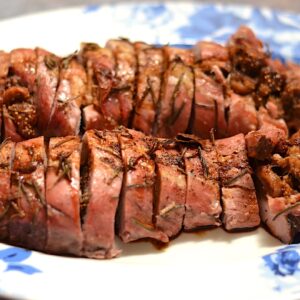 Stuffed Pork Loin With Figs
The roasted pork loin is extremely juicy and pairs beautifully with the figs and rosemary.  Your guests will be impressed!
Ingredients
1-1/2

cup

dried figs

1

boneless pork loin

2 to 3 pounds

Salt and black pepper

3

or 4 fresh rosemary sprigs

minced

1/2

cup

red wine

more if necessary
Instructions
Put figs in hot water to soak.  Preheat oven to 425 degrees.

Poke a thin, sharp knife into each end of pork loin, making a kind of pilot hole.  Then use the handle of a long wooden spoon to force a hole all the way through meat, making it as wide as your thumb.

Drain figs when tender but not mushy, reserving liquid.  Stuff figs into pork loin, all the way to center from each end and spacing them throughout entire loin.

Combine salt, pepper and rosemary and rub it all over the meat.  Put meat in a roasting pan and pour about half a cup of fig liquid over it.  Roast undisturbed for 20 minutes.  Lower heat to 325 degrees and continue to cook, basting with pan juices (or added liquid, like wine or water, if necessary) every 15 minutes or so.  When an instant-read thermometer registers 145 to 150 degrees- probably after 40 to 60 minutes- remove roast to a warm platter (make sure thermometer is in meat, not fruit).

Let meat rest for 15 minutes.  Meanwhile, put roasting pan on stove over one or two burners set to medium-high.  If there is a lot of liquid, reduce it to about half a cup, scraping bottom of pan with a wooden spoon to release any brown bits.  If pan is dry, add half a cup of wine and follow same process.  When sauce has reduced, slice roast and serve with sauce.