I've been experimenting recently with new ways to prepare vegetables. One of my favorite veggies, eggplant, is one of the most underrated veggies out there. I LOVE eggplant; I could eat it every day!
If, like me, you find yourself hungry around 4 p.m. most days and in need of a healthy snack, this recipe for smoky eggplant chips, which is naturally vegan, is for you. They are so full of flavor thanks to a delicious spice rub, and so easy to make! Toss everything in a bowl and bake for 60 minutes. Trust me when I say you won't believe how delicious this recipe is.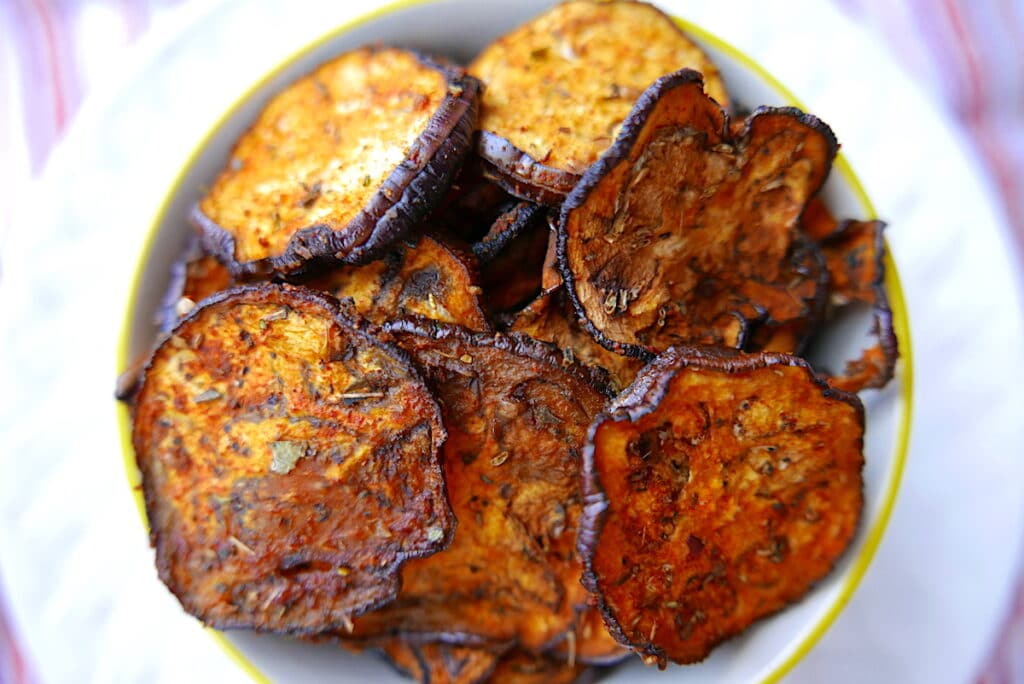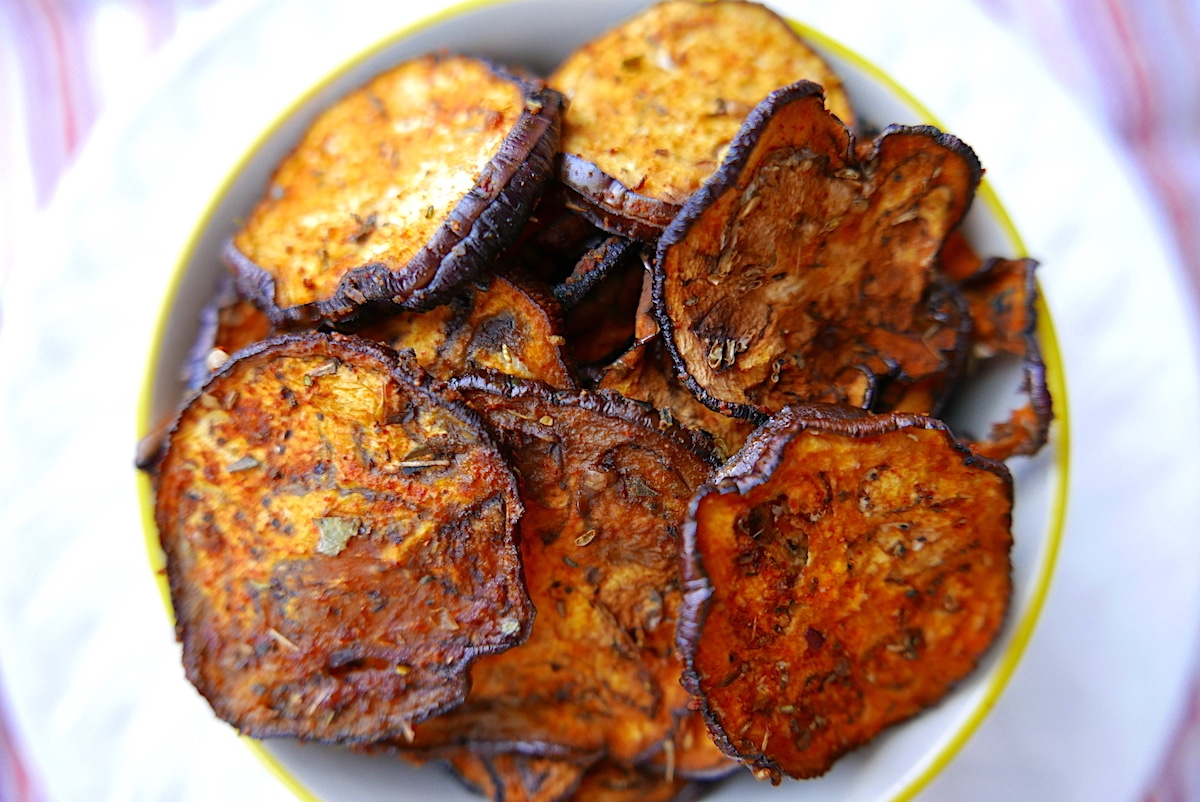 Easy Steps to (Vegan) Eggplant Chips
Slice the eggplant extremely thin. The thinner you slice them, the crispier they will be.
Coat the slices in olive oil and toss with spice blend.
Place eggplant slices on a baking sheet.
Bake for 60 minutes. If eggplant is sliced thicker, you may need to bake chips for up to 2 hours. It really depends on your preference for how crispy you want them to be.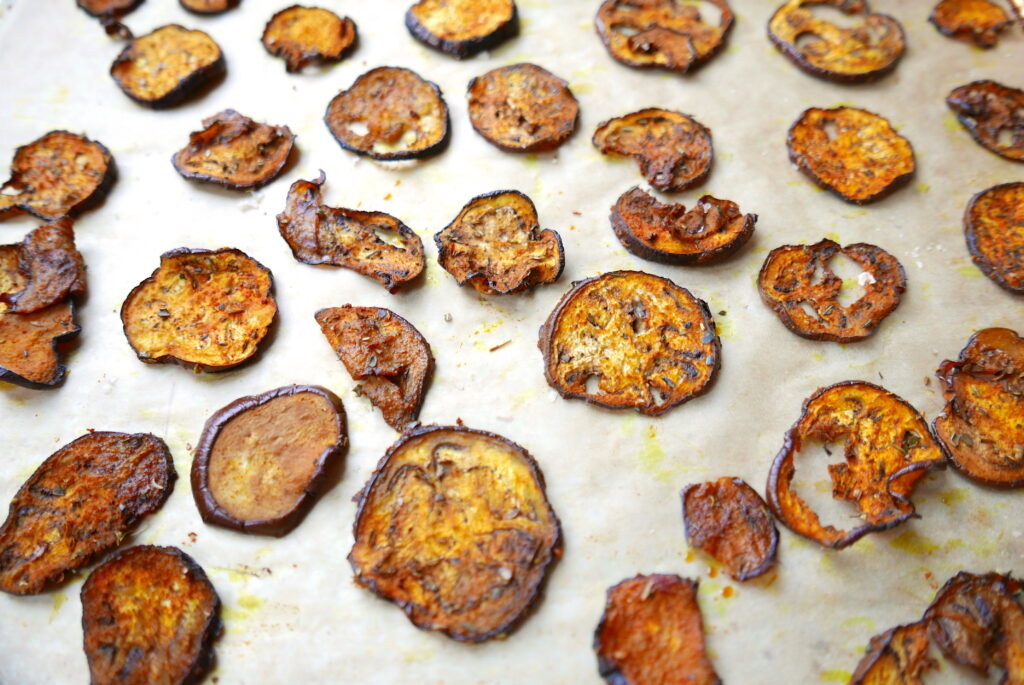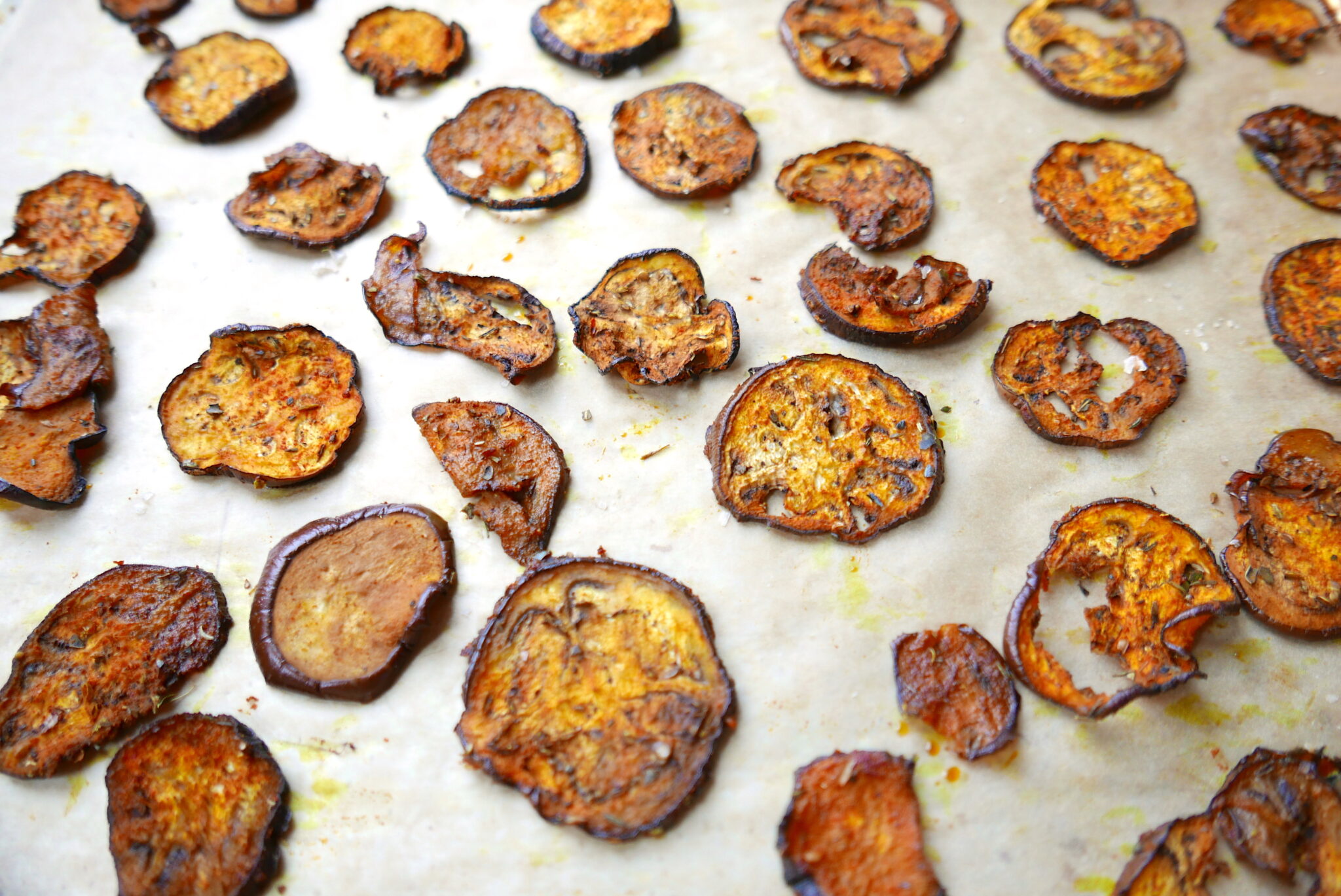 I've been making kale chips for a while now, so I thought it would be fun to experiment with (vegan) eggplant chips. I'm so glad I did! The smoky seasoning in this recipe, adapted from Healthful Pursuit, is a perfect blend of tasty flavors that are addictive. I am not ashamed to say that I ate the equivalent of one whole eggplant over the course of a day via these eggplant chips!
Enjoy your week, and feel free to drop me a line in the comments – I would love to hear if you try this recipe! Or tag me on Instagram @maryannehoekstra to let me know how it turned out! Also, if you are enjoying my blog, please consider recommending it to your friends. They can subscribe here.
More Snack Recipes!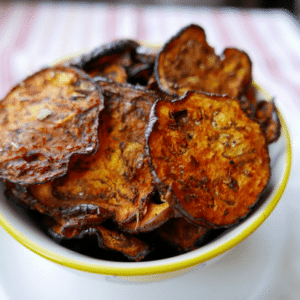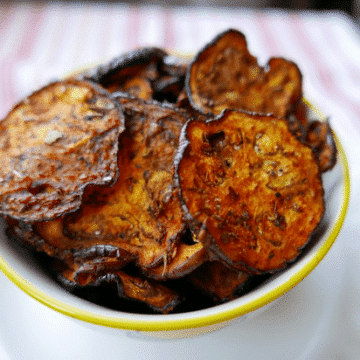 Smoky Eggplant Chips
A super flavorful and healthy snack with a smoky seasoning that is addictive!
Ingredients
2

eggplants

sliced thin

1/4

cup

extra-virgin olive oil
Seasoning
½

tablespoon

smoked paprika

½

tablespoon

garlic powder

1

teaspoon

dried oregano leaves

½

teaspoon

dried thyme leaves

½

teaspoon

ground turmeric

½

teaspoon

freshly ground pepper

½

teaspoon

onion powder

¼

teaspoon

dried ground sage

¼

teaspoon

sea salt

Pinch

cayenne pepper
Instructions
Preheat oven to 250F and set aside 2 large baking sheets.

Slice the eggplant using a mandolin slicer or a sharp knife. The slices should be as thin as a potato chip.

Place eggplant slices into a medium-to-large sized bowl, and add olive oil. Toss to coat thoroughly, then sprinkle with seasoning and toss again. Mix until seasoning is evenly distributed.

Pour eggplant slices onto baking sheets, making sure that slices are not overlapping.

Place in the oven to bake for 60-70 minutes, depending on how thin you sliced them. If you make them too thick, they can take upwards of 2 hours to complete.