Delicious and savory muffins with sweet pumpkin, sharp cheddar, and subtle spice from black pepper. Unique muffins to accompany your favorite soup or stew!
Now that we are deep into the throes of winter, I have to force myself out of my apartment in order to stave off depression.  Some weeks are better than others, and when I do force myself out, I am usually glad that I did and try to make a mental note of my high spirits afterwards.  Friday night was one of those nights.  Mr. K and I were invited to dinner and an Off-Off Broadway play by some friends of ours.  It was a rainy night but I was actually excited about leaving the apartment for once.  I figured even if the play was subpar, I could get out of my head and we would enjoy our friend's company.
We had a fantastic time.  The couple that we went out with just got married a few months ago; it's great to see people so in love.  The pizza joint (that I chose) was pretty bad but we all had a great time sharing stories.  Mr. K and I are pondering moving to Southern California in the next few years, and since this couple grew up there, we got some good pointers about the best places to live.  The play was excellent.  If any of you have a chance to see it, I highly recommend it.  Grounded is the name of it and it's playing at the SoHo Rep.  It's about a female fighter pilot who goes back to work after having a baby only to discover that the rules of war have changed.  Fighter pilots now fly drones remotely from a location in Las Vegas and work 8-hour shifts like most Americans.  The play highlights the complexities of modern warfare and how it affects soldiers.  A remarkable but sad fact I learned was that the rate of PTSD has actually increased with pilots that operate drones.



Walking home Friday night, I took inventory of how I felt mentally.  Although tired (Mr. K and I are not usually out later than 11 pm on any given night), I felt invigorated and joyful.  Someone once told me that they liken the importance of sleep to charging your phone every night.  Your brain needs a break and a recharge at night in order to operate fully during the day.  My brain must operate the same way when it comes to intellectual and emotional stimulation.  Without it, I seem to operate at 50% capacity.
The tricky thing about depression, though, is that even though you may know intellectually that you need stimulation from the outside world, your emotions will try to convince you otherwise.  Vitality and liveliness appear to be unreachable when depression rears its head.  And yet, vigor and energy is exactly what you need.  I remember my therapist once telling me that the secret to managing depression was to simply force yourself out of the house and the happy endorphins would follow.  If you wait for joy and enthusiasm to appear in order to leave your house, you will wait indefinitely.  The cart needs to come before the horse, essentially.


Pumpkin  Cheddar Muffins
A friend gave me the Baked:  New Frontiers in Baking cookbook several years ago and I am slowly working my way through it.  Baked is a popular bakery in Brooklyn, and they make insanely good desserts.  I thought it was time to try another recipe from their first cookbook, so I chose  Pumpkin Cheddar Muffins.  I haven't tasted too many savory muffins over the course of my life, but of the ones that I've had, I've liked.
I am a sucker for all things pumpkin and I thought the combination of pumpkin, cheddar and black pepper sounded intriguing. After taking my first bite, I was flabbergasted by how delicious these muffins were!  They are definitely on the sweeter side because of the pumpkin, but the cheddar and black pepper are nice foils for the sweetness and add an interesting level of spice and savoriness.  I immediately had visions of eating these alongside every future pot of soup I made throughout the winter.  And so far, I have.  Don't be scared of the black pepper.  It's not too strong by any means.  The muffins have a very similar texture to biscuits, which made me love them even more. Let me know if you try this recipe, and have a great week!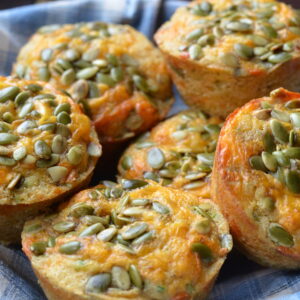 Pumpkin Cheddar Muffins
Delicious and savory muffins with sweetness from pumpkin, subtle spice from black pepper, and sharp cheddar. Unique muffins to accompany your favorite soup or stew!
Ingredients
1

cup

canned solid-pack pumpkin puree

3

tablespoons

sour cream or greek yogurt

2

large eggs

1/2

cup

1 stick unsalted butter, melted and cooled

2

cups

all-purpose flour

1-1/2

teaspoons

baking powder

1/4

teaspoon

cayenne pepper

1-1/2

teaspoons

salt

1-1/2

teaspoons

freshly ground black pepper

1/2

cup

firmly packed dark brown sugar

1-1/4

cups

about 4 oz. grated sharp cheddar

2

tablespoons

pumpkin seeds

optional
Instructions
Preheat oven to 400 degrees F.

Spray each cup of a standard 12-cup muffin pan with non-stick cooking spray and use a paper towel to spread the oil evenly along the bottom and up the sides of each cup.

In a large bowl, whisk together the pumpkin and sour cream/yogurt.

Add the eggs and butter and whisk until combined.

In another large bowl, whisk together the flour, baking powder, cayenne pepper, salt, black pepper, and brown sugar.

Make a well in the middle of the dry ingredients.  Pour the wet ingredients into the well, and fold until just combined.  Fold in three-quarters of the cheese.

Divide the batter among the muffin cups.  Sprinkle the remaining cheddar and the pumpkin seeds on top of the muffins.

Bake them for 20 minutes, or until golden brown.  Let the muffin pan cool on a rack for 10 minutes before turning out the muffins.  Serve them warm.