I've been trying out something new lately:  I am forcing myself out of the apartment several days/nights a week.  That doesn't sound all that strange, you say.  Well, for me it is.  I went through a pretty rough patch a few weeks ago.  It was one of the most depressive episodes I've ever experienced, and it really scared me.  I know that there are always setbacks in life, and the challenge is to turn it into something meaningful.  It was a brutal week, but I'm proud of myself for fighting my way out of it.  In fact, I can't remember another time of suffering through a depressive episode and coming out on the other end feeling so fierce and determined to make changes to my life.  Besides reading heaps of books about living without fear, I have been forcing myself out into the world and not allowing myself to talk my way out of it.  Usually, I will make plans at the beginning of the week.  There can be book readings, comedy shows, and dance performances on my calendar on any given week.  But if it's too cold, too hot—or frankly, if it's a perfectly nice day—I will often talk myself out of going in the name of some unknown fear.

But last week I was determined to change this.  I compelled myself out of my apartment for 3 whole days last week.  3 whole days!  I made sure to schedule things every few hours throughout the day so that I would not have time to run home and inevitably talk myself into staying home the remainder of the day.  There were doctor appointments, book readings, lunch dates, dentist appointments and yoga classes scattered throughout the long days.  I left my apartment mid-morning and wouldn't return until later in the evening.  It felt simultaneously wonderful and exhausting.  I was so worn out by the end of the first day that I had to close my eyes for 10 minutes while waiting for the book reading to begin.  I closed them again the following night on the train ride back to Queens.  Still, I felt very energized emotionally and knew my new routine was making a difference on my state of mind.  One important lesson I'm learning from this is that Action Precedes Feelings.  In other words, waiting for those good feelings to come about before I leave the apartment is futile.   I have to go out into the world, be present in this world, and the feelings will follow.

Ok people.  Who out there has been to City Bakery in NYC and had their incredibly delicious peanut butter cookies?  I was obsessed with said cookies for a few years.  Although I am vocal about my love of all things peanut butter, peanut butter cookies were never on that list.  Until, that is, I tasted City Bakery's cookies.  They have an intense peanut butter flavor and a crumbly texture that is created by using powdered sugar.  When I was in graduate school, I would treat myself to a peanut butter cookie and coffee once a month since the bakery was just a few blocks away.  And now, after many, many years, I have finally found a recipe that replicates those cookies.  But better yet:  this recipe, adapted from Bon Appétit, makes them even more addictive by adding milk chocolate chips and turning them into sandwich cookies with milk chocolate ganache.  I dare you to eat just one!  Of course, if you want a deeper chocolate flavor, you can always use semi-sweet or bittersweet chocolate chips.  I like the milk chocolate chips here if only because it lets the peanut butter have the spotlight.  Pair these with a strong cup of coffee, sit at your desk by the window, and fantasize about spring.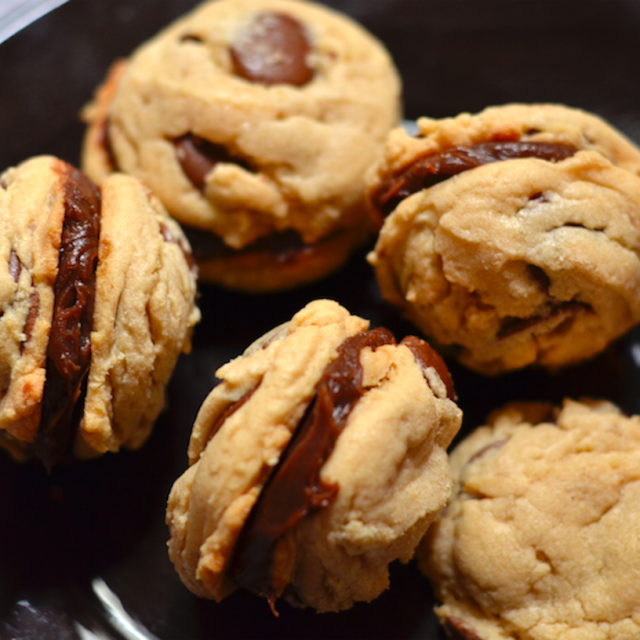 Milk Chocolate-Peanut Butter Cookies
Rich and crumbly peanut butter cookies are sandwiched with a smooth milk chocolate ganache.
Ingredients
Cookies
1 3/4

cup

all-purpose flour

1

teaspoon

baking powder

1/2

teaspoon

baking soda

1/2

teaspoon

coarse sea salt

1/2

cup

plus 1/3 cup powdered sugar

1/2

cup

plus 1 tablespoon

packed dark brown sugar

6

tablespoons

3/4 stick unsalted butter, room temperature

1/2

cup

creamy peanut butter

1/2

cup

vegetable oil

1 1/2

teaspoons

vanilla extract

1

large egg

1

cup

milk chocolate chips
Filling
3

ounces

high-quality milk chocolate

chopped

1/4

cup

creamy peanut butter

2

tablespoons

powdered sugar

1/4

teaspoon

course sea salt

6

tablespoons

heavy cream
Instructions
For cookies:
Preheat oven to 350 degrees F.

Whisk first 4 ingredients in medium bowl.

Using electric mixer, beat powdered sugar, dark brown sugar, and butter in large bowl to blend.

Add peanut butter; beat until creamy.  Gradually beat in vegetable oil and vanilla extract, then egg.

Add dry ingredients; mix just until blended.  Stir in milk chocolate chips.

Drop cookie dough by level tablespoonfuls onto parchment-lined baking sheets, spacing about 1-1/2 inches apart.

Bake cookies until puffed and golden brown, about 12 minutes.  Cool slightly, then transfer cookies to rack to cool completely.
For filling:
Place chocolate, peanut butter, powdered sugar, and salt in medium bowl.

Bring heavy cream to boil in heavy small saucepan.

Pour hot cream over chocolate mixture; stir until mixture is melted and smooth.

Chill until filling is thick and spreadable, about 1 hour.

Spread about 1 rounded teaspoonful chocolate-peanut butter filling on flat side of 1 cookie.  Top with second cookie, forming sandwich.  Repeat with remaining filling and cookies.

Store in airtight container at room temperature.