Light and airy cream puffs with a sweet and tangy lemon cream filling!
I am getting better at acceptance:  self-acceptance, acceptance of others and acceptance of what is.  I don't know that I've ever fully accepted myself.  It's always been too easy to focus on my shortcomings and imperfections.  But it's also exhausting.  My therapist once told me to think of thoughts as a bunch of balloons in your hand.  We should try to let go of the ones that are negative and useless to us.
I'm getting better at it.  I think.
I sometimes find myself slipping into old habits, and my immediate reaction is to start with the negative thoughts.  But I'm also becoming better at confronting those thoughts.  I challenge them and talk back to them like they're a Fox News anchor.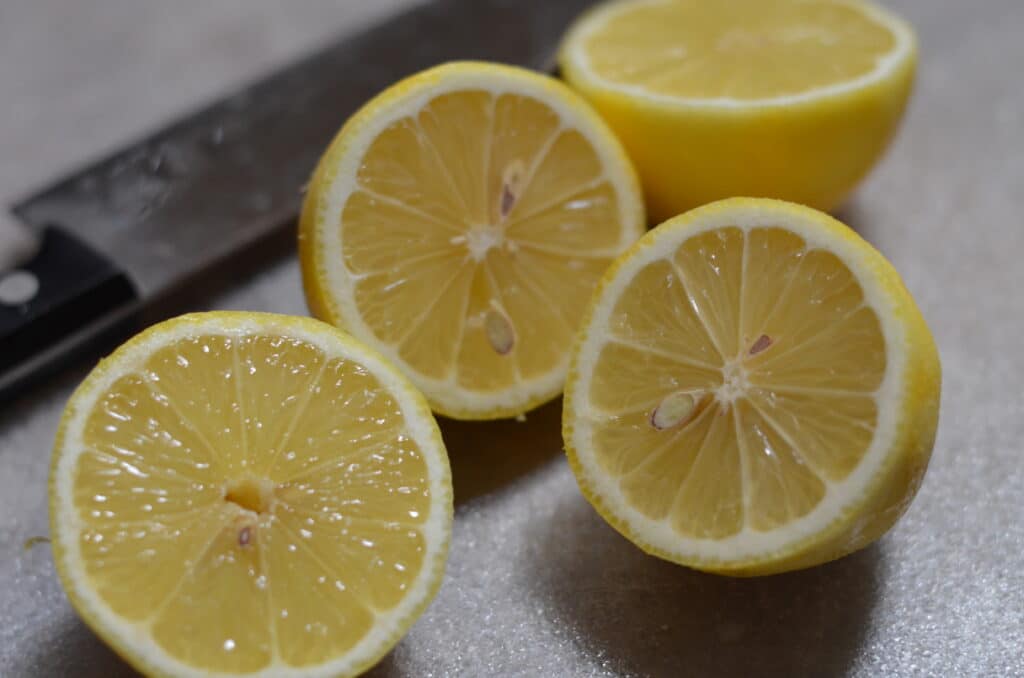 I can be a reactive person.  Often times, I will have a knee-jerk response to something someone says.  I'm not sure if this was a coping mechanism I learned in my childhood, but it doesn't really matter.  Adults aren't always supposed to react.  We are all trying to become more enlightened, and a big part of this is learning how to sit with the uncomfortable.
Accept.
Don't react.
It will pass.
I went to bed last night with an uneasy feeling.  Something that had happened earlier in the day definitely created some anguish in my mind.  I really wanted to reach for that Cookies 'n Cream ice cream in the freezer, but I chose to go to bed instead.  I took a deep breath and recited a mantra:
This feeling will pass.
This feeling will pass.
This feeling will pass.
I immediately felt more relaxed.  I fell asleep focusing on today being a new day.



So:  Lemon Cream Puffs!  I had no idea they were so easy to make.  I've always associated them with fancy French desserts that I assumed took long, laborious hours in the kitchen and therefore, weren't worth making at home.  I was wrong.  I was so wrong.  Not only is this recipe (adapted from Bon Appétit) very straightforward, but it's really the best of both worlds—your friends will be amazed by your baking prowess and you won't have expended too much energy in the kitchen that you could be spending on more important things, like say, binge watching Jeopardy with your adorable husband.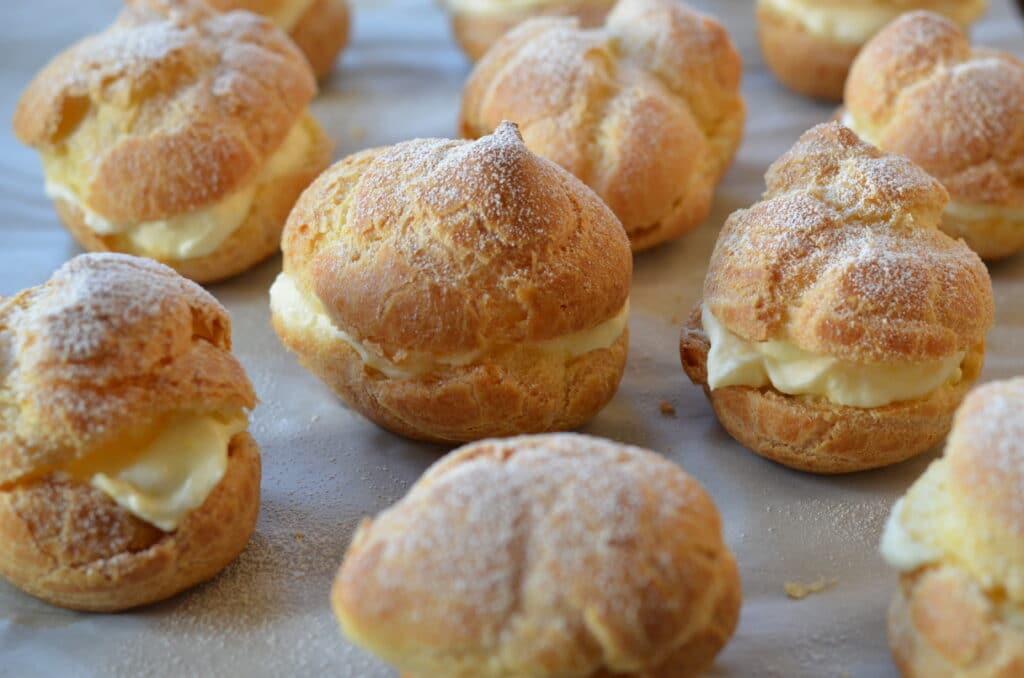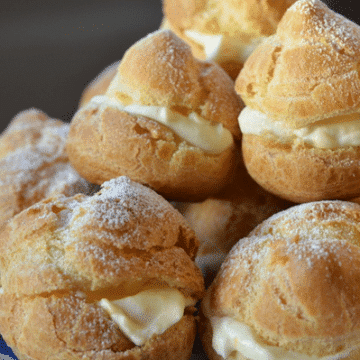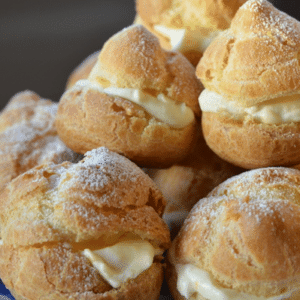 Cream Puffs with Lemon-Cream Filling
Light and airy cream puffs with a sweet and tangy lemon cream filling!
Equipment
Pastry bag with ½-inch plain round tip
Ingredients
Lemon-Cream Filling
1/2

cup

sugar

1

large egg

¼

cup

fresh lemon juice

1 ½

teaspoons

finely grated lemon peel

Pinch

of salt

3

tablespoons

unsalted butter

diced

1

cup

chilled heavy whipping cream
Cream Puffs
¾

cup

water

¾

cup

whole milk

¾

cup

1 ½ sticks unsalted butter, diced

½

teaspoon

salt

1 ½

cups

sifted all-purpose flour

6

large eggs

divided
Instructions
Lemon-Cream Filling
Combine sugar, egg, lemon juice, lemon peel, and pinch of salt in heavy small saucepan; whisk to blend.

Add butter.  Stir constantly over medium-low heat until curd is hot and thick enough to coat spoon (do not boil), 4 to 5 minutes.

Transfer lemon curd to small bowl.  Press plastic wrap onto surface; chill until cold and slightly firm, at least 2 hours.  (Can be made 2 days ahead.  Keep chilled.)

Transfer lemon curd to medium bowl.  Using electric mixer, beat cream in another medium bowl until peaks form.

Fold whipped cream into curd in 3 additions.  Cover and chill filling 1 hour.  (Can be made 2 hours ahead.  Keep chilled.)
Cream Puffs
Position 1 rack in top third and 1 rack in bottom third of oven and preheat to 425 degrees F.  Line 2 large rimmed baking sheets with parchment paper.

Bring first 4 ingredients to boil in heavy large saucepan over medium heat, stirring with wooden spoon until butter melts.

Add flour all at once and stir vigorously until dough forms and pulls away from sides of pan.  Continue to stir until film forms on pan bottom, 1 to 2 minutes longer.

Transfer dough to large bowl.  Cool 10 minutes, stirring occasionally.  Add 1 egg and, still using wooden spoon, beat until blended.  Add remaining 5 eggs, 1 at a time, beating until blended after each, then beat until dough is smooth and shiny, 2 to 3 minutes.

Working in batches, transfer dough to pastry bag fitted with ½-inch plain round tip.  Pipe 1-to 1 ¼-inch mounds, spaced about 2 inches apart, onto prepared baking sheets.  Using wet finger, smooth tops of mounds.

Bake puffs 15 minutes.  Reverse baking sheets.  Reduce oven temperature to 350 degrees F.  Continue to bake until puffs are dry, firm, and deep golden brown, 30 to 35 minutes longer.  Cool puffs on baking sheets.
Assembly
Cut each puff horizontally in half; pull out any soft dough.

Fill puff bottoms with 1 tablespoon lemon-cream filling.  Press on puff tops to adhere.