The addition of coconut extract and cream of coconut really completes these moist and coconut-forward cupcakes. If you are a lover of coconut, you will love these cupcakes!
I have been on a kick lately, making several new recipes every week. It feels really good, and my husband is also reaping the benefits of my extra time in the kitchen. I've had the urge to make cupcakes for a while, so I finally went for it. I can't remember the last time I used a cake mix, but I had a can of cream of coconut that I needed to use up, and I couldn't find any coconut cake recipes that called for cream of coconut and didn't also require a boxed cake mix, so I gave in!
This recipe starts with a boxed cake mix and results in light and fluffy coconut cupcakes that are super moist and oh-so-tasty! The original recipe (I can't remember where I found it!) is more of a yellow cupcake, but the addition of coconut extract here really makes it a coconut-forward cupcake. The cream of coconut makes it super moist, but not overly sweet. If you are a lover of coconut, you will love these cupcakes!
Recipe Ingredients
1-15 oz. box yellow cake mix
1 tsp coconut extract
1 pint heavy whipping cream
8 oz. sour cream or Greek yogurt
12 oz. unsweetened coconut
1/2 cup confectioner's sugar
14 oz. can, cream of coconut (Lopez brand recommended)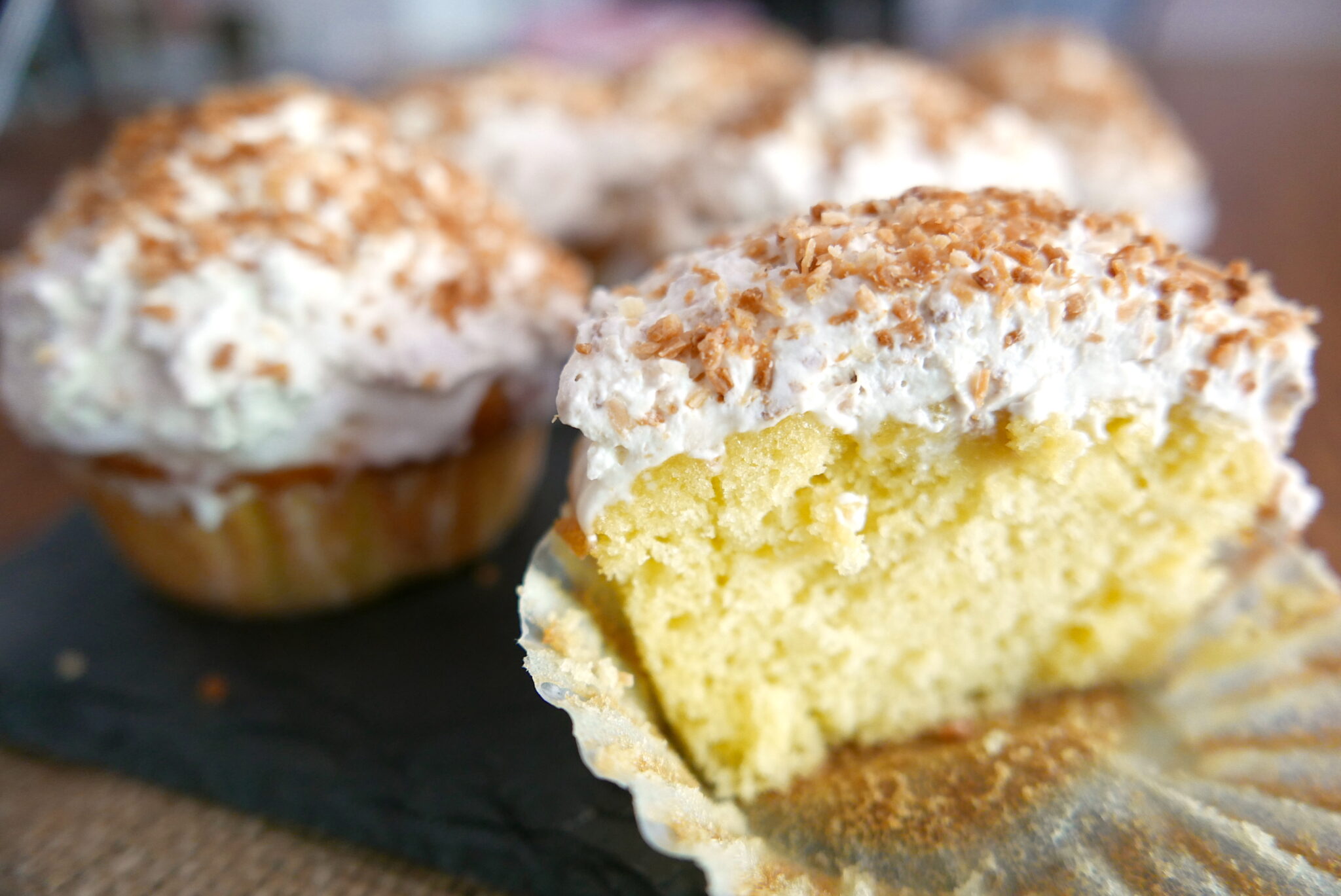 Cream of Coconut Cupcakes
This recipe should really be called "Triple Coconut Cupcakes". It includes cream of coconut, unsweetened coconut, and coconut extract. Coconut for DAYS! These cupcakes are super creamy and the addition of sour cream/yogurt to the whipped cream frosting adds a slight tanginess, so the cupcakes are not overly sweet. Topping them with toasted coconut adds a nice crunch factor that is a nice contrast to the creaminess.
Enjoy your week, and feel free to drop me a line in the comments – I would love to hear if you try this recipe! Or tag me on Instagram @maryannehoekstra to let me know how it turned out! Also, if you are enjoying my blog, please consider recommending it to your friends. They can subscribe here.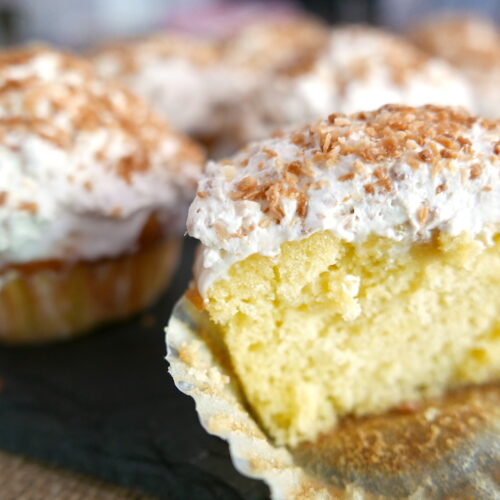 Cream of Coconut Cupcakes
Light and fluffy cupcakes with sweet coconut cream that makes super moist cupcakes!
Ingredients
1

15 ounce box yellow cake mix*

1

tsp.

coconut extract

1

pint

heavy whipping cream

1

8 ounce container sour cream or Greek yogurt

12

ounces

unsweetened coconut

1/2

cup

confectioner's sugar

1

14 ounce can, cream of coconut (Lopez brand recommended)
Instructions
Heat oven to 350 degrees for shiny metal or glass pans and 325 degrees for dark or non stick pans.

Follow instructions on back of cake mix box to make cupcake batter. Add coconut extract.

Place liners in cupcake tin . Scoop batter evenly into each cupcake holder, until batter is about halfway up the top.

Follow baking instructions on box or until toothpick inserted in center comes out clean (should be around 12-15 minutes). Cool for 10 minutes before removing from pan, then place on rack to cool completely before frosting.

While cupcakes cool, make whipped cream by pouring heavy cream into a mixing bowl. Whisk on high speed until medium peaks form, 1-2 minutes. Add sugar and continue to whisk for 3-4 additional minutes, until stiff peaks form.

With a spatula, fold in sour cream/yogurt and coconut reserving 1/2 cup of the coconut to toast for garnish.

When cupcakes are completely cooled, punch holes with toothpick or fork and drizzle the cream of coconut over them.

Frost cupcakes and sprinkle with reserved toasted coconut.

Cupcakes can be served immediately, but they are much better if kept in refrigerator for a couple of days if you can stand to wait or at least overnight.
Notes
*will need water vegetable oil, and eggs to make cake